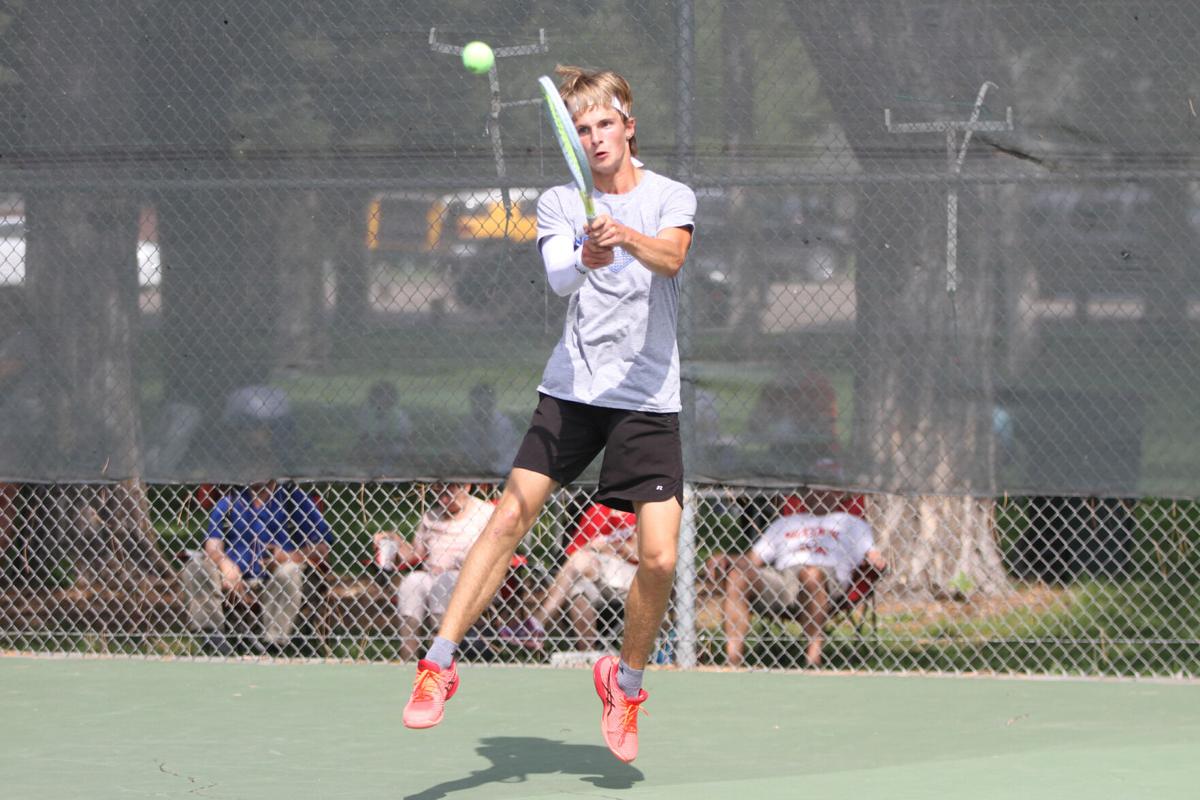 The Kearney boys tennis team won in three of the four brackets and finished runner-up at No. 1 singles on Saturday to capture the team title at the North Platte Invite.
McCook placed second, followed by Lexington in third. The Bulldogs finished sixth out of 10 teams.
"There was some pretty good competition," North Platte coach Dale Hall said. "Any time you have Kearney and McCook in the field, you're going to have two pretty solid teams. And Lexington and Grand Island's come up … Hastings, they all have some good individual players. So it was a great tournament and I was happy with how the boys competed today."
McCook's Isaac Hinze and Kearney's Asher Saulsbury dominated their pools at No. 1 Singles, but Hinze picked up the 8-2 victory in the championship round.
Layton Moss didn't win a match in his pool, but he knocked off Holdrege's Mason Hein 8-4 in the championship round to get his team two points.
"He played in No. 1 singles and battled throughout the entire day," Hall said. "He's a sophomore getting some great experience and ended up winning his final match."
The North Platte No. 1 doubles tandem of Joe Stone and Cy Wagner won its first two matches against Hastings' Mason Kusek and Wyatt Tate 8-4 and Alliance's Tory Pickett Pin and Kysen Walker 8-4 but lost its next three, including a fifth-place match against Scottsbluff's Aaron Schaff and Ethan Ramirez.
McCook and Kearney competed for the No. 1 doubles championship, this time with Kearney's Sam Rademacher and Jarrett Moore taking the win.
North Platte's Beckett Allen defeated Hastings' Parker Ablott, Alliance's Abe Gomez and Grand Island's Izaak Pierson at No. 2 singles, but fell to McCook's Lincoln Michaelis to finish pool play at 3-1.
Allen defeated Scottsbluff's Jason Escamilla 8-6 in the fifth-place match to earn five points.
The North Platte No. 2 doubles team of Adam Freeze and Marcus Trotta also won three of its four matches, defeating Hastings' Jackson Graves and Ben Hafer 8-2, Alliance's Sonny Gonzalez and Evan Hadden 8-1 and Grand Island's Alex Roeser and Mason Havel 9-7.
The duo lost to Lexington's Dru Truax and Christopher Swartz 8-1 in the third place match, earning six points.
"Overall I thought the way they competed throughout the day was good," Hall said of his team. "Still have to clean up unforced errors, things like that. Just making sure we're ready at the net, service return, things like that. If we do a better job in those areas, being a little bit more consistent, I think we can be alright."
1, Kearney, 52. 2, McCook, 48. 3, Lexington, 32. 4, Grand Island, 26. 5, Scottsbluff, 25. 6, North Platte, 21. 6, Hastings, 21. 8, Holdrege, 17. 9, Alliance, 15. 10, Gering, 13.
Isaac Hinze, McCook def. Asher Saulsbury, Kearney 8-3
Geysen Strauss, Lexington def. Braydon Schram, Hastings, 8-5
Carver Hauptman, Alliance def. David Karpf, Gering, 8-5
Barrett Frank, Scottsbluff def. Alex Chi, Grand Island, 8-2
Layton Moss, North Platte def. Mason Hein, Holdrege, 8-4
Eli Bond, Kearney def. Izaak Pierson, Grand Island, 8-3
Morgan Bailey, Lexington def. Lincoln Michaelis, McCook, 8-5
Beckett Allen, North Platte def. Jason Escamilla, Scottsbluff, 8-6
Parker Ablott, Hastings def. Noah Moreno, Gering, 8-3
Abe Gomez, Alliance def. Brayden Keffeler, Holdrege, 8-3
Rademacher/Moore, Kearney def. Humphery/Miller, McCook, 8-6
Ness/Karn, Holdrege def. Voss/Brosz, Grand Island, 8-0
Schaff/Ramierez, Scottsbluff def. Stone/Wagner, North Platte, 8-3
Mins/Lopez, Lexington def. Picket Pin/Walker, Alliance, 8-4
Montanez/Muriillo, Gering def. Kusek/Tate, Hastings, 8-3
Shaffer/Vu, Kearney def. Dellevoet/Frank, McCook, 8-3
Truax/Swartz, Lexington def. Freeze/Trotta, North Platte, 8-1
Hafner/Gion, Scottsbluff def. Graves/Hafer, Hastings 8-5
Wiese/Connell, Holdrege def. Roeser/Havel, Grand Island, 8-3
Macias/Hayer, Gering def. Gonzalez/Hadden, Alliance, 8-4