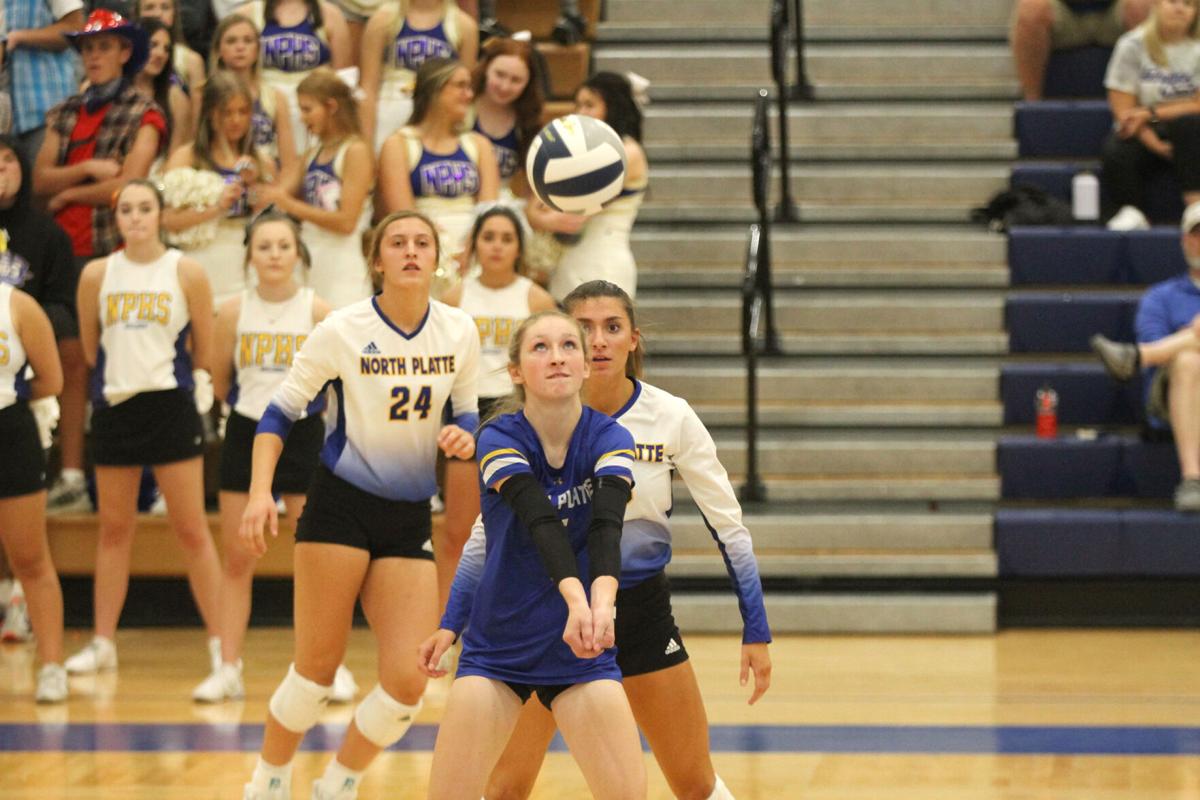 Cordelia Harbison led Lexington with 14 kills, and Taylor Woehrle added seven kills and four aces as the Minutemaids defeated North Platte 25-22, 16-25, 26-24, 25-13 on Tuesday in North Platte.
"I was really proud of the way the team played because we had to battle in a couple of situations, so it was good to see them battle and not just layover and have North Platte get its way," Lexington coach Samantha Hammond said.
North Platte, stat-wise, probably could've had its way. Carly Purdy had almost as many kills (25) as the Lexington roster (28). The Bulldogs had 14 aces compared to Lexington's 9.
But the Minutemaids made the most of North Platte's communication errors and strung together runs at the right times to stay ahead.
"Purdy's going to get her kills, let it be. She's going to get her kills, she's going to look fancy doing it, and she should. She's a good player," Lexington's Hammond said. "For us, it was more about the other five. Don't let the other five beat you. We really felt like if we did that, we would be fine."
North Platte came out strong in the first set by winning three of the first four points on kills. Lexington responded with two kills on the next three points to pull to within one at 4-3. A few serves later, Mia Rowe tied the match for Lexington with an ace.
But each time North Platte tried to pull away, the Mintuemaids had an answer, eventually tying the set at 15-15 off back-to-back Woehrle aces.
Lexington took over from there, quickly building a 22-19 lead, then winning three of the next six points to capture the first set.
North Platte's control of the stats started to show in the second set. The Bulldogs, ahead 9-8, went on a 13-4 run that featured six kills, four aces and a block and closed the set 25-16.
The third set looked as if it would follow suit. Lexington stayed close to North Platte until the Bulldogs nabbed a 24-21 lead and only needed a point to win the set.
North Platte communication errors and a couple hits out of play allowed the Minutemaids to catch up. A pair of blocks allowed them to take the lead at 25-24, and an ace gave Lexington the third set 26-24.
"Lack of focus at the end," North Platte coach Clancy Hammond said. "Not staying intense, not being ready for the ball. Just overall sloppy play did not help us out at the end there."
Lexington used that momentum to finish the fourth set strong. The Minutemaids took an 8-7 lead to start the final set, then went on a seven-point run in which it got just one kill and an ace to go up 15-7.
Harbison recorded three kills in Lexington's final 10 points, Liah Haines and Rowe got aces and Lexington left North Platte with a 3-1 win.
"We just told them to believe, be aggressive," Samantha Hammond said. "It helped that we kind of made a couple blocking changes, and so that helped them. And they really believed that they were going to beat them, and that's what it takes to do that."
The loss puts North Platte at 2-12 on the year, and leaves its coach looking for her team to play like one.
"That they have to play as a team," Clancy Hammond said. "That they can't worry about their individual stats. They need to play together as a team."