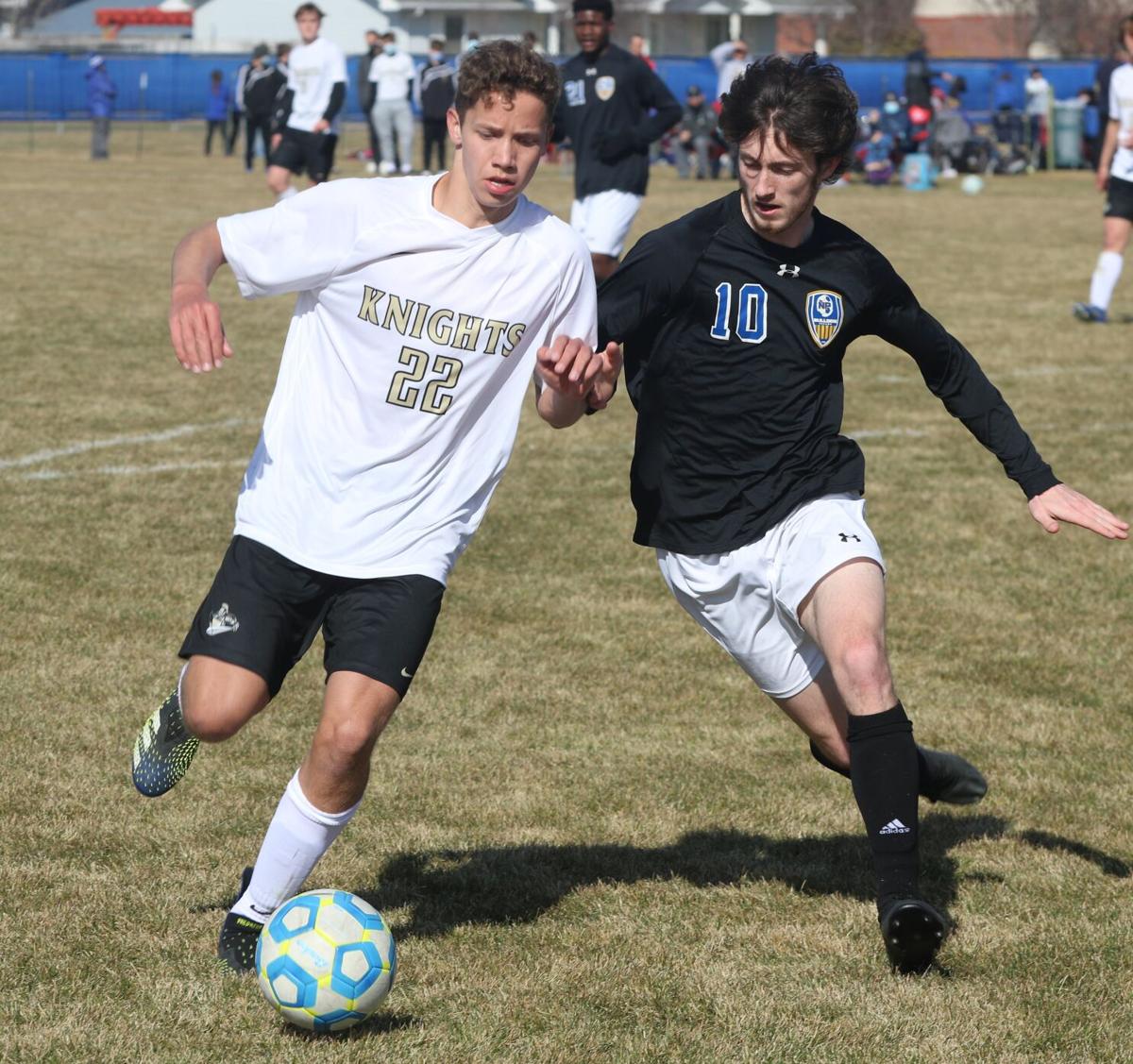 For more than a half on Thursday afternoon, the Bulldogs were locked in a scoreless battle with the Lincoln Southeast boys soccer team.
But Knights midfielder Henry Moberly scored in the 53rd minute and that opened the floodgates in the season opener for both programs.
Moberly's goal was the first of three in a span of 3 minutes, 48 seconds as the Knights downed North Platte 4-0 at Madison Middle School.
"They brought pressure from the start," Bulldogs coach Danny Whitney said of Lincoln Southeast. "They are very physical in the middle of the field and they kind of exploited the areas that we've got to work on — primarily just controlling the ball and not leaving it out there for the other team to come and take.
"It's nice to be against a team with that quality to get a sense of where you are at as you start the season," Whitney said. "We've identified some things that we've got to work on and know that we absolutely will get better at."
Jaden Dike had seven saves for the Bulldogs, while Emmett Anderson stopped four shots.
Will Petersen scored the Knights second goal just 1:57 after Moberly's, and Malachi Masten made it 3-0 1:41 later.
Tyson Klein added a Knights goal with just over 10 minutes left in regulation.
Knights coach Mike Rozsa said he made adjustments after the scoreless first half. Lincoln Southeast went from a 4-4-2 to a 4-2-3-1 formation.
"With the field being narrow and short, we took one of our forwards and dropped him back so that we could have more of a build-up (on the attack)," Rozsa said. "North Platte does a good job of getting guys in the right place (defensively) and we were just making sure that we could string together some passes in the second half that could maybe open things up."
The Knights controlled the possession time for the game, especially in the second half as the Bulldogs were limited to a few scoring opportunities.
"When we're not controlling the ball at our feet and instead wind up chasing the ball around a lot, that just kind of compounds things," Whitney said. "It just makes things a lot more difficult to get anything going (offensively).
"(Lincoln Southeast) has physicality," Whitney said. "They were kind of pushing us away from the ball at times. They were always in a position to pressure us when we had the ball."
It was the first game for the Bulldogs since a Class B state semifinal May 8, 2019, as last season was wiped out by the COVID-19 pandemic. Whitney felt his team looked organized and had the right idea of what it wanted to do. "It came down to execution, which is not good in a game, but it's something that we can get better at," Whitney said.
And the Bulldogs have little time to dwell on the season-opening loss as the team heads to York for tournament play on Saturday.
"We just got to learn from it and move forward now," said Collin Manzano, Bulldogs senior forward and team captain. "We just got to get back to what we know and work at practice (on Friday)."
1. LS, Henry Moberly, 51:50. 2. LS, Will Petersen (Tyler Vander Woude), 53:57. 3, LS: Malachi Masten, 55:38. 4, LS, Tyson Klein (Joshua Glenn), 69:47.
Saves: LS, Emmett Anderson 4; NP, Jaden Dike, 7.