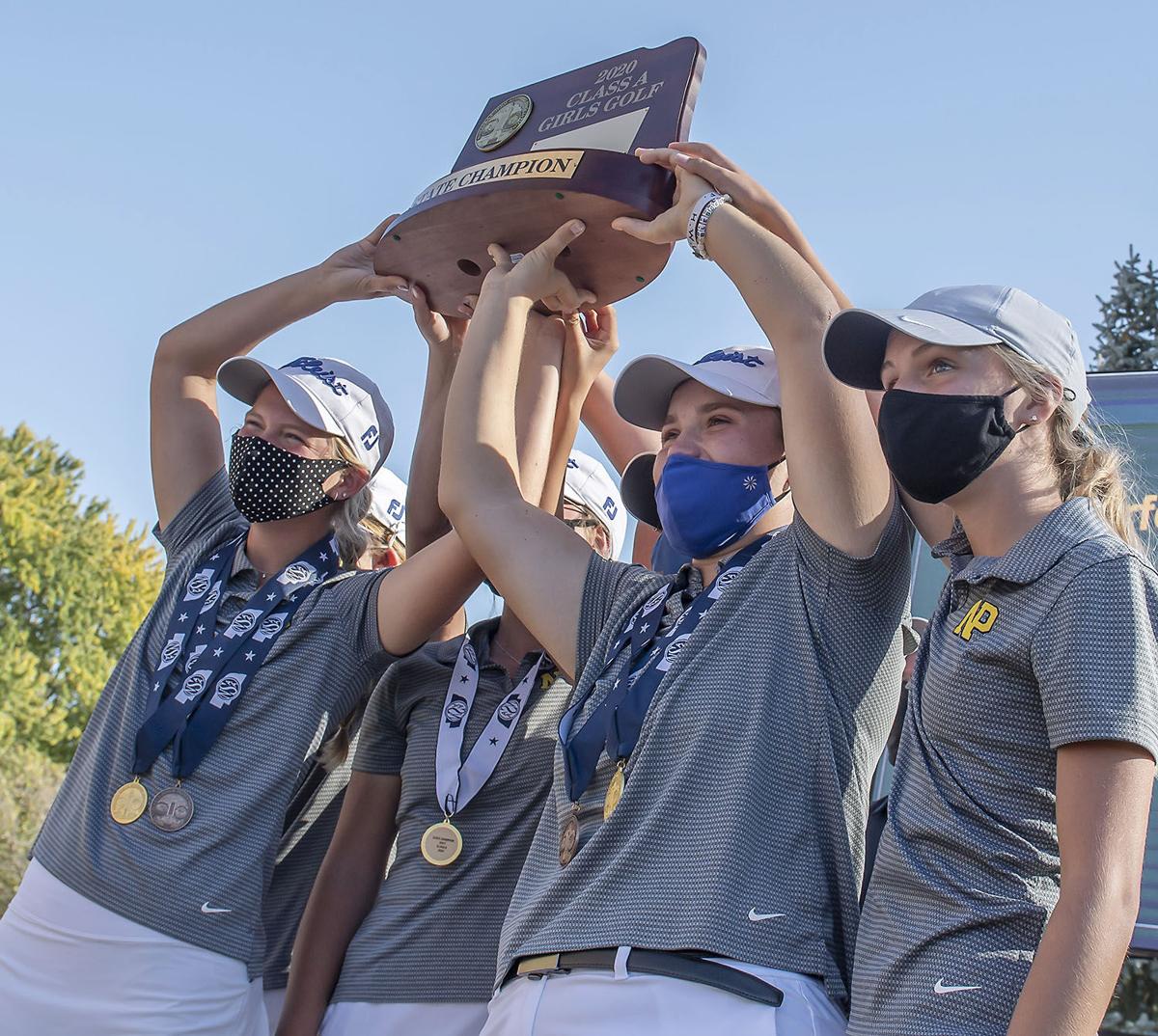 The 2020 Class A State Girls Golf Meet was Baylee Steele and Maya Lashley's last chance at bringing the State title back to North Platte. The two seniors had been a part of back-to-back runner-up teams over the last two seasons, and they wanted to change that going into this year.
On the last day of the meet, the Bulldogs, and Steele and Lashley, finally got over that hump. North Platte won the State title at the Norfolk Country Club on Tuesday, beating out Lincoln Pius X by 23 strokes.
"It means a lot for us to finally get that job done," North Platte coach Jim Orcutt said. "We've had some good players and we've been blessed that way. They've just gotten more experienced. Made for a good year. A fantastic year actually."
The Bulldogs shot a 660 over the two-day competition, while second place Lincoln Pius X posted a 683 and third place Millard North scored a 694.
Karsen Morrison led the team in third place with a 156 after shooting 78 on both days. Steele placed fifth with a 160 after shooting an 83 on Tuesday.
"Karsen's pretty steady, she played pretty steady today." Orcutt said. "She's just tough, she's a very gritty golfer."
Lashley came in ninth with a 166 after shooting 83 on both days. Abby Jones and Kaylee Carlson tied for 36th, each with 184.
"It's really exhausting. Getting through the whole COVID thing with the season takes a lot of effort," Orcutt said. "And this was a team effort to get through that and win a state championship for our school. They were willing to put in the work in the offseason and in the season for what it takes, I really appreciate that. They were really motivated to succeed."
He said Steele and Lashley have been playing at the state competition since they were freshmen, and after years of experience, it's no surprise they were in the top 10 this year.
"Being seniors, it means a lot to them," Orcutt said. "It means a lot to me that they were willing to do what it takes to help the other girls become better players and be good leaders for the younger girls on the team to follow.
"Baylee's going to be the most decorated high school golfer in North Platte history, but Maya's come a long way," Orcutt added. "It wasn't a foreign experience, they weren't as awestruck the last three years."
Orcutt said this was Carlson's first year playing at state, while Jones got to play last year. The Bulldogs will return Morrison, Carlson and Jones next year, and having the experience of winning the state title this season will only help them improve going forward.
"Every time they get to play at one of these events, it gets easier the next time," Orcutt said. "This experience that Abby and Kaylee both had ... they learned a lot."
He said this win wouldn't have been possible without the support of the community and those around the program.
"I would like to thank the parents that supported our team, and also the school, (Athletic Director Jordan) Cudney and the administration for their support during this season," Orcutt said. "They have been wonderful."
Get in the game with our Prep Sports Newsletter
Sent weekly directly to your inbox!