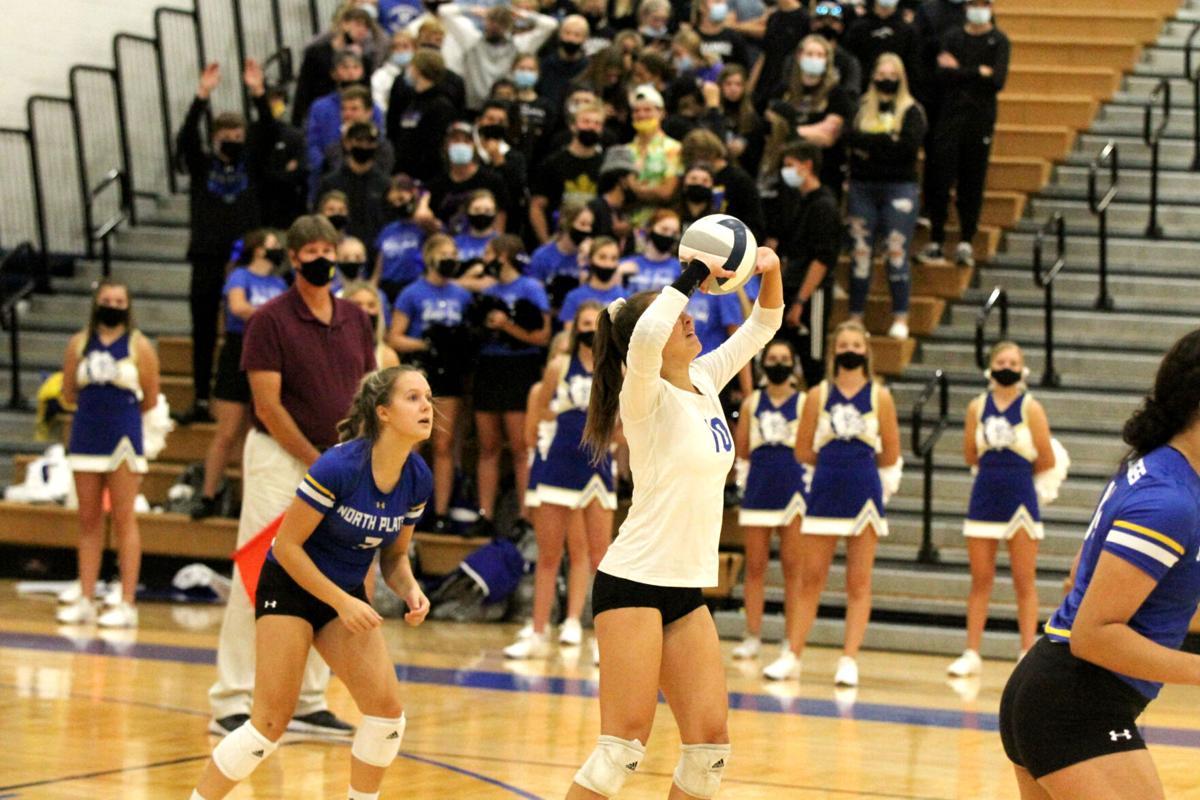 The North Platte volleyball team claimed the first two sets of its match against Gering by 10 points each. The third set was no different.
The Bulldogs came out the way it had been all match: aggressively attacking the net, blocking when needed and finding the open holes to spike balls toward.
"In the third set, it was kind of nice that we could change the lineup around a little bit, so it still kept them focused," North Platte coach Clancy Hammond said. "So I think that worked to our advantage in the third set."
One of those changes came when Sedina Hayes entered the game. She was right on the net, helping to send shots back to the Gering side and even getting a few kills of her own.
"We put Sedina in there in the third set and she just came out lights-out right off the bat," Hammond said. "That was something that got them pumped right away."
North Platte played with that level of intensity all match as the team swept Gering on Tuesday 25-15, 25-15, 25-14.
The Bulldogs were led offensively by McKenna Little, Carly Purdy and Kylie Harvey, who combined for 18 kills. Defensively, the players up by the net continued to block shots either back toward the Gering side or up in the air so their team could recover and go on the attack.
North Platte libero Gracie Haneborg was also efficient in the back, repeatedly diving across the court to keep the play alive, including a dig in the third set that helped set up a point.
"Our back row players ... are all over the court. They don't let balls drop," Hammond said. "They will give it all up for a ball, and we count on that. Tonight, I think that was something that really gained on our energy. They didn't let anything drop."
The Bulldogs started the match on a 7-2 run due to some mistakes from Gering. After Gering went on a three-point run to make it 8-5, North Platte completely took over and jumped out to a 17-8 lead.
Gering went on a six-point run where North Platte was hitting the play either out of play or into the net to make it a four point game, but a timeout helped the Bulldogs regain momentum. They won the first set 25-15 on back-to-back kills from Peyton Neff and Harvey.
Gering only took the lead once across all three sets, and that was early in the second set. While North Platte scored the first two points, Gering scored the next four.
When the Bulldogs tied the game at 5-5, they took back control from Gering. Kills from Delaney Bocott and Harvey helped North Platte take a 12-5 lead.
When Gering was threatening to come back, consecutive service aces from Skyler Sudbeck helped North Platte extend the lead further. A flurry of kills from across the court helped North Platte win the second set 25-15.
The third set wasn't close. North Platte went on multiple scoring runs and many players recorded kills to help the Bulldogs win 25-14. North Platte jumped out to 10-3 lead and kept Gering out of contention.
"I thought our energy was getting up there a little better than what it had been," Hammond said. "That's something that we're really working on, our communication and keeping each other up and energizing and being excited to be on the court. That's something they definitely gained tonight that they didn't have so much of last week."
Get in the game with our Prep Sports Newsletter
Sent weekly directly to your inbox!