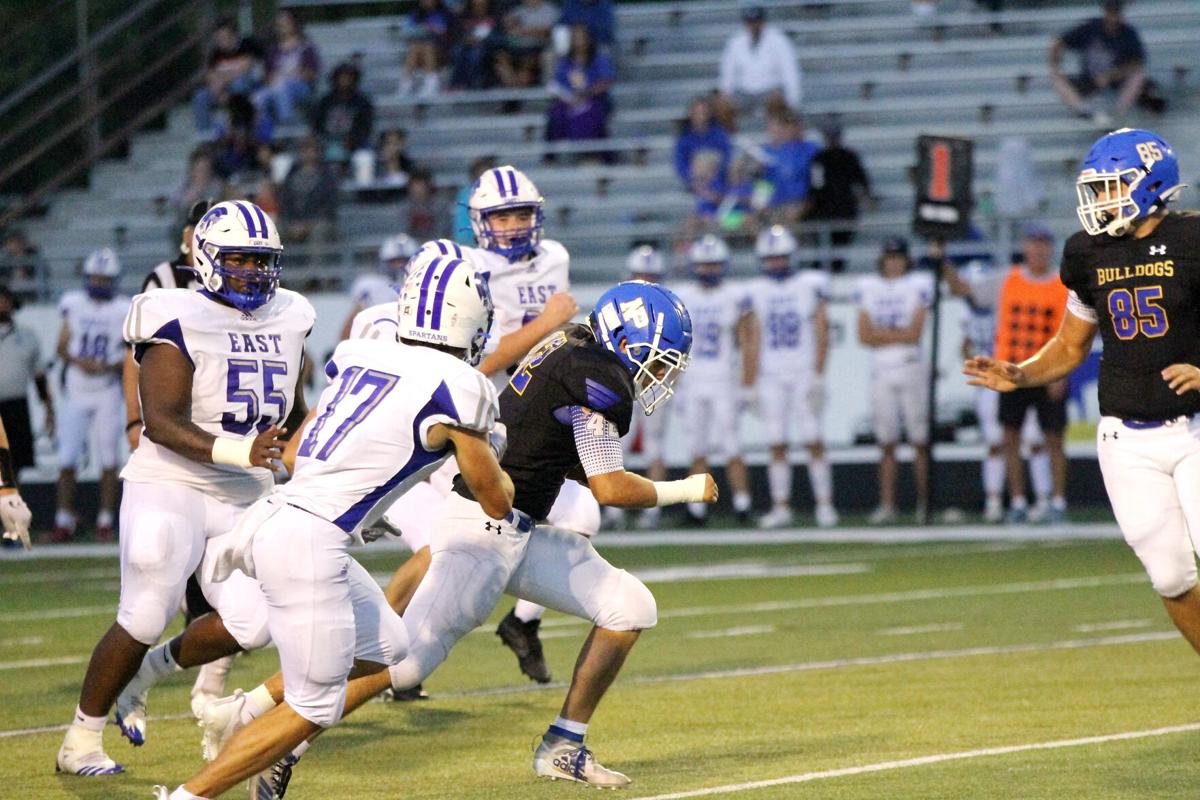 It was clear Class A No. 8 Lincoln East came up with a great strategy to contain Vince Genatone from running rampant on an outside sweep. They held the North Platte senior attracting Division I attention to negative yards.
But the Spartans didn't account for fullback Brock Roblee up the middle or Kolten Tilford's dynamic plays.
Roblee unofficially finished with a career-high 241 yards and a touchdown, and Tilford added 155 yards and a 55-yard run on what should've been a punt as the Bulldogs defeated Lincoln East 41-38 on Friday at home.
"Brock Roblee had three carries in Omaha last week, and Tilford and Vince had big nights," North Platte coach Todd Rice said. "Then come out here tonight, and Vince was a little limited, and then Roblee (had) just an incredible night, which a lot of credit to our offensive line. But to come out and bounce back ... it would've been easy for Brock to pout last week, he had three carries. He didn't bat an eye, he just came back harder this week."
Roblee commanded the bulk of the carries and got his day started with a 30-yard run on the first play of the game. Tilford followed up with a 27-yard run the next play to put the Bulldogs at the Spartan 23.
"I'm really grateful for my line, really," Roblee said. "That's where my main appreciation is. They pulled through and I couldn't do it without them."
A few plays later, Tate Janas ran a sweep on the left side for a 10-yard touchdown to put North Platte ahead 7-0.
Xavier Albertson intercepted Lincoln East quarterback Noah Walters on the next drive, but the call was negated due to defensive pass interference. Walters found Luke Greisen for a long touchdown on the next play to tie the game.
North Platte and Lincoln East went touchdown-for-touchdown for most of the first half. Roblee ripped off a 46-yard run, then scored on a 5-yard run up the middle three plays later. Then, Lincoln East scored on a 19-yard pass to Malachi Coleman to even the score at 14-14.
North Platte followed suit with its own 47-yard touchdown catch-and-run to Cole Wright to close out the first quarter.
It took Lincoln East less than a minute to tie the game on a 54-yard pass to Cooper Erikson. North Platte had to punt on its next drive, which set up a Spartan field goal as Lincoln East took its first lead at 24-21.
North Platte got to midfield on its next drive before bringing out the punt team. When Tilford noticed a bit of room to work with — and with a green light from his head coach — he took off for a 55-yard run as the Bulldogs jumped ahead 28-24.
"Honestly, I wasn't really expecting it at first," Tilford said. "I knew that they were designed to come off the edge pretty hard, but when I snapped that, he came off the edge way harder than I was expecting. I kinda panicked. I started juking left, and I went right and then the field just started opening up and I took off. It worked."
Tilford then intercepted a pass from Walters, but North Platte couldn't capitalize before the first half ended.
Again Lincoln East responded in less than a minute with a 75-yard Greisen touchdown. He had three touchdowns.
Back-to-back 20-yard runs from Tilford and Roblee eventually set up a Genatone six-yard touchdown up the middle. A missed extra point left the score at 34-31. Albertson's fumble recovery — his first of two turnovers — led to another Genatone touchdown to put North Platte ahead by 10.
"To get any stops on them ... they've thrown for over 400 yards a game the last three games," Rice said. "They've been up on people by three or four touchdowns at half. So to be able to turn them over and our offense to consistently move the ball like that, it was really big and kept the pressure on them."
Lincoln East led off the fourth quarter with another Greisen touchdown and trailed by only a field goal. North Platte was forced to punt with 8:28 left, putting the Spartans in a great position to win the game.
But as Lincoln East drove downfield thanks to two big catches from Greisen and Coleman, Walters made a mistake. Albertson picked him off at the 1-yard line, giving North Platte the ball back with 6:27 left.
The Bulldogs whittled down the clock, and relied on Roblee to make two crucial runs. The first was a 36-yard run to bring the ball to Lincoln East's half. The second was on a fourth and one in which Roblee picked up two yards and allowed the Bulldogs to finish running out the clock.