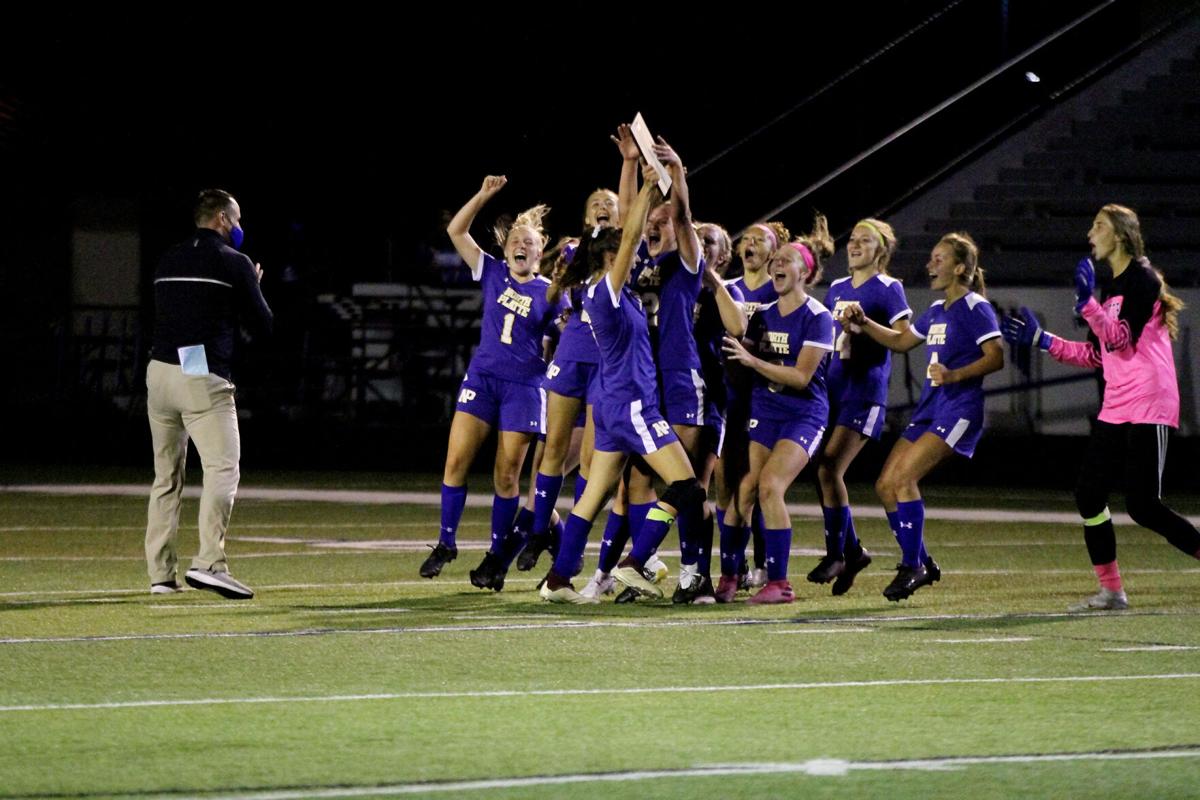 The North Platte girls soccer team is state bound.
Abby Orr and the Bulldogs defense recorded another shutout and Gracie Haneborg scored two goals for the third consecutive game as North Platte defeated Lincoln Pius X 3-0 on Wednesday to clinch their spot at Class A state.
"I think the theme of this year is these girls have continued to amaze me every single time they step on the field," coach Sarah Kaminski said. "Probably one of the teams that play with the most heart and determination that I've coached in 20 years. They just earned it."
"I'm really excited," Haneborg said. "I'm really stoked because I didn't know how we were going to be at the beginning of the season, and coming out of that district game (against Fremont), I felt really confident going into (this) game. I knew that we were a young team and a lot of people overlook young teams."
The Thunderbolts didn't overlook the Bulldogs, but a major miscommunication put them behind the entire game. Brooklyn Ayres rushed toward the Pius X keeper as she was making a save, and the ball came loose and trickled toward the net.
The keeper went for the ball, but so did a defender, who tried to clear the ball as the keeper was about to scoop it up. The resulting play caused the ball to dart into the back of the net for an own goal 52 seconds into the game, and North Platte held a 1-0 early lead.
"One of the things that we talked about was we're going to have to be aggressive and we're going to have to run through the ball, and Brooklyn did exactly what we asked her to do," Kaminski said. "It might seem flukey, but it was pretty intentional in what she was doing up there."
For the rest of the first half and for most of the second, North Platte and Pius X grappled for ground at midfield. Any runs at the net were kicked away by defenders or saved by keepers.
Orr came from in front of the net a few times to grab a ball or kick it away before a Thunderbolt attacker could get to it.
"We knew it was going to be a very physical game, very competitive," Orr said. "They wanted to win, we wanted to win. It was going to be a fight."
Momentum started shifting closer to Pius X's side of the field as the second half went on, and Haneborg laced a goal to the right of the keeper that put North Platte up 2-0.
Haneborg scored again with 6:39 left in the game when Kaitlyn Evans crossed a corner kick that found Haneborg's head in front of the net.
"That header I had been working on all season long," Haneborg said. "(Two years ago), I used to have headers about every other game, and this year I haven't found one. I knew I was going to get one soon."
Evans recorded an assist on a corner in both games of the Class A-4 district, and Kaminski said that's something they've been working on.
"It's funny because we talked to her before the game about letting a little bit off of her corner kick because we've got to let it drop so Gracie can get it as it's coming down instead (of) going up," Kaminski said. "We're just crazy on the sideline because that's exactly what she did."
North Platte earned a trip back to Omaha for the state competition that starts on Wednesday, and though they don't know the opponent yet, Haneborg believes this team is ready for what comes next.
"I think we're going to be really nervous, but I think coming out of this game really showed that we're ready for anything," she said. "I thought that we were going to be a lot more nervous playing a good team that matched up with us in the district final.
"As long as we keep our heads on straightforward, we're going to be fine," she added.