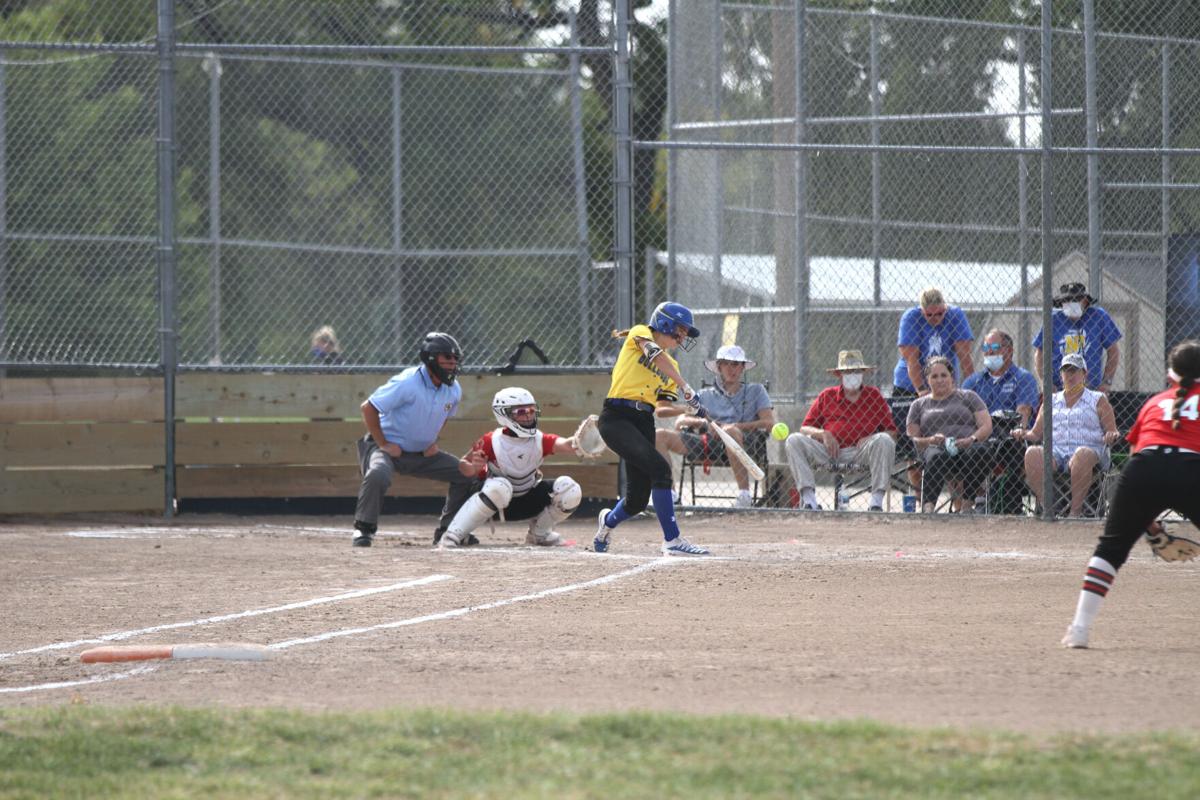 Scottsbluff had come from behind to tie the score in both games of its doubleheader against North Platte on Tuesday. Each time, the Bulldogs exploded to put the games out of reach.
In a 5-5 game one, Ellie Hanson's double and Lauren Horne's single added three runs in the bottom of the fifth inning to help North Platte win 11-5.
In a 9-9 game two, Sydney Barner, Aspen Nelson, Kaitlyn Aden and Hanson picked up four consecutive hits in the bottom of the fifth in the Bulldogs 17-9 mercy rule win.
North Platte came off a split series against Northwest on Monday. It hosts the North Platte Invite on Saturday, before hosting McCook on Tuesday.
North Platte 11, Scottsbluff 5
The runners were moving when Horne's shallow fly ball looked like it would land in center field. The North Platte dugout and fans erupted in cheers as McKenzie Putnam and Emily Winkler crossed home plate to give their team a three-run lead.
Horne's 2-RBI single was frosting on top of a three-hit, three-RBI cake as the Bulldogs won the first game of its doubleheader against Scottsbluff 11-5.
"We came out a little flat," North Platte coach Jeff Barner said. "You could tell we had a doubleheader the night before. It was a little rough, but they fought through it and got through that game."
Hanson and Tahjzah Botts had two hits each, and Hanson tied Horne with three RBIs. Barner had two RBIs and two runs scored. Tatum Montelongo got the start and went four innings, giving up three runs — all unearned — on one hit while striking out six. Kylee Tilford relieved her, allowing two runs on five hits.
Scottsbluff got on the board first when Mariyah Avila scored on a loose ball after reaching base on an error. North Platte took a 4-1 lead in the bottom of the second on an RBI single by Horne followed by a sacrifice groundout, an error and a wild pitch.
An error put the Bearcats' Tatum Heimerman on first, and a two-run homer from Avery Fox made it a 4-3 game. Both teams traded runs in the bottom of the fourth and the top of the fifth. Barner's single scored Horne and Heimerman slapped a dinger to right field.
North Platte took over from there. Hanson doubled in the fifth to score Abby Orr, and Horne's 2-RBI single made it an 8-5 game. Hanson and Botts each had singles in the bottom of the sixth to set the score at 11-5.
North Platte 17, Scottsbluff 9
A car slowly drove by Sycamore Street to catch a glimpse of the second game. A moment after it came to a stop, Barner's two-run home run hit the top of the car, signaling a 4-2 North Platte lead.
Her home run was the first of three in the second inning of North Platte's 17-9 win over Scottsbluff. Hanson and Montelongo followed suit with two of their own.
"When we stay to our fundamentals and stay sound with our hitting form, good things happen," Barner said. "We really enjoy playing at home. We hit pretty well in this ballpark and with the home crowd."
Barner led the North Platte offense with four hits, three RBIs and three runs scored. Shelby Yoshida finished with three hits, and Orr, Aden, Hanson and Montelongo finished with two each. Hanson led the team with four RBIs.
The Bulldogs leaned on Micheala Wright and Kylee Tilford in the circle, and as a team allowed nine runs on 10 hits.
Scottsbluff brought in its first two base runners with a 2-RBI single from Taryn Spady in the first inning. North Platte responded by loading the bases with no outs, but only scored once on a wild pitch.
Macie Freeze doubled to left field in the second inning to score Yoshida. The Bulldogs put seven runs on the board fueled by those three home runs to make it an 8-2 game.
Scottsbluff continued to claw its way back into the game while North Platte started to cool off. Its only run in the next two innings came when Montelongo's double to right scored Nelson in the fourth.
The Bearcats' Reagan Churchill lined a single to left in the third that scored Brady Laucomer and Avila. A sacrifice fly brought Spady in to set the score at 8-5. Momentum briefly changed in the top of the fifth when Angelica Anaya's three-run home run tied the game at 9-9.
All it took was two innings for the game to end in mercy rule. Barner, Nelson, Aden and Hanson had four straight hits to help the Bulldogs go up by five in the bottom of the fifth. North Platte got seven consecutive batters on base in the sixth inning, and the game ended when Yoshida's single scored Hanson to put her team up by eight.
"They had confidence in their bats," Barner said. "That's a great thing … Luckily we were hitting well tonight."
Be the first to know
Get local news delivered to your inbox!