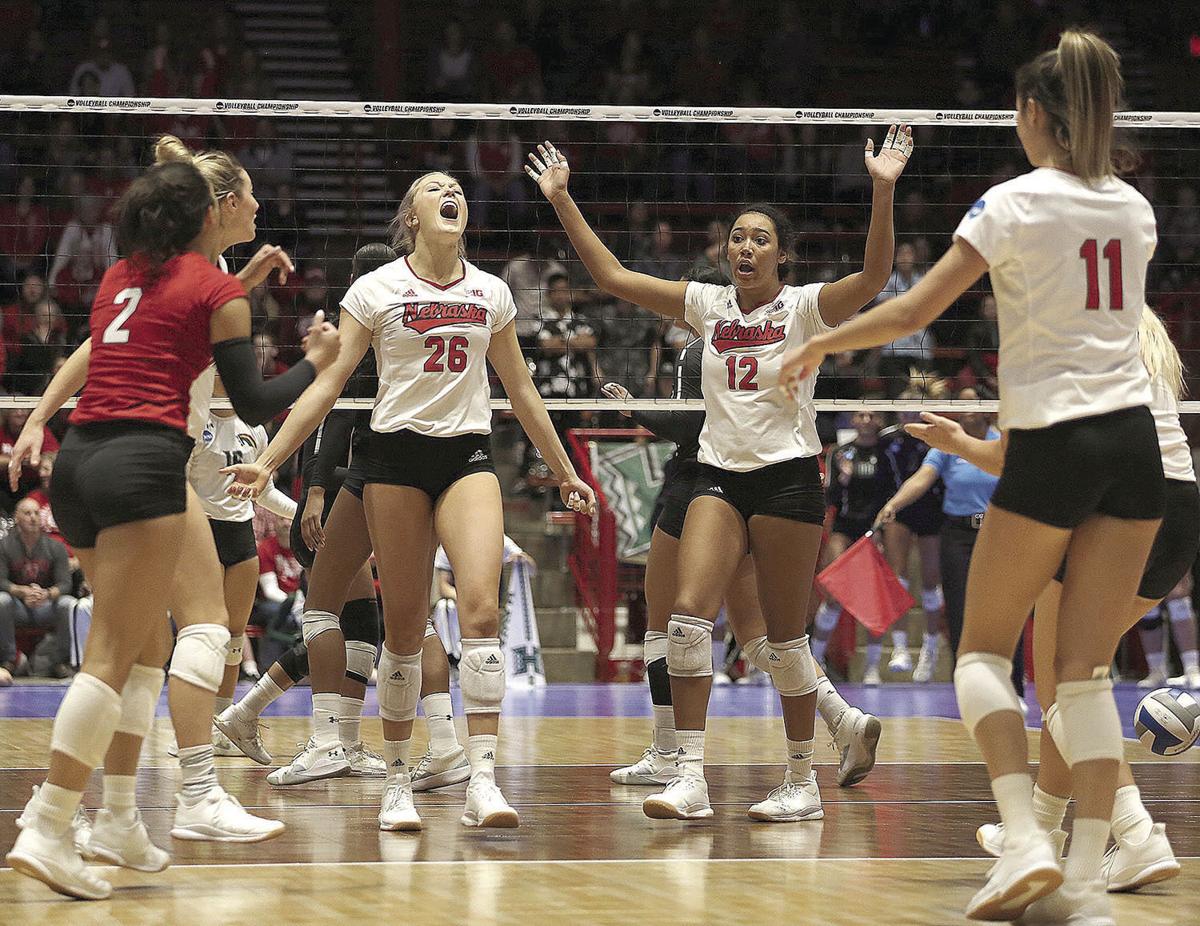 MADISON, Wis. — It's time for round three.
The Nebraska volleyball team will face off against Wisconsin for the third time this season after the fifth-seeded Huskers swept Hawaii 29-27, 25-22, 25-19 Friday afternoon at the UW Fieldhouse.
During the regular season, the Badgers swept both of its matches. Now the Big Ten rivals will meet Saturday at 5 p.m. with a trip to the Final Four on the line.
Against No. 12 Hawaii, Lexi Sun led the Husker offense with 14 kills on a .619 hitting percentage. Jazz Sweet added 12 kills. The Huskers (28-4) hit .312 in the match and .457 in the third set.
Hawaii (26-4) went ahead early in the first set, the Huskers never let the deficit get larger than three. Nicklin Hames sparked a rally with back-to-back aces as part of a 4-0 run that put NU up 17-16. The teams traded points until Hawaii earned a set point at 24-23 after an Amber Igiede kill. Hawaii had two set points, but they were turned away on a service error and a kill by Nicklin Hames. NU sealed the set on its third set point after a Hawaii hitting error. Jazz Sweet led the Husker attack with six kills, while Sun had four on seven swings.
The Huskers carried the momentum into the third set and jumped out to a 6-1 lead after Lexi Sun served five straight points. Hawaii rallied to tie the set after 14-all. With the Rainbow Wahine leading 17-16, Nebraska went on a 7-1 run that included four Hawaii hitting errors, two of which were on blocks. The Wahine pressed Nebraska late by surviving the Huskers first four set points, but Nebraska prevailed on Hawaii's ninth hitting error of the set.
NU started quickly again as it grabbed a 5-1 lead. However, Hawaii scored four straight points to tie the set at 8-all. The teams traded sideouts, until with NU leading 20-18, the Huskers scored five of the final six points of the match.
No. 4 seed Wisconsin won its Regional semifinal against Texas A&M 25-20, 25-17, 25-23.
Hawaii     (26-4) 27 22 19—0
Nebraska (28-4) 29 25 25—3
UH: Van Sickle 14-1-1, Ross 10-1-1, Iosia 6-0-1, Hellvig 6-0-3, Rasmussen 4-0-0, Williams 3-0-4, Igiede 2-2-3, Choy 1-0-0, Westerberg 1-0-0. Totals: 47-4-13.
NU: Sun 14-1-2, Sweet 12-0-3, Kubik 7-1-2, Stivrins 7-0-3, Hames 3-2-1, Schwarzenbach 1-0-5. Totals: 44-4-16.
Set assists: UH 46 (Iosia 19, Choy 19, Okino 4, Van Sickle 1, Ross 1, Hellvig 1, Igiede 1), NU 43 (Hames 36, Knuckles 4, Kubik 3).