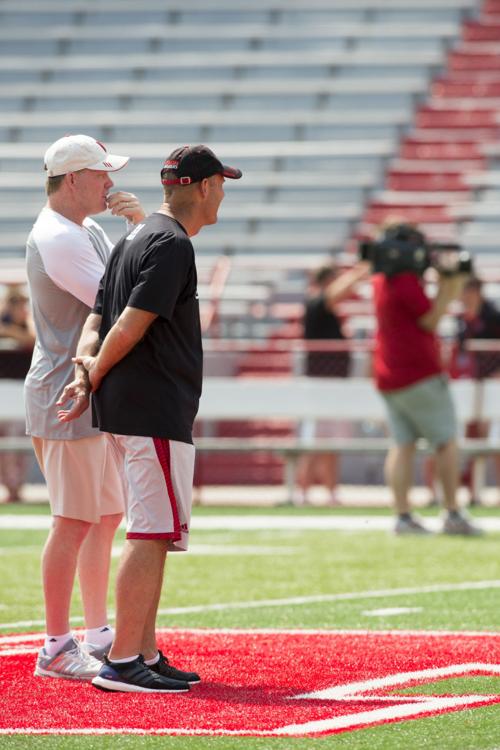 One thing you will not find in Shawn Eichorst's meticulously kept office is a crystal ball. Predicting what happens tomorrow in most anything is a fool's errand. Predicting how a football team will do in the first year with a new head coach? Nah. Don't do it.
Eichorst wasn't about to try that at this time a year ago.
But as Nebraska's athletic director sat in his office Thursday, discussing the year behind and the new one before him, he could only be described as optimistic about what comes next in the Mike Riley era.
Actually, that's not precisely accurate.
"Very, very optimistic" is how Eichorst described his feelings during a sit-down interview with the Journal Star.
"Anytime you have a transition, you're not quite sure how they're going to play out," he continued. "I knew this: I knew we had a really experienced, respected coach who would do and say things that we could all be proud of.
"The game is a humbling game. Football is humbling. Inches, seconds. There are certain things you have control over and other things you didn't. … But I like where we're at. You certainly have to reflect on where you came from, and I have a lot of faith in Mike and his staff to make adjustments."
The Huskers may have finished 2015 with a 6-7 mark, with those seven losses by a total of 31 points. Yet that doesn't make Eichorst waver at all in his belief in what Riley and his staff are doing.
It hasn't hurt that the mood around the state has been more upbeat ever since the Huskers knocked off a then-undefeated Michigan State team Nov. 7, winning three out of their final four games, running for 326 yards in a 37-29 win over UCLA in the bowl game.
"I thought we finished extremely strong," Eichorst said. "Mike is an incredible leader, experienced coach, respected coach. I think he's handled it marvelously under a lot of scrutiny and adversity. It was frustrating at times, there's no doubt. But he has a vision and a plan and that's getting better every day. Improving our talent, our roster, our depth, not making excuses for any of that. We were in every ballgame with a chance to win every ballgame, which I think is the standard here."
Those frustrating times were never greater than Nebraska's return home from Purdue this past Halloween. The Huskers had just lost 55-45 to a program that has won just two conference games in three years.
During those tough points of the season, Eichorst wanted to listen to his coaches more than anything.
"There's a time to talk and there's a time to listen, and you typically don't talk when you don't know exactly what that person is going through," Eichorst said. "So if you've never coached, or been behind that wheel, as much as you might want to (talk), the best thing to do is offer support and listen. And through that you can move forward. Just reassuring patience."
Two days after that Purdue loss, Eichorst showed his support for Riley publicly with a statement. There was a phrase within that statement about rebuilding the program "one brick at a time." Some questioned the wording, given that NU was coming off a nine-win season.
On Thursday, Eichorst further explained what he meant. "The context for me is when you transition and you bring in a new person, that is a brick-by-brick situation by their philosophy. That was only meant as a positive statement about where we're at. You can build brick-by-brick on top of a really strong foundation, which we have: history, tradition, and all those other sorts of things.
"But we're in the here and the now. We've been chasing championships since 1999 and we're going to get that done. But there's a process there."
Asked how he feels about his working relationship with key players in the university system, like the Board of Regents and the new president, Hank Bounds, Eichorst said he's honored and privileged to be at Nebraska and serve the institution and the student-athletes.
"Leadership takes a lot of courage to do the right things at every turn and I think we have people in place that are well-intended, and when you have really talented people who are well-intended, good things happen. You know me. I'm a positive person. Very optimistic by nature. So that's the way I look at things."
As it pertains to football, Eichorst said that he and Riley "talk almost every day." The athletic director wants to give the coach as much support and resources as he can while also knowing when to get out of the way.
"They have a real keen sense of what they want to do and how they want to go about it. It's not perfect. It's not perfect anywhere. And I think they're able to adjust and move forward and be resilient and teach when it gets tough. When there's a lot of adversity, you can go one way or another, and I don't think this team this past year went anywhere but up under some really frustrating and disappointing situations. And you can really build on that. There's character in that."
Eichorst said he's regularly looking to see that Nebraska is competing favorably against peers when it comes to recruiting resources and the salaries of coaches.
He believes the resources being put forth are "measured, reasonable, strategic," with open lines of communication across the department.
He believes, clearly, in these coaches.
"This is a group that is incredibly grateful for the opportunity," Eichorst said. "They're incredibly grateful for the opportunity to be at a place like Nebraska. They don't ask for a lot. They don't make a lot of excuses, that sort of stuff. They're just going to try to go get it done."