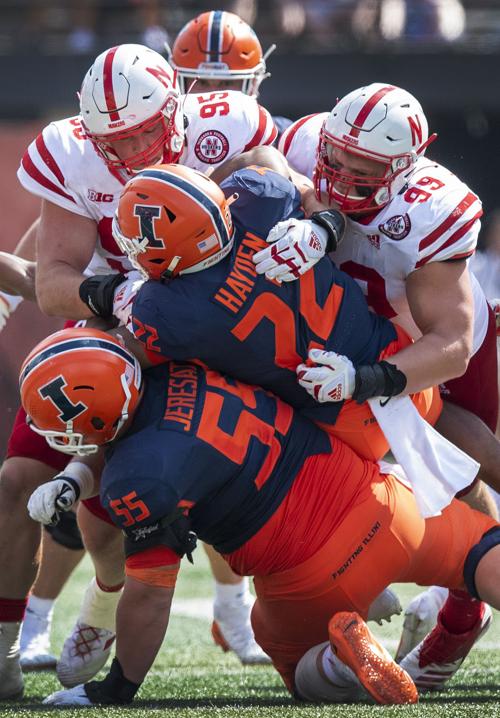 Nebraska returns home after back-to-back one-score losses on the road to take on Northwestern under the lights at Memorial Stadium. Here's a closer look at how the Huskers and the Wildcats match up.
How the Huskers light up the scoreboard
1. Low man wins. Nebraska's offensive line has struggled and may look different on Saturday night. Scott Frost says he thought the group's pad level looked better in practice this week. Will it translate?
2. Ground and pound. The Wildcats are giving up 5.22 yards per carry this season. The Huskers' run game hasn't been great, but Rahmir Johnson has steadied it some. Golden opportunity for Nebraska to get it rolling.
3. Seeing red. Nebraska's been flat-out bad in the red zone the past two weeks. Somewhere between the run game and the fleet of physically imposing receivers and tight ends at the Huskers' disposal, they have to make some progress.
4. Don't jump. If you're sensing an offensive line-heavy theme, you're not wrong. The Huskers have been penalized far too often recently. As Frost said, it takes no physical ability to avoid jumping before the snap.
How the Blackshirts shut 'em down
1. Stack success. Nebraska's defense had been mostly solid for 4½ games, then dominated for a half against Michigan State. Saturday's a chance to build on that rather than allow it to be a flash in the pan.
2. Separate ball from carrier. If you're picking nits with Erik Chinander's crew, they've forced just one fumble this year (against Illinois). If this group starts getting the ball on the ground, it can ascend further.
3. No chunks. Last year, Northwestern running back Drake Anderson ripped off a 41-yard TD run on the Wildcats' first possession. After that, they had just 107 rushing yards and 227 of total offense. If Pat Fitzgerald's team has to methodically move the ball each time on offense, it might be in for a long day.
4. Make the statement. Nebraska's offense is averaging 21.5 points against FBS competition and the special teams have struggled mightily. It's asking a lot, but the Blackshirts should take the approach that they'll go out and win the game essentially themselves if they have to. They're capable of it this week.
10: Penalties on Nebraska's offensive line over the past two weeks. Eight false starts and two personal fouls on Cam Jurgens against Oklahoma.
57.3: Percent of drop-backs (63-of-110) over the past three games that Nebraska's quarterback has been pressured. That despite Buffalo, Oklahoma and MSU combining to blitz just 13.6% of the time (15 times).
128: Nebraska's special teams rank out of 130 FBS teams in the Fremeau Efficiency Index, a metric used to rate teams' overall performance across special teams units.
RB | No. 28 | Fr.: The freshman has modest numbers so far (21 carries, 71 yards, two touchdowns plus three catches), but he gave Nebraska a bit of a spark in the fourth quarter against MSU. Morrison might be No. 2 on the depth chart now, behind Johnson but ahead of Markese Stepp, who Ryan Held said this week has been inconsistent. Morrison has big-play ability. Could this be the week his workload ticks up and he shows it?
DE | No. 95 | Sr.: There are other defenders in the front seven who've received more attention — Garrett Nelson and his seven TFLs, Luke Reimer's 46 tackles plus a pick, etc. — but Stille's been a consistent presence up front. His 16 tackles are best among defensive linemen and his 2½ TFLs are tied for third on the team. He's been dependable, available and has made plays. In a classic Big Ten West game Saturday night, he'll be counted on for more of all of that.
Northwestern safety Brandon Joseph against Nebraska quarterback Adrian Martinez
Joseph picked off Martinez in the end zone last year, leading to Martinez's benching. The standout sophomore is the Wildcats' best player, while Martinez has been the engine behind most of the Huskers' offense so far through five games. The cat-and-mouse game will be a fun one to watch. Oh, one other thing to keep in mind about Joseph: He and Raymond Niro combine to form a dangerous punt return duo.
Northwestern's passing game against Nebraska's pass defense
If Nebraska's going to beat the Wildcats, it's going to have to prevent the kind of big play that can swing a game. The Huskers should be capable of it, too. They're giving up just 6 yards per passing attempt (No. 26 nationally) and have as many interceptions as touchdown passes allowed (five apiece). Northwestern, meanwhile, is No. 13 in the Big Ten at 5.9 yards per attempt passing and has switched between Hunter Johnson and Ryan Hilinski. The Wildcats' two best receivers this year are Bryce Kirtz (16 for 193) and Kansas transfer Stephon Robinson (15 for 193 and a TD).
Nebraska 27, Northwestern 17
Nebraska's lost back-to-back close games on the road and in the process has continued its troubling trend of making too many mistakes, playing poorly on special teams and giving up too much pressure on the quarterback.
All of that being said, the Huskers also on paper look like the superior team to Northwestern. It's the kind of team the Blackshirts should be able to smother and the run defense is one of the more suspect the Nebraska offense will face this year.
So, will it all make a difference? This series is full of close games. The bet here is that Nebraska will be able to extend at least a little bit, relatively speaking, and win a game that will look closer on the scoreboard than it feels on Saturday night.