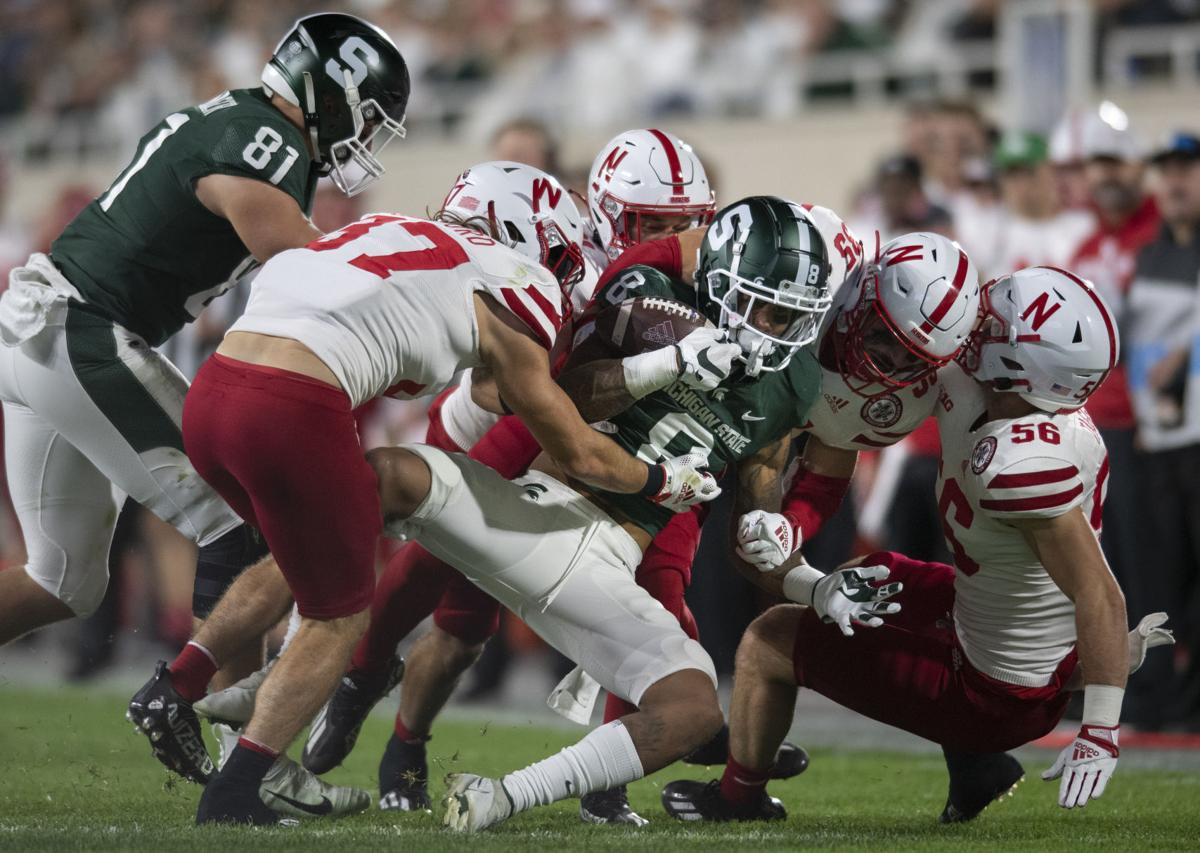 EAST LANSING, Mich. — Nebraska football writer Parker Gabriel offers his extra points from the Husker football team's 23-20 overtime loss to Michigan State.
It was over when: Matt Coghlin's 21-yard chip-shot field goal sailed through the uprights on a third-down snap in overtime.
Up until then — or at least, until Kenneth Walker III ripped off 23 yards, his best run of the night, on the Spartans' first snap of overtime — it was anybody's game.
Turning point: Easy. Jayden Reed hauled in a wayward Daniel Cerni punt with nobody around him late in the fourth quarter and he raced 62 yards for a game-tying touchdown with 3:47 to go.
Nebraska dominated the second half defensively and offensively. Both sides will say they could have done more — the defense wanted a takeaway, even though 14 yards on 15 snaps is more than good enough, and the offense wanted to avoid going three-and-out before the punt — but simply put, that play changed the outcome of the game.
Quotable: Sophomore outside linebacker Garrett Nelson on what he and his teammates can say regarding Cerni's bad punt.
"I tried to pick up (Connor) Culp (last week) and the team picked him up and he kicked a lot better in this game. I don't know if we had any part in that at all. I'd like to think we did. So, (Cerni) is our teammate. We all make mistakes. His mistakes are so obvious because he has one shot. As a defense, we have 60 or something. He has to be perfect, which is a difficult thing to do in football. You can't just get on up and think that he sucks now. We've got to pick him up like we did with Culp and, like I said, hopefully we had some positive mental space with Culp and he did a lot better. So we'll just do the same thing."
Game ball: Reed. He was the difference-maker for the Spartans. In addition to his punt return touchdown, he hauled in a 35-yard touchdown pass on a flea-flicker in the first half and also returned a kickoff 41 yards. He had 190 all-purpose yards (59 receiving, 62 punt return, 69 kick return) and scored both of the Spartans' touchdowns.
Game ball: NU defensive coordinator Erik Chinander and his unit. It's the best half of football the Blackshirts have played in how many years? They dominated and have nothing but heartache and anger to show for it.
"It's a crying shame," Frost said after the game.
Hat tip: MSU punter Bryce Baringer had six punts for 353 yards for a whopping 58.8 average. He has a big leg —14 of 50-plus last year — but a frustrated Frost said he thought his team left "200 to 300" hidden yards on the field in special teams between the bad kicks, poor coverage and inability to field Baringer's punts or keep them from rolling extensively.
Deep connection: Nebraska receiver Zavier Betts had five catches for 62 yards in the first half but didn't play in the second half. Curious. Frost said after the game that Betts was unavailable, confirmed he was hurt, but didn't elaborate.
6: Punts on the night for the Huskers.
2: Punts that didn't end poorly for Nebraska. The Spartans started three of those drives at their own 44, returned one for a touchdown and saw the Huskers net just 24 on a touchback. The other two were better for the visitors, pinning the Spartans at their own 9 and own 25. Still, a brutal night in that department for Nebraska.
8.6: Yards per carry averaged by Kenneth Walker III entering play.
3.2: Yards per carry averaged by the standout MSU back on Saturday night.
23: Walker's longest run, which came in overtime to set up the game-winning field goal.
9: More yards on that one play than MSU had gained the entire second half of regulation.
9: Tackles for loss for the Blackshirts to go along with three sacks.
316: Offensive yards for Martinez, the third straight game he's gone for 300-plus. He's hit that mark against all four FBS teams the Huskers have played this fall.