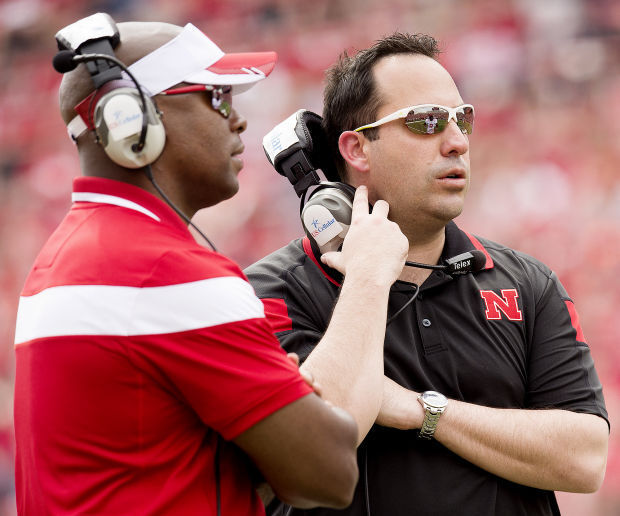 As it turns out, Mike Riley won't have any full-time assistants from the Bo Pelini staff coaching for him in 2015.
Secondary coach Charlton Warren, who impressed with his recruiting prowess in his one year on the job in Lincoln, is joining North Carolina in a similar role.
First reported on Friday morning by SI.com, Warren's departure later carried the official tag with a statement from Husker coach Mike Riley.
"This is an opportunity that Charlton feels is right for him and his family, and I respect his decision," Riley said. "We appreciate the valuable role Charlton has played in our transition to the University of Nebraska and wish him and his family nothing but the best. Charlton is an outstanding man and a bright, energetic football coach with a great future ahead of him in this profession."
Riley also described what he was looking for in a replacement.
"We will search for a talented teacher, coach and recruiter to fill the open position on our defensive staff," Riley said. "This is a high priority, but we will take the necessary time to find the individual who is the right fit to help lead the young men in the University of Nebraska football program."
Riley more than likely has a three-week deadline to figure out who fills the open role, with the first Husker spring practice scheduled for March 7. He'll no doubt be looking for a coach who knows how to win in living rooms, something Warren seemed to be proficient in.
Warren played an important hand in recruiting seven of the 20 signees from Nebraska's 2015 recruiting class, including defensive backs Eric Lee Jr., Avery Anderson and Aaron Williams, who are already enrolled and participating in winter conditioning.
The departing coach has not responded to messages left by the Journal Star.
Eric Lee Sr. said the news of Warren's leaving surprised him and his son, but he also wasn't holding a grudge, calling Warren a great guy. "As a father and a businessman, I completely understand that when opportunity knocks, you have to answer the door," he said.
Lee Sr. said he talked to his son Friday morning about the news. "He seemed happy and excited about the opportunity that was still ahead of him."
The move reunites Warren and Tar Heels head coach Larry Fedora, who were together at Air Force from 1997-98. Warren was a defensive back for the Falcons while Fedora was the academy's quarterbacks and wide receivers coach.
The 38-year-old Warren replaces former North Carolina cornerbacks coach Dan Disch. He was fired earlier this month as Fedora overhauled his defensive staff. The Tar Heels were one of the country's worst defenses last season.
​Though based on limited data around here, Warren has developed an excellent reputation as a recruiter, especially in his native state of Georgia. This past season was Warren's first at Nebraska, and Riley retained him last month — the only full-time assistant retained from the previous NU staff.
On Signing Day, just nine days before the news of Warren's departure, Riley complimented Warren for being a valuable resource to him and the new staff as they tried to field a strong class amid coaching transition.
"Everything about him and hiring him was confirmed to me why that was a good thing because of who he is," Riley said on Signing Day. "He was a good connection to a lot of these guys."
The recruiting site 247Sports ranked Warren 63rd among all recruiters nationally and seventh among Big Ten assistants in the last recruiting cycle. Josh Helmholdt, Midwest recruiting analyst for Rivals, on Thursday listed Warren among his top 10 recruiters in the Big Ten.
When Riley visited recruits Lee and Anderson for the first time in December, he said one of the first questions from the recruits and families was as to whether Riley planned to keep Warren on staff.
That, Riley felt, was a "good sign" as to the impact Warren had on people on the recruiting trail.
Still, Lee Sr. reminded his son that the coach recruiting him wasn't necessarily the coach he was going to have throughout his college career.
"Eric was very, very impressed with Coach Warren," Lee Sr. said. "Liked him as a man. Liked some of the things he talked about as a coach. But I always told Eric, 'You don't know in this business. You don't know who's going to be there tomorrow.' And he understood that."
Warren had agreed to a two-year contract at NU in December, and was to earn $250,000 in 2015 and $275,000 in 2016.
Before his arrival in Lincoln, Warren had been an assistant at his alma mater Air Force since 2005. He was associate head coach, defensive coordinator and secondary coach in his last two seasons with the Falcons.
Fedora recently hired former Auburn head coach Gene Chizik as his defensive coordinator and former Nebraska defensive coordinator John Papuchis as a defensive assistant. "#Boom," tweeted Papuchis on Friday morning, dusting off the hashtag used on social media by members of the previous Husker staff whenever they landed a recruit.
North Carolina football will need some fireworks come the fall. It seems a critical year for Fedora and his new-look staff. Fedora has a 21-17 record in his three seasons at North Carolina, including a 6-7 mark last year after coming into the season as a preseason Top 25 team.
Meanwhile, the revolving door at the Nebraska secondary coach position continues to swing. Marvin Sanders left after the 2010 season. Corey Raymond jumped to LSU after a year in Lincoln. Then Terry Joseph showed up for two, jumping to Texas A&M. Then Warren. Twelve months. Another jump.
Current Husker players had expressed excitement, and some relief, in December when they believed the coaching carousel at their position had stopped spinning.
"Every coach has a different philosophy," said senior Husker cornerback Daniel Davie. "With somebody coming back, you're going to know what to expect from him. You're going to know what attitude to bring back every day at practice. I think it's important to have some stability going into next season."
Instead, Nebraska will have its fifth defensive backs coach in six years.
As the new Husker Lee tweeted: "An eventful Friday it is."