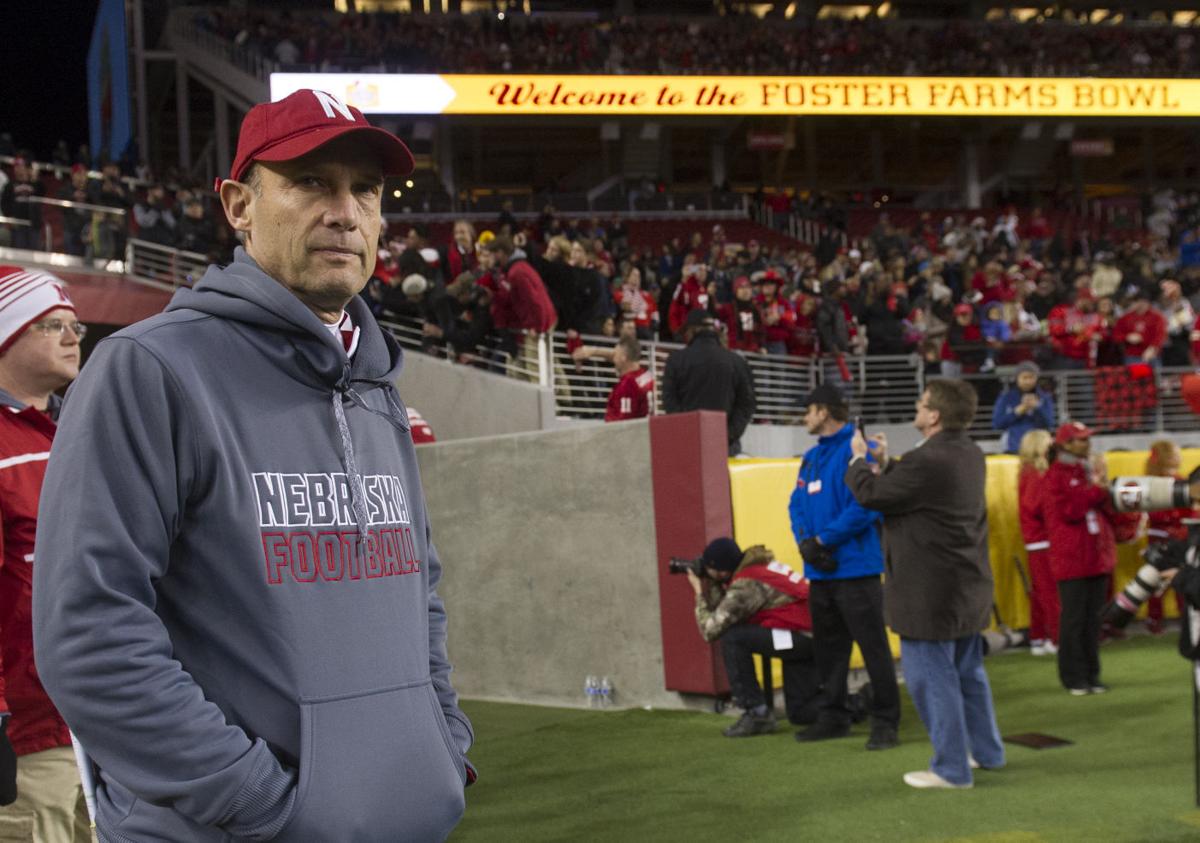 A year ago, all the office name plates weren't yet ordered. Media and fans were digging through the bios of new coaches while learning who would be in charge of what on Mike Riley's Husker staff.
Nobody around here knew about wide receivers coach Keith Williams. He hadn't been hired yet. The secondary was still coached by Charlton Warren. It was February when he left for North Carolina, opening a spot for Brian Stewart.
Compared to all that, things are much more settled for Nebraska's head football coach, as he talked Wednesday about his coaching staff heading into Year 2, everyone hoping the momentum of a 37-29 bowl win against UCLA is indeed a very real thing.
What's certainly real is the importance of staff chemistry. Riley had coached with six of his nine full-time assistants prior to last year. Only Stewart and Williams, as well as defensive line coach Hank Hughes, were new to him.
"Just like with players, you learn about people," Riley told the Journal Star. "You gain, hopefully, more trust as you go. Both ways. Them for me and me for them. So you're not only transitioning with a new team, you've got some new parts. And time is the only thing that is real important in proving how that goes. But I think when you sum it all up in the first year, I think it's been pretty good."
Riley recharged his battery with family for a few days after the bowl game, but he's back in Lincoln now. It's a recruiting dead period, but that final day of quiet is Jan. 14. Then comes the sprint to that first Wednesday in February.
Preparation for that recruiting dash is vital, but there's also a current roster to manage.
Riley has been having discussions with players who may be considering transferring. More clarity on who is leaving will become public next week when the spring semester begins, but the coach doesn't expect a great exodus.
There have been productive talks.
"These are not bad conversations," Riley said. "Some of them, most of them, have to do with opportunity. A guy not playing as much as he wants to play. Most of the conversations are not adversarial. They're, 'How can we help this deal?'
"Obviously if they want to stay and continue to compete and see where they can go, I'm all for them. If they want to look for another opportunity that might provide them more playing time, then I'm for them too. It's kind of just figuring out what's best for them to do, and then pointing out the fact that things may not change here (in regard to playing time). I don't have a crystal ball. So I'm not sure what will happen. And then balancing that with (saying), 'You've got to be careful what you're getting into. It's got to be the right fit, the right kind of program and the best school for you.'"
Riley isn't ready to name names yet of who may leave. How many?
"I would think there are no more than four or five guys in that conversation right now," he said.
Riley is also planning for discussions with his staff. He'll have evaluations with each of his coaches in late January or early February when time allows.
"I kind of reflect on the work that we have to do and the improvement we have to make and the issues that we're dealing with," he said. "We have to continue to grow as a staff to make that all happen."
Most of the full-time assistants, upon their arrival last year, signed two-year deals, though offensive coordinator Danny Langsdorf had a three-year agreement that runs through the 2017 season. Linebackers coach Trent Bray had a one-year contract that expires at the end of January.
Riley didn't recall the specifics of why Bray's deal was different, "but we have already made a move to remedy that and fix that. I think Trent will be back with us again, and I'm proud about that."
Riley felt Bray this past year "did one of the best coaching jobs" with a group of linebackers that lacked depth and had to fight through injuries, with more snaps taken by true freshman Dedrick Young than any other backer.
"He grew up like I did with a dad as a coach and he really, really soaked it all in," Riley said of Bray. "He was a really good player for us (at Oregon State). Way back then, he was a really good student of the game. He was a natural to go into coaching. He has got a great way to teach, a great rapport with players, he does a great job recruiting, and he really works at it hard. This is real important to him. We want to stabilize that situation and keep it going."
Stability would be welcome on all fronts in 2016 after a 6-7 season in which players adjusted to a new approach. The encouraging part is, Nebraska played its best football at the end, winning three of its final four games, including wins against Michigan State and UCLA.
Perhaps the new approach for players was starting to become the normal approach.
"I think that's kind of an ongoing process that just grows," Riley said. "I think the establishment of a culture can sometimes be multi-year. But I definitely think the comforting part is, we'll start way ahead this year's spring practice from where we did last year, both in the relationship part of it and the football part of it.
"We can put the ball down and call a play, call a defense, and kind of know where we're starting from instead of beginning from putting the huddle together."