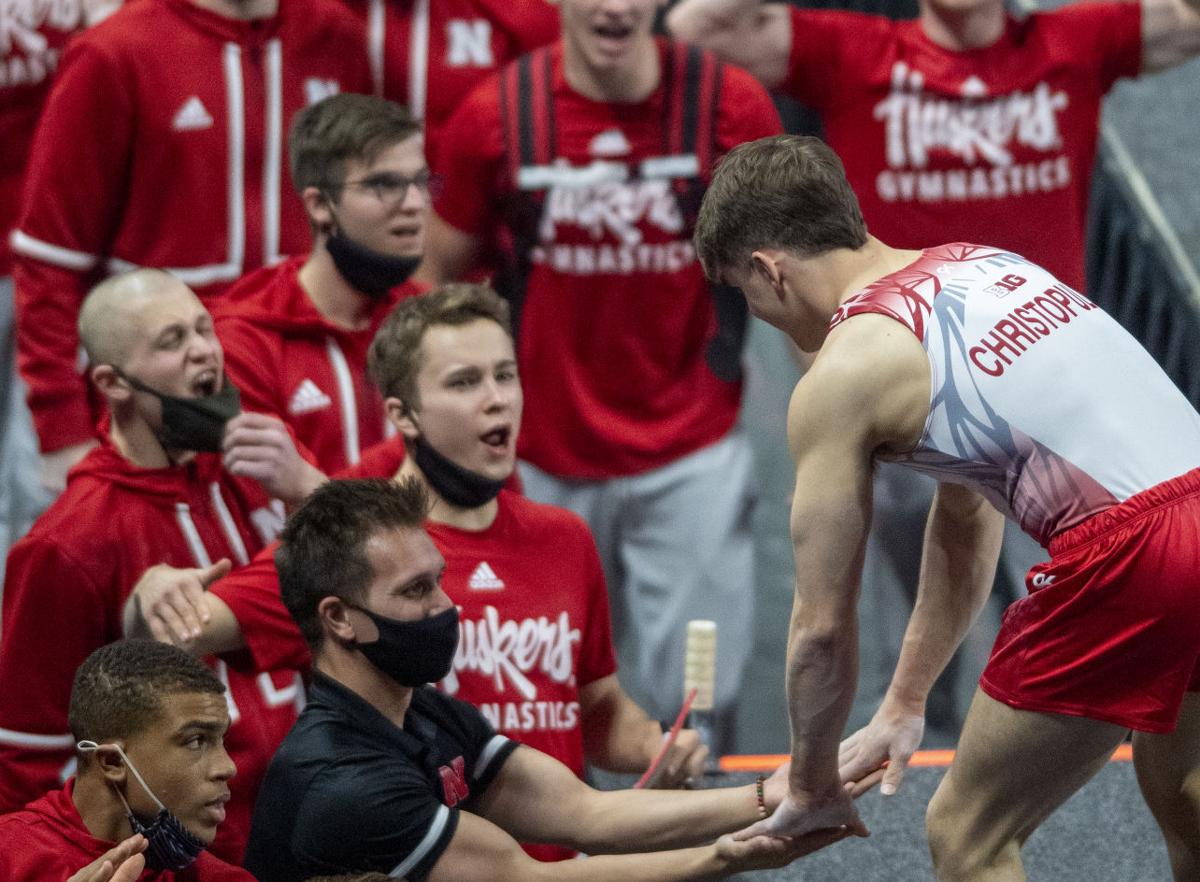 Stanford, the defending national champion, and Oklahoma, last year's national runner-up, will be on the same floor, so Nebraska has known for some time that Saturday's season-opening Rocky Mountain Open was going to be a big challenge.
In the past two weeks, however, the Husker men's gymnastics team has been fighting a much different obstacle.
Of the 19 team members, 13 had tested positive for COVID-19 as of Tuesday, according to coach Chuck Chmelka, and the team is unlikely to be at full strength when it competes Saturday in Colorado Springs, Colorado.
Several Huskers were expected to pass the final protocols by the time the team departs by bus Friday. But, the gymnasts who have been isolating have not been able to practice, so they're not in peak gymnastics shape. That will likely keep some athletes back in Lincoln.
"The six guys that did not get it that were able to continue to train, they're going to be keys for sure, and be in more events than we probably planned on just because they're in the best shape," Chmelka said.
"The goal is going to be to keep guys safe, hit the best percentage we possibly can with who we have going in, and come out of there healthy, hungry and ready for the next meet."
As volatile as this stretch has been for the Huskers, it hasn't dampened their spirits heading into the new season.
Nebraska is coming off finishes of second at the Big Ten championships and fourth at the NCAA championships — the team was third at NCAAs in 2019 — and NU returns most of the gymnasts key to those successful results.
This year's Husker team, boosted by a strong freshman class and several experienced competitors, is deep. The Huskers also are not afraid to talk about an end goal that they feel is within reach.
"There's no guy that is complacent or OK with just where we are and being in fourth place," senior captain Dillan King said. "Everyone's ready and fired up to take those next couple of steps from a fourth-place team to a national title team.
"Our expectations as a team is to win the national title this year."
King said many Huskers, more than usual, stayed in Lincoln over the summer to work on their gymnastics.
"We're all training with the same goal in mind and we're all doing it together, which is going to make a huge difference this year," King added.
Nebraska returns three All-Americans from last year's NCAA meet, including senior Charlie Giles, who earned AA honors on pommel horse and vault, and Taylor Christopulos, who was an All-American on vault and among the top freshmen in the country. The presence of senior All-American Jake Bonnay, who is taking advantage of his extra year of eligibility, also provides a boost.
The freshman class is led by Joey Pepe, a member of the U.S. junior development team.
"The pieces to the puzzle are there, we just got to put it all together at the right time and keep the correct pieces of that puzzle healthy and in the right spots," Chmelka said. "They're a hungry group and they want to do something that the other guys ahead of them have not done. It's either second or first (at NCAAs) ... might as well go for the whole thing."
And though the Huskers will likely be short-handed for Saturday's meet, which begins at 7 p.m., they seek to use the Rocky Mountain Open as a springboard. After competing against a field that includes Oklahoma and Stanford, NU will travel to Big Ten preseason favorite Michigan two weeks later.
"What's most important about going into this weekend is going out there and making an impression," King said. "The first meet always has some ups and downs, not everyone is in the best shape or at their peak, but what we can do and capitalize on is going out and making that impression, showing them that we're ready."