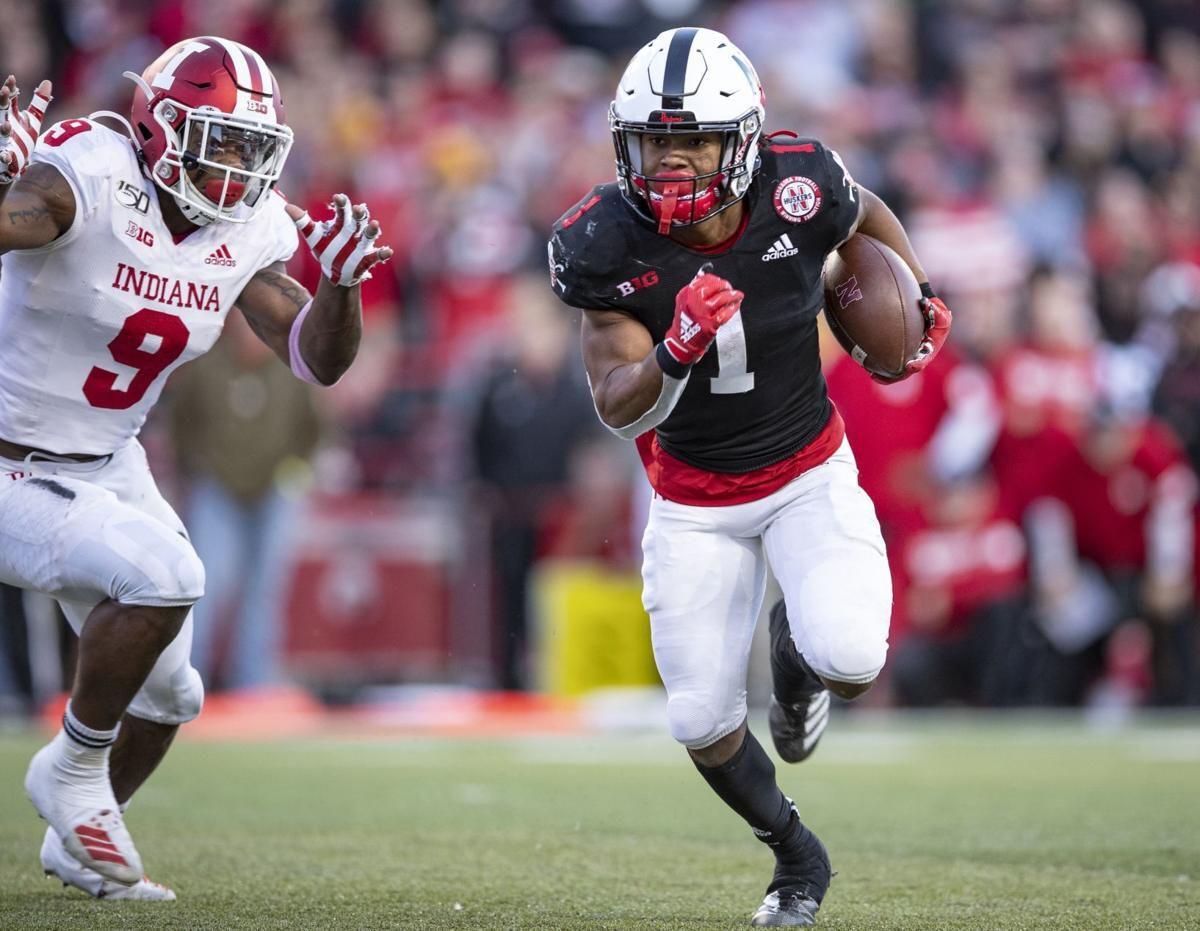 LINCOLN — The new guy loved where Nebraska's offense — and its receivers — were headed in the spring. It was early and NU had just finished a couple of practices, but Matt Lubick liked what he saw as the Huskers' offensive coordinator and receivers coach.
The coronavirus pandemic shut down spring practice and effectively stopped any on-field work that Lubick and colleagues could do with their players.
Yet Lubick, who replaced Troy Walters this winter, is an optimist, and found a couple of positives in the process.
First, the pause allowed Lubick to examine NU's offensive scheme and strategy outside the "whirlwind" of drills.
"I feel a lot better where we were going as an offense," Lubick said Tuesday night on the Husker Sports Network. "I'm studying other teams as well."
Second, he found he could trust his top two returning receivers, sophomore Wan'Dale Robinson and junior Kade Warner, to set the tone in player-led, voluntary offseason workouts and drills.
Robinson had 40 catches for 453 yards and two touchdowns last season. He rushed for 340 yards and three touchdowns as well. Lubick marveled at Robinson's ability to learn two positions as a true freshman and his overall grasp of the game.
"His football intelligence blows me away, just talking to him, how easy he picks things up, how natural things are to him," Lubick said. "He can learn on video, and you can tell him one thing and he'll go out there and do it with not a lot of reps.
"And then, since I've been here — he's just a freshman, but we're not treating him like a freshman, we're treating him like an experienced guy coming back to be a leader by example — but he's taken that a step further and reached out to the younger guys and driven our group in making them better by the way he works and making them better."
Warner, a walk-on who is the son of Pro Football Hall of Fame quarterback Kurt Warner, is like a coach on the field, Lubick said, and players respect him because of how he played through a "pretty darn bad" ankle injury last season.
"I think he's more mature than me," said Lubick, who added he hasn't met a more mature player in 25 seasons coaching. "Just talking to him, and just how he has such a good feel for the group. He's wise beyond his years. He's a lot like Wan'Dale. I ask him for feedback — how'd you guys do this last year? He helps me coach guys."
Robinson and Warner hope to replace the production lost when JD Spielman left the program. Nebraska's most productive receiver in 2019, Spielman took a leave of absence in early March, officially parted with NU in the summer and recently announced a transfer to TCU. He caught 49 passes for 898 yards and five touchdowns last season and had 170 catches, 2,546 yards and 15 touchdowns over three seasons at NU, making him one of the most prolific pass-catchers in Husker history.
Spielman's departure leaves Nebraska with a young and inexperienced — albeit talented — group. Hybrid receiver/tight end Chris Hickman has toughness and versatility, Lubick said. Redshirt freshmen Jamie Nance and Demariyon Houston have eagerness and speed, but need more reps in the offense. Alante Brown, a former high school quarterback, is similar to Robinson and Warner, Lubick said, in his ability to pick up the offense. In a handful of spring practices, Brown also showed himself as a playmaker, Lubick said.
"You can make an argument he might be our fastest guy," Lubick said. "I've never put those guys on a clock, but he can run. And he broke away a few times in spring and you're like, 'Wow, this guy's a big playmaker.' He impressed everyone in that short amount of time."
Brown was part of a big and highly rated receiver recruiting class that included the No. 1 junior college wideout in Omar Manning. Lubick, having not worked much with any of the incoming recruits other than Brown, wanted to see what they could do on the practice field before offering much analysis.
"You can't assume they just know your offense," Lubick said when asked how often junior college receivers make an immediate impact. "They're a little bit more mature, they know what college ball is like and they've played at a little bit higher level, but, at the end of the day, they're still like a clean slate, like a freshman. You've still got to teach them the offense."
Lubick took over his dual role as receivers coach and coordinator when Walters and NU mutually parted ways and the school honored the final year of his contract. Lubick, who took a year off from coaching in 2019, served as a consultant for Frost during the season. Frost had lauded Lubick's skills as a coach and an organized thinker in structuring practice. Nebraska got only two of those in before the coronavirus pandemic wiped out the rest. NU didn't have another team practice until the first of several walk-throughs last week.
"The transition was going great," Lubick said. But the pandemic gave him time to "look and study and regroup." It has allowed for more time to recruit as well.
The Huskers have commitments from two receivers for the 2021 class, Latrell Neville from suburban Houston and Shawn Hardy from Georgia. Both prospects are 6-foot-3 and have room to add weight on their frames.
The Husker Camp Countdown of Nebraska's most important players
Our Husker Camp Countdown highlights the 50 most important players on the Nebraska football team.