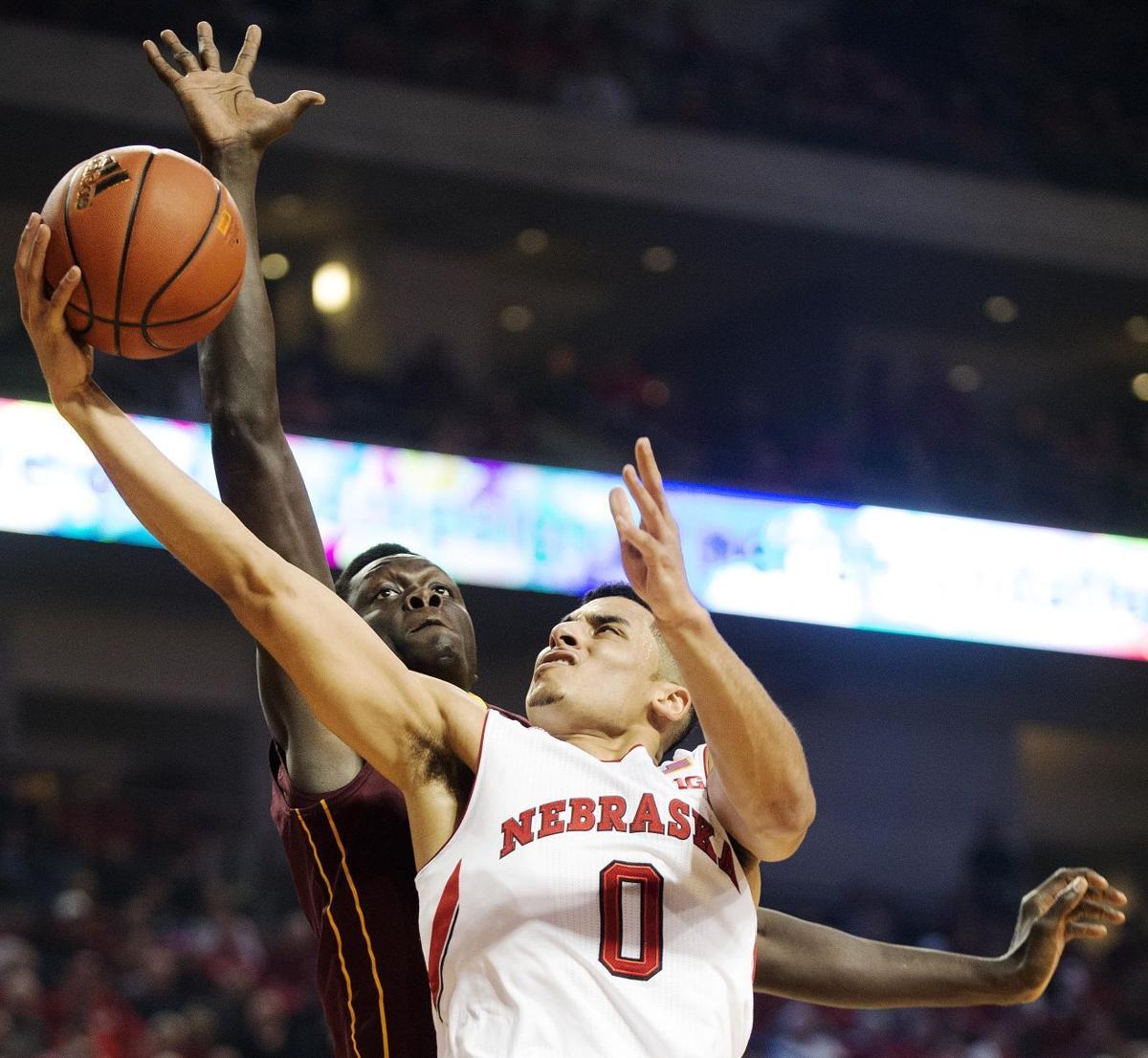 For the second consecutive game, the Nebraska men's basketball team entered halftime with a surprisingly comfortable lead.
In a conference game, no less.
"I told myself at halftime, 'It's not this easy. Do not fall for that trick,' " Nebraska coach Tim Miles said.
Once again playing the role of the windshield, and not the bug, Nebraska used a 29-4 first-half run to bury Minnesota 84-59 on Tuesday night before 12,327 fans at Pinnacle Bank Arena.
Nebraska, coming off a 90-56 victory at Rutgers on Saturday, topped 80 points in consecutive conference games for the first time since 2002. And for the first time since 1971, the Huskers have won back-to-back conference games by at least 20 points.
Nebraska (10-8, 2-3 Big Ten Conference) could've made history by winning back-to-back league games by 30 points or more. That's never happened.
But Miles pulled his starters with 6:58 to play, with his team leading by 38 points, and every Husker in uniform played.
"I was only concerned about us playing with great determination again and sustaining the level of play that can allow us to be successful in this league," Miles said of any concerns of a letdown after Saturday's rout.
"Our number one key for the game tonight was string together effort and execution."
Senior forward Shavon Shields scored 24 points, including 19 in the first half, in his 100th consecutive start, and eclipsed 1,400 points for his career.
"I thought Shavon was just terrific tonight. He was on the attack," Miles said. "He was just, like, really good. You could see, he looked like the best guy on the floor for a long time."
Nebraska attacked Minnesota's zone with ease, while its defense held the Gophers without a field goal during a 5:38 stretch. The Huskers led by as many as 22 points before halftime, and by 38 in the second half.
"Everybody made plays in the middle of the zone instead of waiting and kind of reacting and trying to go set up something," Shields said. "We just took it and went. That was big. Glynn (Watson) did a good job of it, Tai (Webster) did a good job of it."
Junior guard Andrew White scored 15 points on 5-of-10 shooting, Watson had eight points, no turnovers and a career-high four steals, and Webster tied his career high with five assists.
Nebraska's 47 first-half points were its most in a conference game since 2002.
Minnesota did not make a jump shot in the first half. The Gophers shot 8-of-22 with all eight makes within 3 feet of the rim, and didn't make a jumper outside of the paint until 15:57 remained, when Nate Mason hit a 17-footer.
The crowd mockingly cheered Minnesota's first three-pointer late in the game. The Gophers were 1-of-15 on threes before Joey King made two late three-pointers.
King and Carlos Morris, two of the Gophers' top three scorers for the season, didn't start as Minnesota coach Richard Pitino shuffled his starting lineup in search of a spark.
Minnesota (6-11, 0-5) has lost six games in a row, and nine out of 10.
"We're not a very good team right now. That's apparent. You don't have to be a coach to figure that one out," Pitino said.
"We obviously are an extremely unconfident basketball team right now. We can't make shots, and can't get stops and rebounds. That is a recipe to lose a lot of games."
Nebraska shot 51.7 percent, including 53.8 percent in the second half. The Huskers came out of halftime on a 9-0 run.
Nebraska outrebounded Minnesota 40-22 and had 17 assists on 30 made field goals. The Gophers had 16 turnovers and seven assists.
"Confidence is earned, and to do it in rather convincing fashion I think helps," Miles said. "I'd say we're further ahead, but until you start doing some special things do you feel like you're 10 feet tall and bullet-proof, and we're a long way from that."
* Nebraska extended a scholarship offer Tuesday night to 2018 recruit Ed Chang, a 6-foot-7 forward from Papillion-La Vista High School. Chang, who received a scholarship offer from Creighton over the weekend, attended Tuesday night's game on an unofficial visit and tweeted the news.
* Miles said senior guard Benny Parker (20 minutes, no points, three assists) is battling the stomach flu, and that Watson banged his knee Tuesday night, but should be OK.