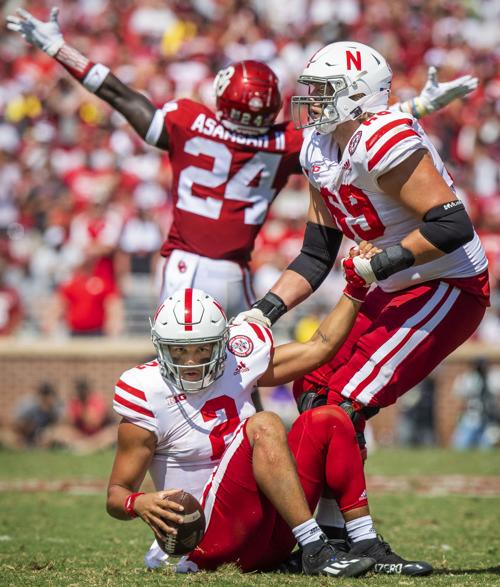 Dave Rimington, as one might expect, has some thoughts on Nebraska's scuffling offensive line.
After all, he's regarded as one of the best centers in college football history.
He has a street in the heart of South Omaha named after him.
That's because he was a dominant run blocker. The two-time consensus All-American (1981-82) played with the sort of consistent intensity that Nebraska coach Scott Frost wants to see from his offensive line.
Frost, in fact, said this week he would like to see more "nastiness" from his line, particularly on running plays.
That's not necessarily important, Rimington says.
"You don't have to be like that to play in college football," he says. "I think the No. 1 thing is you have to have confidence."
Experience also can be critical, he says, turning the conversation toward pass blocking, NU's foremost problem area.
"You have to have some saddle time in there," Rimington says. "You have to be able to see a lot of things. You can see that when defenses run two-man stunts, our guys are picking it up pretty well. But when defenses run three-man stunts — which you call 'games' — they're having a hard time double-switching and picking things up.
Plus, "The left tackle is turning his shoulders and opening a door to the quarterback a lot. And Adrian (Martinez) is not a guy who gets rid of the ball very quickly. He holds it. For the most part, he's had a great season. But the better the defensive lines, the more he's going to have to hustle a little bit and get his reads down a little quicker."
Rimington is the only player to twice win the Outland Trophy, awarded annually to the nation's top interior lineman. He thinks the game at a very high level. Same goes for Chris Dishman, the former Nebraska standout lineman who played eight seasons in the NFL (1997-2004), and Dominic Raiola, the 2000 winner of the Rimington Trophy who went on to play 14 seasons at center in the NFL, all with the Detroit Lions.
Dishman and Raiola also watch Nebraska's line with a critical eye. As far as they're concerned, the current Husker group could indeed use a dose of nastiness.
Keep in mind, Raiola in 1999 led a 12-1 Nebraska team with a then-school-record 140 pancake (knockdown) blocks in 12 games, averaging 11.67 per game. In 2000, Raiola took his game to another level, recording 145 pancakes (13.2 per game). The 10-2 Huskers allowed just 10 sacks all season in 2000.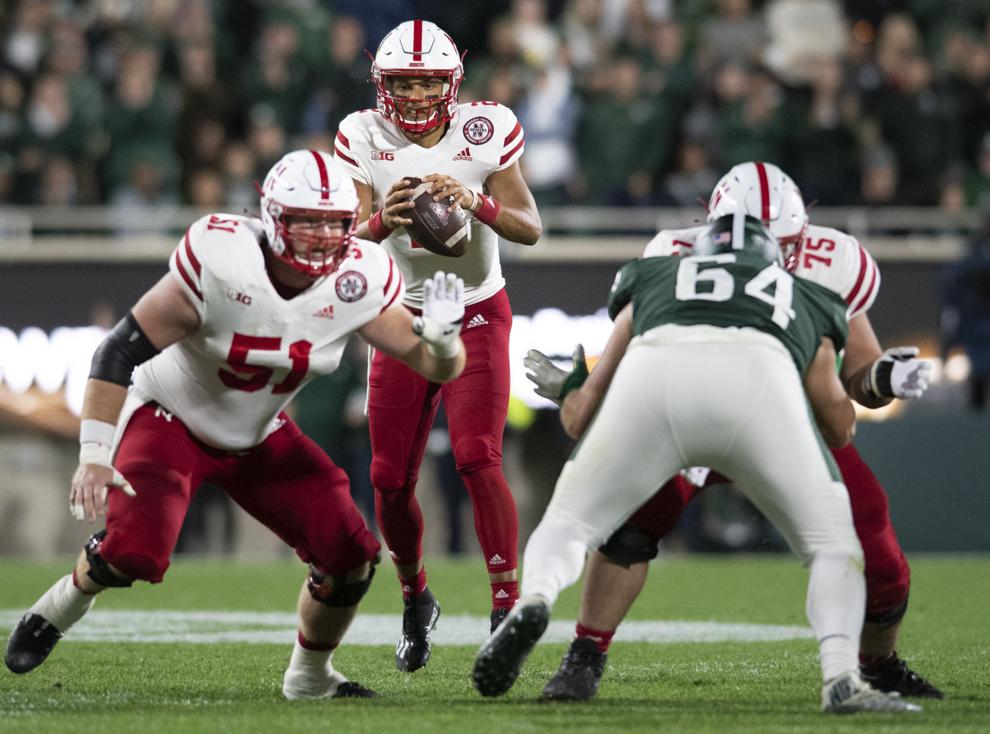 He thinks that in trying to get the most out of a lineman, a coach absolutely can try to tap into the player's nasty side.
"I mean, you're not going to paint a zebra and make him red and white — he's going to be black and white," Raiola says. "But there has to be a certain expectation you play with and practice with."
Raiola currently is coaching the offensive line at Burleson (Texas) High School near Fort Worth, where his son is a four-star quarterback in the class of 2024.
"When we were doing our walk-through practice (Wednesday), I was like, 'Don't you dare lose a rep in the walk-through,'" the elder Raiola said. "I don't care if it's just a walk-through. Those are some of the most serious reps I've ever had. I'm definitely not going to give anybody an easy win, you know?
"Walk-throughs meant so much to me. What I'm saying is this: When you step in my meeting room, you've got to be 'on' and you've got to stay 'on.' There is no 'off' button. Even in warmups, I was 'on.' I'm preaching that to our guys. There's just such a lack of football being taught now. Kids don't even watch football. It's crazy. But there's just no time to take your foot off the gas.
"My thing is, you want to step on (the opponent's) throat early and leave your foot on the throat until the end of the game. I don't know any other way to put it."
It should be noted Nebraska hasn't kept track of pancake blocks for years, in part because the offense has evolved to such a large degree.
Dishman, though, played during a time when Nebraska buried most defenses with a powerful running game. The native of Cozad started every game at left tackle for the Huskers' 1995 national championship team before also holding down a starting spot on the 1996 squad, which Frost guided as quarterback.
"Playing offensive line is more of a controlled nasty," Dishman says. "You still have the nastiness like a defensive lineman. But hey, D-linemen, they're just nasty people in general."
"But as an offensive lineman, you have to be controlled in the way you do it and when you use it," Dishman adds. "Right now, I don't see the nastiness in them. I know that when I played, I just knew that inside the lines I was kind of a jerk. I'm a nice guy otherwise. But I liked to fight, man, when I was on the field."
Dishman notices something else concerning about NU's line play.
"What I see is they're often so eager to get to the second level," he says. "They don't want to take care of the big guy up front. If they get to the secondary and blow up the little guy, who cares? The play's going to be dead at the line of scrimmage if you can't control the double-teams up front. That's what I see a lot of, guys coming off double-teams way too early. They're not securing the first man. They think they don't have time to get to the reaction of the linebacker.
"In reality, with that linebacker coming through at full speed, just one arm is going to knock him off-kilter, and that's going to create a hole. If you get a shoulder on a linebacker, you're going to crease it. You're going to make a hole."
On Saturday night, Nebraska (2-3, 0-2 Big Ten) likely will feature at least a couple of changes in personnel along the O-line. 
"Well, they have to do something because the lack of concentration and jumping offsides and stuff — I mean, that's something they can control. And being a football guy, I hate sloppy football," says Dishman, who's helping coach the offensive line at Greenwood Community High School, where his fiancé is a swimming coach, in suburban Indianapolis.
"I'm like a lot of Nebraska fans: a little on-edge with what's going to happen there," Dishman, as reasonable a sort as you'll find, says of the season in general.
He'll be watching intently Saturday night, one area more closely than the others.