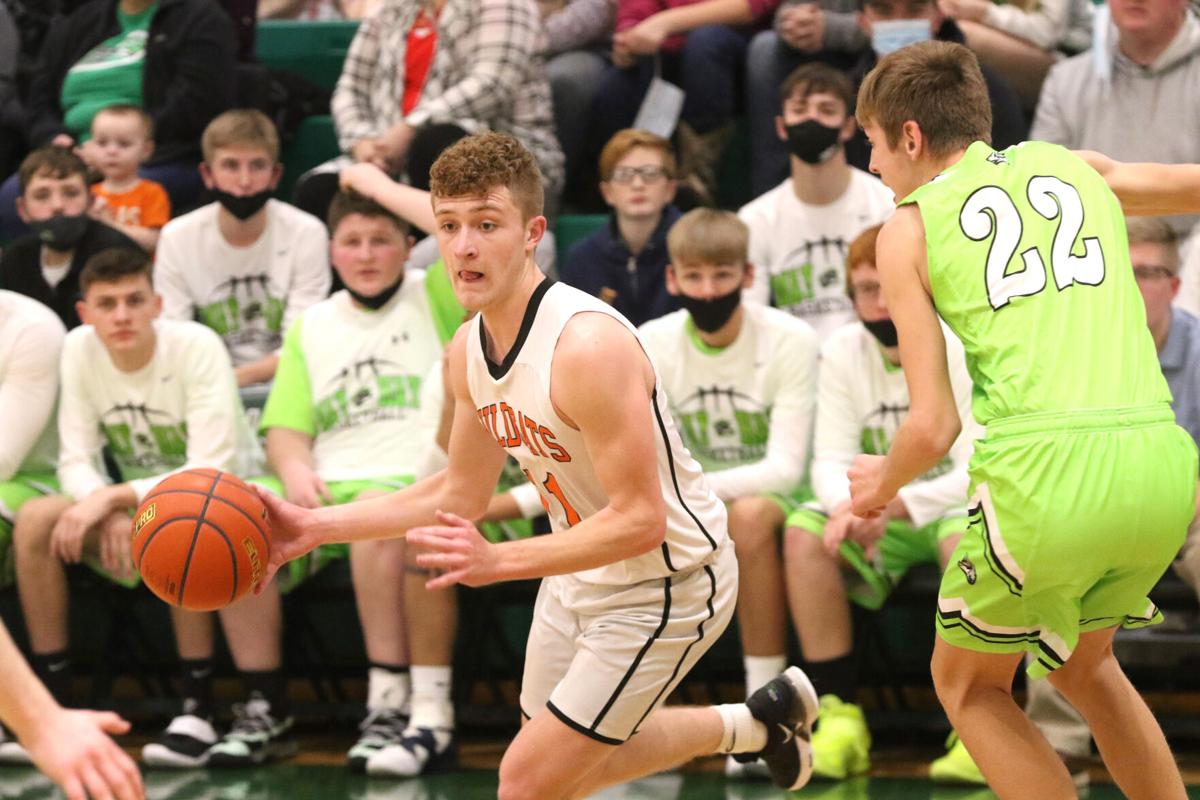 It took the Wildcats a little extra effort Tuesday night to earn their third — and biggest — win over Maywood-Hayes Center this season.
Connor McKeeman and Troy Breining scored 14 and 12 points, respectively, as Maxwell edged the Wolves 46-45 in overtime in a prep boys basketball D-11 subdistrict semifinal game at St. Pat's High School.
Maxwell (14-10) faces top-seeded St. Pat's in Thursday's title game. The Irish pulled away from Sandhills/Thedford in the fourth quarter for a 57-35 victory in the other semifinal.
The Wildcats and St. Pat's played once during the regular season — a 55-29 rout for the Irish on Dec. 10.
"That seems literally like a life ago," Maxwell coach Quin Connor said. "They are a great team. You know they are disciplined and execute and play so hard."
The second-seeded Wildcats earned a rematch as they scored six straight points in the overtime period after Haydn Farr's basket on the Wolves opening possession gave them a 42-40 lead.
The run includes a go-ahead 3-pointer by Ty Robinson with about two-and-a-half minutes left in the extra period.
Taylor Cheek then hit a shot in the lane to give the Wildcats a 45-42 lead and Breining and Michael Sandoval both hit one-of-two free throws in the final 20 seconds.
The Wolves' Jhett Sellers hit a 3-pointer from the top of the key as time ran out.
Maxwell went 4-of-18 from the free-throw line for the game that included a 1-for-6 performance down the stretch of regulation that ended in a 40-40 tie.
"I swear we shoot free throws," Connor said. "I told (the players) that tomorrow we are shooting 50 (free throws) apiece. We'll see if that happens."
Weston Morrow had 12 points to lead the Wolves (16-9). Sellers had nine points and Farr and Josh Patel both chipped in with eight points.
"It just comes down to doing the little things," Wolves coach Kolby Hamilton said. "I feel that maybe (Maxwell) outhustled us a little bit in general. I feel that they got on the floor for 100% percent of the hustle (plays) and the loose balls, and we were at maybe 50 to 75%,
"Boxing-out and just rebounding has killed us all year," Hamilton said. "We're a young team and just not there physically yet."
St. Pat's 57, Sandhills/Thedford 35
The Irish (19-5) scored the opening 10 points of the fourth quarter to build a 49-26 lead with just under five-and-a-half minutes left in regulation.
"I thought we did a good job defensively in creating a little transition offense and that always helps," Irish coach William O'Malley said.
Corby Condon scored 14 points and was one of three St. Pat's players in double figures.
Jack Heiss and Logan O'Malley added 12 and 10 points, respectively.
Dane Pokorny had eight points to lead the Knights (11-9), and Drew McIntosh and Kaden Haake both chipped in with seven points.
St. Pat's scored 12 straight points to build a 17-2 lead in the first quarter but the Knights rallied.
A 3-pointer by Grant Ahlstrom brought Sandhills/Thedford to 24-20 with about 73 seconds left in the half.
But the Knights scored the opening eight points of the third quarter to build a 13-point lead and take control of the game again.
"We came out really strong but then went a little bit flat," O'Malley said. "I thought maybe we settled for a few too many early shots while (the Knights) hit a couple. Pretty soon, you're in a dog fight.
"I thought the guys did a good job in the second half to come out and reestablish ourselves defensively."
Connor McKeeman 14, Ty Robinson 14, Troy Breining 12, Michael Sandoval 2, Jack Meyer 2, Taylor Cheek 2.
Maywood-Hayes Center (45)
Weston Morrow 12, Jhett Sellers 9, Haydn Farr 8, Josh Patel 8, Kyler Cox 6, Jeremiah Ingison 2.
Dane Pokorny 8, Kaden Haake 7, Drew McIntosh 7, Grant Ahlstrom 6, Tyson Stengel 4, Matthew Dailey 3.
Corby Condon 14, Jack Heiss 12, Logan O'Malley 10, Caleb Munson 8, Joseph Heirigs 7, Alex Davies 2, Trayton White 2, Will Moats 1, Brecken Erickson 1.