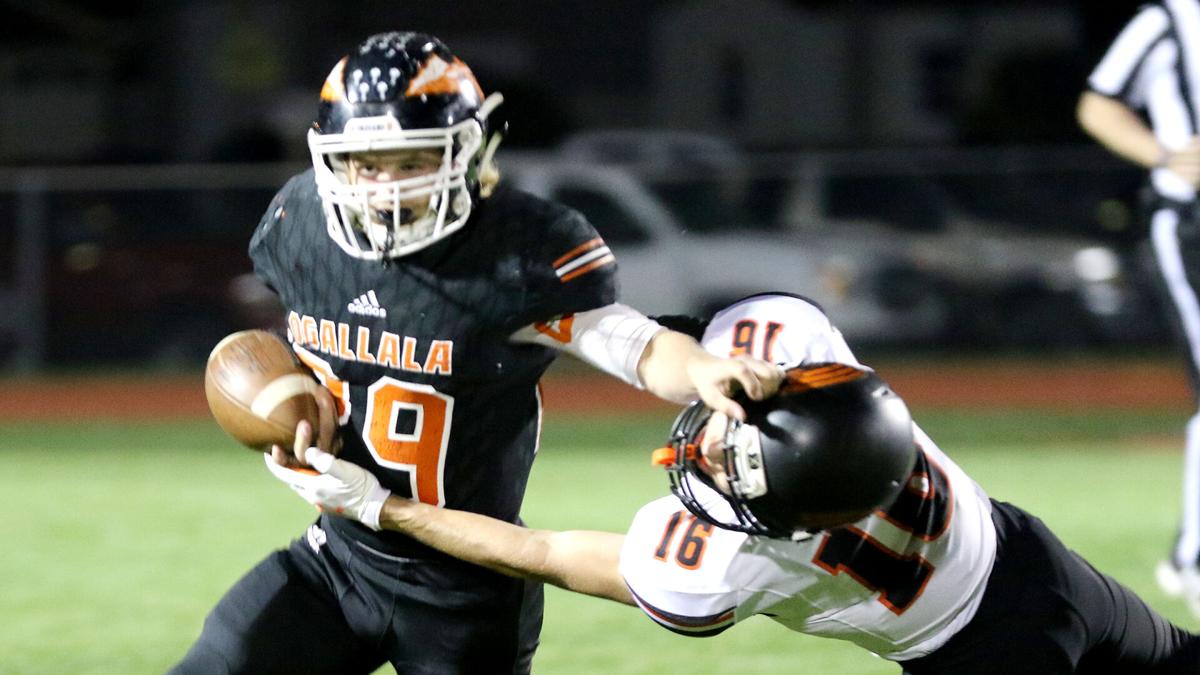 OGALLALA — In a game in which both offenses seemingly moved the ball at will, it was Mitchell that made more plays down the stretch.
Mitchell got five touchdowns from Rylan Aguallo — four of which came on the ground — and rushed for about 400 yards on the way to a 55-39 win over Ogallala on Homecoming night Friday.
Aguallo rushed 38 times for just over 300 yards and had a 63-yard touchdown run in the final minute of the third quarter to give Mitchell a 42-33 lead.
The score came a play after Mitchell converted a fourth-and-1 from its own 36 and Aguallo broke away from a handful of Ogallala tacklers who seemingly had him pinned for a loss on the touchdown run.
"We knew when we played them last year that he was going to be the best back we were going to see all season," said Ogallala coach Brent Bauer. "That's true again (this season). That is an all-state running back. You saw when it got tight there (late in regulation), they put him in at quarterback and just snapped it to him. That tells you how much confidence they have in him."
The score came after Ogallala had scored two touchdowns over the first 8 minutes, 23 seconds of the third quarter to make it 35-33. The rally included an 83-yard pass from Nijul Brunkhorst to Kayden Marhenke. Brunkhorst caught a bubble screen behind the play and threw downfield to a wide-open Marhenke, who outraced the Mitchell defense.
Marhenke also caught a 23-yard touchdown pass from Corbin Murphy with 6:24 left in regulation to bring Ogallala to within 48-39.
Mitchell (6-1) then recovered an onside kick attempt at midfield and Cael Peters scored on a 23-yard run with under two minutes left to put the game away.
"Two weeks ago, (Mitchell) was the seventh or eighth-ranked team in the state," Bauer said. "They get beat one time (to Gothenburg) and they somehow drop out of the rankings. They are a very good team and I am proud of our kids' effort. I thought they played their butts off tonight. We had (three) turnovers and you can't have that against what I feel is a state-ranked team."
Cameron Zink rushed for 177 yards and three touchdowns to lead Ogallala's ground game.
"He is a kid who we really starting upping his carries last week against Cozad and he showed he can handle it," Bauer said.
The loss was the third straight for Ogallala (3-3), which also dropped to 0-2 in district play this season.
Aguallo had 274 all-purpose yards and four touchdowns as Mitchell led 35-20 at the break. He had a 58-yard touchdown run on the second play of the game, which was part of a stretch of three touchdowns that the two teams combined for in the opening 2 minutes, 6 seconds of the first quarter.
Quenten Gillen hauled in a 69-yard touchdown pass from Murphy on Ogallala's third offensive snap.
Gillen caught the contested pass at the Mitchell 30 and broke away for the score.
Aguallo needed just 14 seconds to give Mitchell the lead back as he returned the ensuing kickoff 90 yards for a touchdown.
Zink rushed for 70 yards and had touchdown runs of 26 and 20 yards to keep Ogallala in the game in a back-and-forth first half.
Mitchell got breathing room with two touchdowns in a span of 62 seconds apart late in the second quarter.
Aguallo hauled in a 19-yard touchdown pass on a fourth-down play to give Mitchell a 28-20 lead with 3:24 left in the half.
Mitchell then forced a fumble at the Ogallala 13 on the ensuing kickoff and Jaron Anderson caught a pass from Austin Thyne in the end zone two plays later.
Be the first to know
Get local news delivered to your inbox!