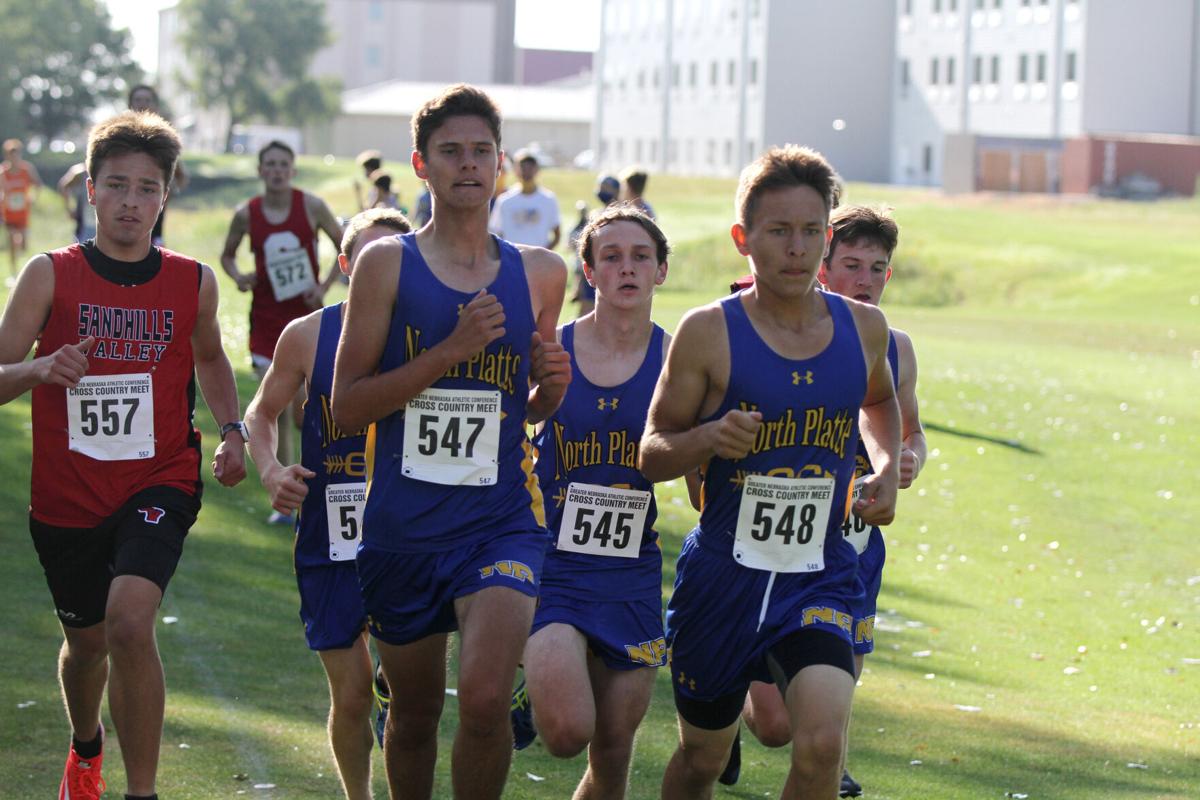 North Platte cross country coach Jake Hasenauer said the strategy coming into the North Platte Invitational for the boys' team was to stay together that first mile and see what happens.
Turns out that strategy led to some impressive results. The Bulldogs placed five of its runners in the top six on Saturday, including a full sweep of the podium, to win the boy's title.
"It really helps, they've trained together so well over the summer," Hasenauer said. "They're all good buddies, they're all good friends. It just helps. It's a lot easier to run with people then by yourself."
Most of North Platte's runners race in a group, but one stood out within the first mile. Evan Caudy quickly distanced himself from the group to lead the pack before reaching the first mile.
That lead continued to grow and it was evident no one was catching him when the pace vehicle turned into the final stretch and only Caudy was around. He finished the race at 16:49.01, roughly 43 seconds before the next person crossed the finish line.
"It's all about the training in the summer," Caudy said. "Coach preached it the entire summer and it's really been paying off. Running with your team always makes you go faster."
That's when North Platte's mob mentality helped produce some results. Jonah San Miguel came in second place with a time of 17:32.84. Tom Moss (17:39.69) placed third, Quade Lowe (17:43.65) came in fifth and Rian Teets (17:44.54) finished sixth. North Platte's other runner, Aaron Franz, placed 16th at 18:47.40.
"We were hoping that we would come away with the team championship, and we did today," Hasenauer said. "That was good having our top six boys all in the top 15 and our top five boys all in the top six."
The North Platte girl's team came in second for the team title and saw four of its runners finish in the top 15, but only one of them hit the podium.
Zarah Blaesi ran in second place for most of the race, and started to slow down near the end. This allowed Ogallala's Miah Hoppens to pass her heading into the final stretch of the race.
It turned into a sprint as Blaesi pushed a little more and passed Hoppens on the way to the finish with a time of 20:10.86.
"My coaches and all my teammates and parents are out there on the field yelling at us, and I really didn't want to disappoint the coaches," Blaesi said. "When they told me the girl in front of me is tired, I am out (running) trying to get past her."
Nelia Rivas (21:12.79) finished seventh, Lexi Hoatson (21:51.18) came in 10th and Baylee Evarts (22:10.95) came in 13th.
"They ran really hard," Hasenauer said. "They ran really hard. I loved how they all finished coming down the straightaway passing people. It was just a good day on the girl's side."
1, McCook, 24. 2, North Platte, 26. 3, Ogallala, 32. 4, Sutherland, 74.
1, North Platte, 11. 2, Garden County, 45. 3, McCook, 56. 4, Ogallala, 74. 5, St. Pat's, 75. 6, Sandhills Valley, 85. 7, Sutherland, 130.
Evans Caudy, North Platte, 16:49.01
Jonah San Miguel, North Platte, 17:32.84
Tom Moss, North Platte, 17:39.69
Colin Rooney, Sandhills, 17:40.27
Quade Lowe, North Platte, 17:43.65
Rian Teets, North Platte, 17:44.54
Josh Hegwood, McCook, 18:03.70
Nate Billey, Garden County, 18:12.52
Michael Christiansen, Garden County, 18:16.85
Zeke Christiansen, Garden County, 18:30.13
Grant Cappel, McCook, 18:32.65
Brandon Tucker, McCook, 18:43.39
Jarrett Miles, St. Pats, 18:46.16
Caiden Castillo, Ogallala, 18: 46.21
Dax Connick, St. Pats, 18:46.23
Samantha Rodewald, McCook, 19:50.98
Zarah Blaesi, North Platte, 20:10.86
Miah Hoppens, Ogallala, 20:16.61
Mallory Applegate, Cozad, 20:34.81
Lindee Henning, Ogallala, 20:38.25
Grace Cappel, McCook, 21:02.73
Nelia Rivas, North Platte, 21:12.79
Karyn Burkholder, Cozad, 21:19.40
Sienna Dutton, McCook, 21:22.08
Lexi Hoatson, North Platte, 21:51.18
Kate Stienike, St. Pat's, 22:06.17
Lauren Henning, Ogallala, 22:08.34
Baylee Evarts, North Platte, 22:10.95
Ellie Albrecht, Cozad, 22:15.09
Haley Miles, St. Pat's, 22:44.26
Be the first to know
Get local news delivered to your inbox!