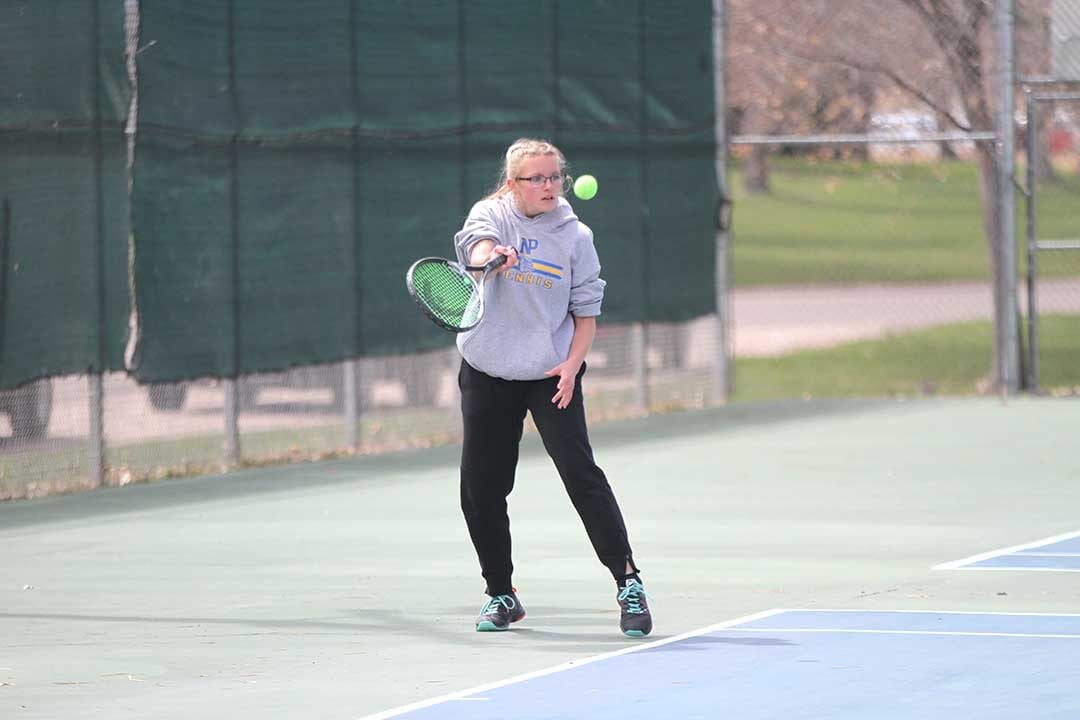 The North Platte girls tennis team hosted Holdrege and McCook in a triangular on Tuesday that featured a couple of obstacles.
The first was the cold and the wind. The sun repeatedly disappeared behind clouds and dropped the temperatures every time it did.
"It is very hard (to play in the cold) because your hands go numb," North Platte's Kinley Stine said. "And it is extremely hard to play."
The second was the on and off snow and rain. It delayed North Platte's contest against Holdrege twice, and the second one left the courts at Cody Park riddled with puddles and both teams having to relocate to Madison Middle School to finish.
"It comes down to the focus where one second, we're playing in the sun, the next second we're playing in a snowglobe," coach Danielle Blake said. "And changing the locations definitely threw off some of the focus. They got to sit in their warm cars for five minutes and then get back out to Cody where there's no wind break whatsoever."
But they got the games in, and North Platte defeated Holdrege in a close 5-4 dual before falling to McCook 9-0.
"I think we did really well as a team today," Blake said. "We were able to win the dual against Holdrege, and that was a big win for us. Our reserve girls were able to get a lot of matches in against McCook, so that's always a plus for those younger girls to get those matches."
All three of the Bulldogs' doubles matches against Holdrege were close. The Dusters struck first when Grace Maloley and Hope Anderson defeated Gracie Risse and Reagan Douglas 8-6.
North Platte's Jada Mae Wheeler and Hallie Hamilton evened the score by defeating Sara Nelson and Jenna Gustafson 9-7. Brianna Plaster and Stine narrowly defeated Holdrege's Janessa Landin and Avery Michalski in an 8-8 tiebreaker.
In singles, North Platte's Stine, Wheeler and Douglas fell in close matches against Landin, Michalski and Nelson, respectively.
Plaster cruised to a victory over Holdrege's Maloley 8-1, and Risse and Hamilton downed Gustafson and Anderson 8-4 each to give North Platte the win.
North Platte hosted McCook back at Cody Park, and the Bison swept 9-0. Wheeler and Hamilton came the closest to winning a match in doubles, but fell to McCook's Lexi Hauxwell and Emily Kjendal 8-5.
"I think the cold weather had a big factor on us today," Blake said. "We were playing, we got stopped, we got to play again. It makes it a little more difficult to focus and stay on point with your game. But overall I think they did really well."
Brianna Plaster and Kinley Stine (North Platte) def. Janessa Landin and Avery Michalski (Holdrege) 8-8 (7-3 tiebreaker)
Jada Mae Wheeler and Hallie Hamilton (North Platte) def. Sara Nelson and Jenna Gustafson (Holdrege) 9-7
Grace Maloley and Hope Anderson (Holdrege) def. Gracie Risse and Reagan Douglas (North Platte) 8-6
Brianna Plaster (North Platte) def. Grace Maloley (Holdrege) 8-1
Janessa Landin (Holdrege) def. Kinley Stine (North Platte) 8-6
Avery Michalski (Holdrege) def. Jada Mae Wheeler (North Platte) 8-2
Sara Nelson (Holdrege) def. Reagan Douglas (North Platte) 8-6
Gracie Risse (North Platte) def. Jenna Gustafson (Holdrege) 8-4
Hallie Hamilton (North Platte) def. Hope Anderson (Holdrege) 8-4
Elsa Wilcox and Olivia Koetter (McCook) def. Brianna Plaster and Kinley Stine (North Platte) 8-2
Lexi Hauxwell and Emily Kjendal (McCook) def. Jada Mae Wheeler and Hallie Hamilton (North Platte) 8-5
Megan Hodgson and Joslyn Hammond (McCook) def. Gracie Risse and Reagan Douglas (North Platte) 8-2
Megan Hodgson (McCook) def. Brianna Plaster (North Platte) 8-2
Joslyn Hammond (McCook) def. Kinley Stine (North Platte) 8-1
Elsa Wilcox (McCook) def. Jada Mae Wheeler (North Platte) 8-0
Olivia Koetter (McCook) def. Reagan Douglas (North Platte) 8-1
Lexi Hauxwell (McCook) def. Gracie Risse (North Platte) 8-2
Emily Kjendal (McCook) def. Hallie Hamilton (North Platte) 8-2