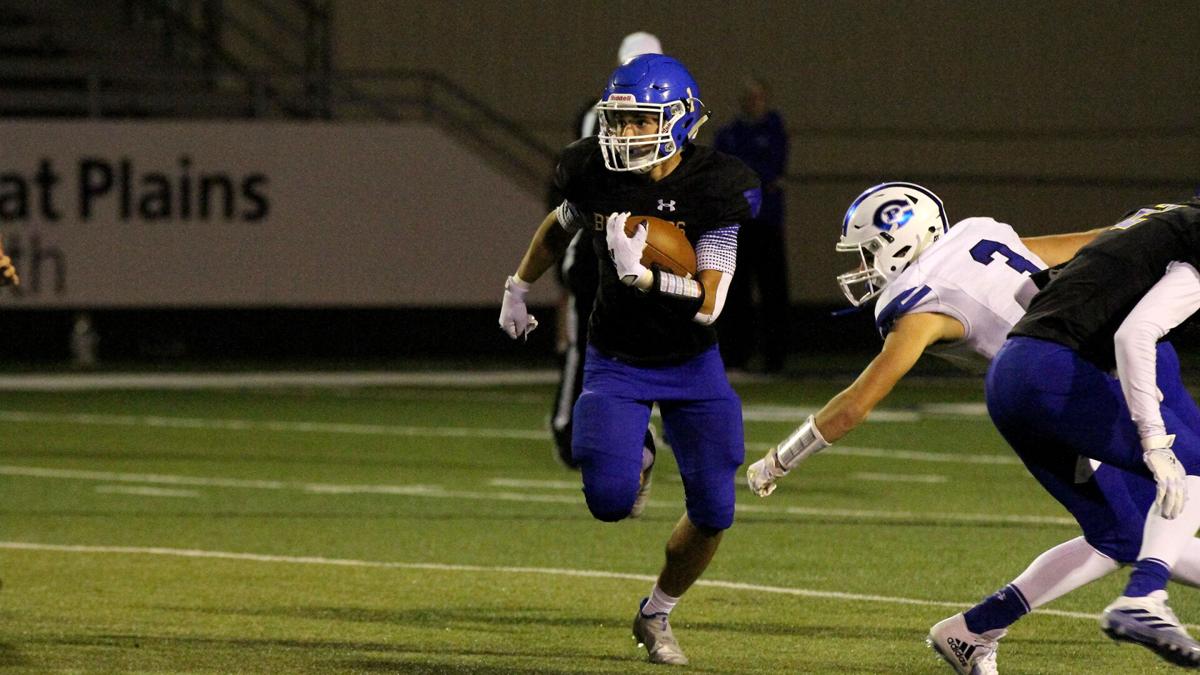 North Platte was still hopeful for a late stop in the fourth quarter. The Bulldogs were down 17-7 with just under three minutes left, and they had forced Creighton Prep into a fourth and short at the North Platte 43-yard line.
The Class A No. 6-ranked Junior Jays did what they did all night: Hand the ball off to Jack Stessman. He picked up a first down on a 12-yard run, then followed it up with a pickup of three yards, eight yards, 12 yards and eight yards again to score his second touchdown of the night.
Stessman ran for an unofficial 259 yards and two touchdowns as Creighton Prep downed the Class A No. 10-ranked Bulldogs 24-7 on Friday in North Platte.
"We just got to get better. We got to get more physical, create some more depth," North Platte coach Todd Rice said. "That's what a top 10 team looks like. We've come a long way, but we think we can win these kinds of games."
The Junior Jays opened the game by scoring on their opening drive. Stessman got the bulk of the plays, but the drive was defined by three third-down catches from Alex Bullock, a 10-yard snag early, a 14-yard grab and a 10-yard touchdown to put his team up 7-0.
North Platte's Jaylan Ruffin responded by returning the kickoff to the Creighton Prep 35-yard line, but the Bulldogs turned the ball over when Tate Janas fumbled at the 15-yard line.
Ruffin was a playmaker for North Platte on defense in the first half. The Junior Jays tried another deep pass a few plays after the fumble, and Ruffin picked it off and returned it to the 48-yard line.
The interception gave North Platte good field position and allowed the Bulldogs to drive. Cody Wright capped off a 13-yard run to bring the ball to the 30, and a pitch to Vince Genatone set up a 30-yard touchdown run to tie the game at 7-7 with over nine minutes left in the half.
"To come back and tie the game up there put us in a good situation," Rice said.
Creighton Prep stuck with Stessman, who ran for 36 yards that drive, to bring it to the North Platte 15-yard line. The Jays kicked a field goal to make it a 10-7 game.
Ruffin got his second interception with just under a minute left after Creighton Prep tried to throw it deep. North Platte gave it right back when Bullock picked off North Platte quarterback Caleb Tonkinson to go into halftime.
North Platte couldn't get anything going in the second half. Heavy winds forced the endzone camera to be turned off, and the play clock had to be removed. A delay of game on its second drive of the half turned a fourth and short into a fourth and long.
"Craziness with the wind and the weather and some technical difficulties we were having kind of affected our communication," Rice said. "It's just things we got to work through."
The Bulldogs stopped Creighton Prep on its opening drive, but couldn't repeat on the second. Max Sanders ripped off a 46-yard run, which set the stage for Stessman's first touchdown three plays later to put the score at 17-7.
Cody Wright, who finished with 66 yards, and Ruffin couldn't get anything going in the fourth quarter and North Platte was forced to punt more times than not. Stessman's touchdown run at the end of the game topped Creighton Preps' strong performance over the Bulldogs.
"We just got to get better," Rice said. "We got to coach it better, we got to execute it better. For them to shut us down like that, we got a lot of soul searching to do this weekend. We just got to use it to improve next week."
Be the first to know
Get local news delivered to your inbox!