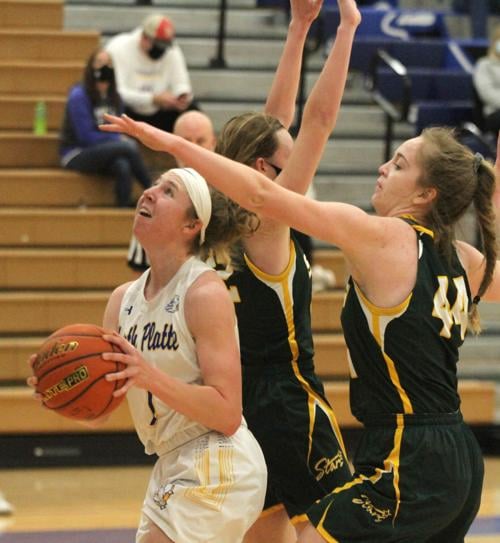 Gracie Haneborg broke up a pass in the final seconds and North Platte held on to defeat Kearney Catholic at home 49-46 on Saturday in a game coach Tyson Hammond said wasn't the team's best.
"You gotta play well to win. You gotta play well to compete," Hammond said. "Today wasn't our best game, but we found enough ways to do things when we needed to, and we were tough enough to take care of things we had to do to find a way to win. It wasn't pretty, but we found a way."
Tahjzha Botts' early first-quarter ankle injury took the Bulldogs out of their game early, and hurt especially late when North Platte found itself in foul trouble.
"We kinda had groups of five out there that we don't usually play with, that we don't usually practice with even," Hammond said. "We struggled a little bit to get organized, but sometimes games like that are as good for you as anything else."
Botts' injury forced bench players to step up, and Hammond said he was pleased with how Clancy Brown, who had eight points, performed. She played a big role in getting North Platte back in control of the game in the second quarter.
Brown made a jumper and a free throw to pull the Bulldogs to within four at 18-14. Though she missed the second free throw, Carly Purdy grabbed the rebound and the putback to pull the Bulldogs within two.
Later in the quarter, Brown trailed Haneborg on a layup, collected the rebound on the missed shot and scored to put North Platte ahead 21-18. Brown also drained a 3 in the third quarter to put the Bulldogs ahead 37-29.
"She's been doing a good job," Hammond said of Brown. "She made some really good plays for us. She hit a 3. She had a good chase down in transition and got a stop and a rebound on it. That was big for us."
The Bulldogs relied heavily on Haneborg and Purdy in the second half. The duo combined for 18 of the team's 26 in the final two frames. Purdy led all scorers with 16, and Haneborg added 15.
Haneborg nailed a 3-pointer to extend North Platte's lead to 32-27 midway through the third quarter. Purdy made a shot in front of the net later in the quarter to push her team's lead back to five.
"Gracie always does her thing," Hammond said. "She didn't make the shots today that she usually makes. I know she gets a little frustrated sometimes with that, but if she puts the ball in the hoop like she normally does, it doesn't go that way either."
The fourth quarter came down to North Platte doing just enough to win. Malery States made a free throw in a tie game, then followed up with a shot to put the Bulldogs ahead by five. Purdy added another basket, forcing Kearney Catholic to call timeout.
Haneborg made a free throw with a two-point lead in the final minute of the game, and then the North Platte senior came away with the steal to secure the Bulldog win.
"We talk all the time about having five people on the floor that can be a threat," Hammond said. "You can not be on the floor if you're not willing to be a threat offensively and defensively. Regardless of who's scoring. Obviously, Gracie is a very good player and she scores for us, but we got other players too that are talented and skilled. I was really happy with some of the aggressiveness and some of the big plays some of them made today."
Kearney Catholic 69, North Platte 43
River Johnston scored 15, and Luke Zimbelman added 10, but it wasn't enough for the North Platte boys, falling to Kearney Catholic 69-43.
The Stars scored 23 in the opening frame, jumping out to a 13-point lead, and the Bulldogs couldn't find a way to climb back into the game.
Zimbelman hit a 3 late in the third quarter, but North Platte's offense went cold as its defense struggled to contain Kearney Catholic's Logan O'Brien. He went on a 9-0 run to end the quarter.
The Bulldogs had no answer for O'Brien, who scored 14, and Kearney Catholic junior Brett Mahony, who dropped a game-high 23.
Carly Purdy 16, Gracie Haneborg 15, Clancy Brown 8, Abby Orr 4, Malery States 3, Keelee Soto 2, Baileigh Pack 1.
Kayla Reifenrath 15, Liv Nore 10, Ashley Keck 7, Ashlyn Wischmeier 6, Jenna Kruse 5, Callie Squiers 2, Kyleigh Seim 1.
Brett Mahoney 23, Logan O'Brien 14, Kegan Bosshamer 9, Turner Plugge 6, Dylan Merz 6, Garrett Schmaderer 5, Blake Thiele 4, Jaden Seier 2.
River Johnston 15, Luke Zimbelman 10, Will Coe 6, Kade Mohr 4, Caleb Tonkinson 3, Ryan Kaminski 3, Carson Uehling 2.