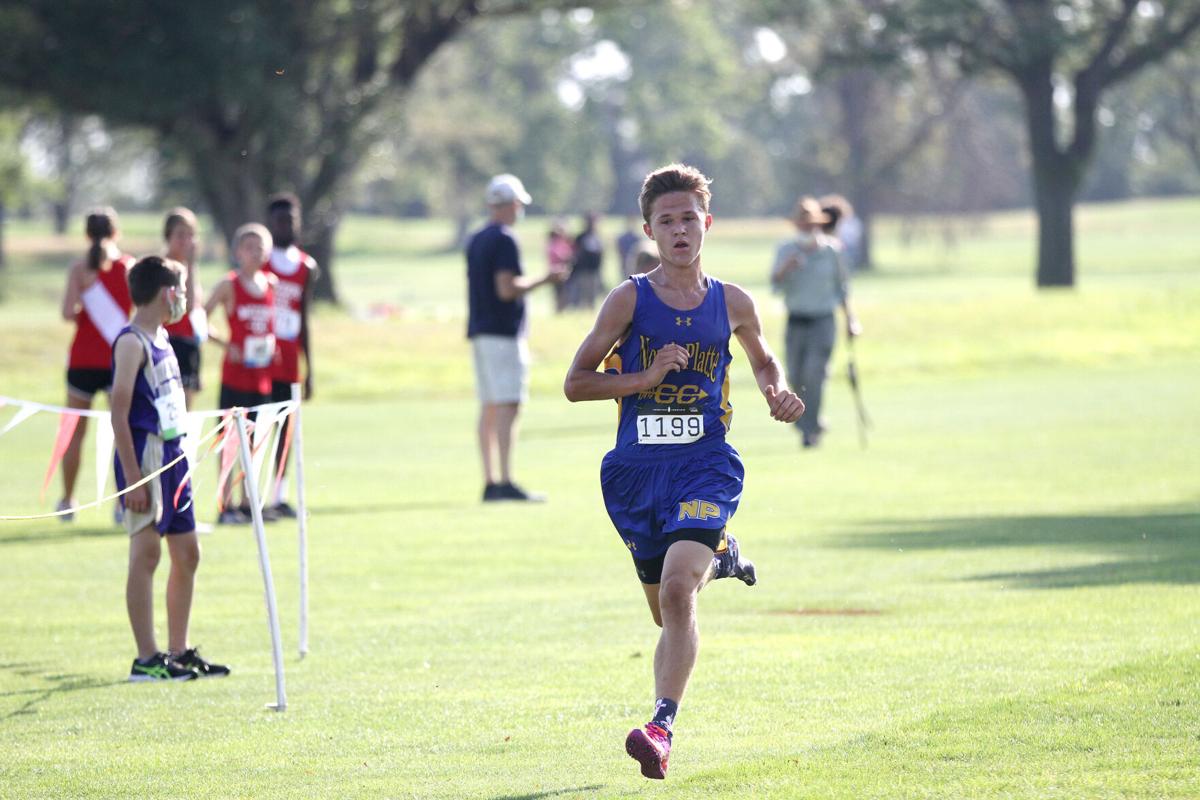 Evan Caudy of North Platte and Matthew Dahlke of Kearney were quickly distancing themselves from the rest of the group just over halfway through the race. The North Platte runner held a lead, but Dahlke was right on him. Only a fraction of a second separated the two.
Caudy kept his pace steady. Dahlke did not. Caudy's lead started to grow, and by the time he reached the final stretch, he was already 20 seconds ahead.
For the second time in as many weeks, Caudy was alone when he crossed the finish line. His race highlighted a Saturday morning where both the North Platte boys' and girls' cross country teams won first place at the Cozad Invitational.
"Really proud with how the girls and guys competed ... it was a really good day," North Platte coach Jake Hasenauer said. "Course is just a touch long, which happens. That's just the nature of the beast. Had some nice weather and the athletes competed really hard."
The boys' team placed four of its runners in the top 15 and all six of its runners in the top 20. Caudy led the way with a 17-minute, 14.1-second finish and Rian Teets placed ninth at 18:04.3. Tom Moss came in 12th (18:14.3), Jonah San Miguel finished 14th (18:25.6), Quade Lowe came in 16th (18:29.2) and Aaron Franz placed 17th (18:36.4).
"We knew people were going to kind of take off fast," Caudy said. "The plan was don't take off fast and slowly catch up with them throughout the race. I don't know where I caught him, around the 3K or whatever. Once you get there and he's dying, you keep steadying. It's hard for you to catch him when you're already dying."
The girls' team initially finished runner-up behind Kearney, but due to Kearney choosing not to be included in team scores, they also walked away with the team title.
They were led by fourth-place finisher Zarah Blaesi, who only beat fifth-place finisher Talissa Tanquary of Sidney by 0.1 seconds. Both girls were side-by-side racing down the final stretch of the course and it was difficult to tell who crossed first.
"I couldn't tell either," Hasenauer said. "It was right there. She hung real tough. Even with the course being different, (she) ran almost the exact same time as she did last week."
Blaesi crossed at 20:16.9, and Tanquary finished at 20:17.0. North Platte only had one other runner in the top 15, Nelia Rivas (12th at 21:25.3). Rounding out the Bulldogs times were Lexi Hoatson (18th, 21:59.1), Evelyn Blaesi (20th, 22:09.4), Jenessa Arnold (27th, 22:30.4) and Baylee Evarts (34th, 22:52.7).
"All the girls (battled)," Hasenauer said. "Having our fifth and sixth really step up and be good pushers too...that was a huge help."
1, North Platte, 36. 2, Kearney, 49. 3, Hastings, 53. 4, Broken Bow, 64. 5, Sidney, 81. 6, GINW, 94. 7, McCook, 155. 8, Holdrege, 156. 9, St. Pat's, 156. 10, Sandhills Valley, 160. 11, Ogallala, 187. 12, Cozad, 233. 13, Maxwell, 268.
1, Evan Caudy, North Platte, 17:14.1. 2, Jonathan Lopez, Hastings, 17:34.0. 3, Matthew Dahlke, Kearney, 17:42.5. 4, Cisco Rivas, Kearney, 17:52.7. 5, Daine Wardyn, Broken Bow, 17:54.7. 6, Caden Keller, GINW, 17:56.2. 7, Landon Eckhardt, Hastings, 17:57.3. 8, Mitchell Deer, Sidney, 18:01.2. 9, Rian Teets, North Platte, 18:04.3. 10, Daniel Bashtovoi, Sidney, 18:06.4. 11, Colin Rooney, Sandhills Valley, 18:06.9. 12, Tom Moss, North Platte, 18:14.3. 13, Micah Torres, Kearney, 18:19.4. 14, Jonah San Miguel, North Platte, 18:25.6. 15, Noah Osmond, Broken Bow, 18:26.2.
1, North Platte, 50. 2, McCook, 61. 3, Ogallala, 74. 4, Sidney, 75. 5, Hastings, 89. 6, St. Pat's, 108. 7, GINW, 117. 8, Broken Bow, 152. 9, South Loup, 170. Kearney, 35. (chose not to be in team scoring)
1, Hannah Godwin, Kearney, 19:21.1. 2, Chelsey Espinosa, Hastings, 19:37.1. 3, Samantha Rodewald, McCook, 20:11.1. 4, Zarah Blaesi, North Platte, 20:16.9. 5, Talissa Tanquary, Sidney, 20:17.0. 6, Lydia Peters, Sidney, 20:25.8. 7, Lindee Henning, Ogallala, 20:41.8. 8, Emma Bond, Kearney, 20:58.2. 9, Emma Bonsall, Kearney, 21:02.2. 10, Seinna Dutton, McCook, 21:19.4. 11, Miah Hoppens, Ogallala, 21:22.0. 12, Nelia Rivas, North Platte, 21:25.3. 13, Mallory Applegate, Cozad, 21:33.3. 14, Makinley Tobey, Broken Bow, 21:39.1. 15, Grace Cappel, McCook, 21:40.2.
Be the first to know
Get local news delivered to your inbox!