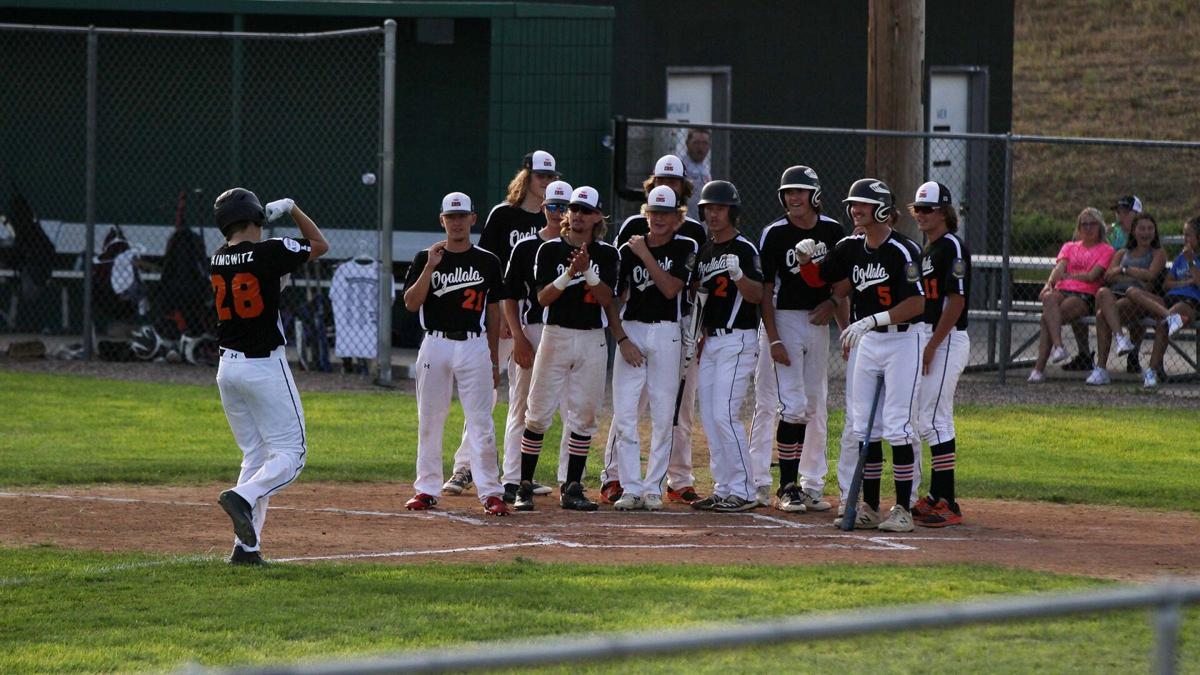 It only took three pitches for Ogallala to gain the lead in Wednesday's game against Broken Bow.
Caden Laviaguerre singled on the first pitch he saw, then John Haimowitz blasted a shot over the left field fence. By the time the first inning was over, Ogallala was up 4-0.
Haimowitz's home run was just the beginning of a strong offensive showing for Ogallala, as it collected 14 hits in its 12-0 mercy-rule win in the West division championship game of the Mid-Nebraska League American Legion Seniors Tournament.
"It was huge," Ogallala coach Gary Cobaugh said of his team's first inning. "The kids start hitting. We're up, we're having fun. Pitcher's ready to go. He knows he has a little bit of insurance."
Laviaguerre led the team by going 4-for-4 with two RBIs and two runs scored. Alex Patrick went 3-for-3 with two RBIs, and Cam Laviaguerre and Ian Shaw each had two hits.
Blake Denson, Sawyer Bumgarner, Caden Holm, Cyrus Wells and Austin Harvey each had a hit for Broken Bow.
Ogallala got a complete game shutout from starting pitcher Lane Blackwell, who only allowed five hits while striking out seven batters. Broken Bow went with Denson, who gave up 12 runs off 14 hits, and struck out three batters.
"Lane Blackwell is a very good pitcher. I don't think he feels a lot of pressure," Cobaugh said. "The one thing that kills any pitcher is errors in the outfield and infield, and that's what I'm really proud of the boys the last three-four games. We've gotten away from those errors."
Ogallala added two more runs in the first inning after Haimowitz's home run. Blackwell singled, then was brought in off Cam Laviaguerre's triple to deep center field. Laviaguerre later scored on a ground out to the shortstop.
Broken Bow threatened to score in the second inning, with a runner on third, but a double play got Ogallala out of the inning. Ogallala added a run in the bottom of the third when Patrick's single brought in Blackwell to go up 5-0.
Then came the fourth inning where Ogallala put up seven runs. The bases were loaded when Cam Laviaguerre doubled to left field to score Caden Laviaguerre and Haimowitz. Shaw singled the next at-bat to bring in Jordan Callihan. Cam Laviaguerre scored later on a passed ball to make it a 9-0 game.
Patrick, the next batter, doubled to left field to score Shaw. An error at third base kept the inning alive and set the stage for Caden Laviaguerre to smack a double to center field and score both Patrick and Noah Ackerman and set the score at 12-0.
Ogallala will host the Kearney Jerseys senior team in the Mid-Nebraska League championship game on Friday.
"We know what we're going to get out of the first five batters," Cobaugh said. "We know that. But when we get that out of the bottom, we're dangerous."
Be the first to know
Get local news delivered to your inbox!