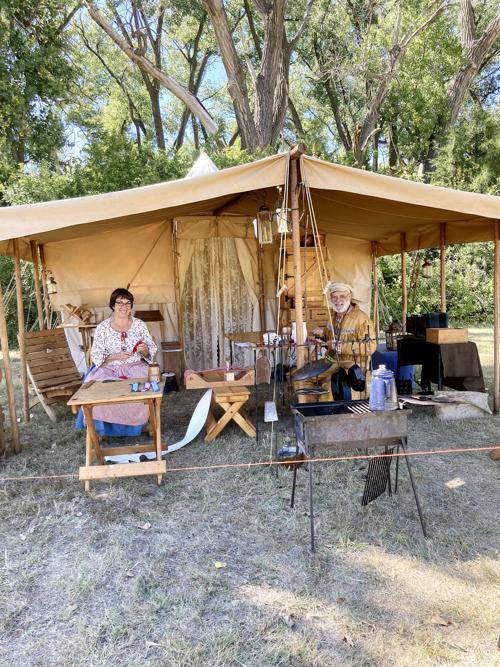 Ash Hollow State Historical Park will host a rendezvous Sept. 10 to 12 to celebrate 100 years of Nebraska's state parks. The event will open each day at 9 a.m. MT and continue until the park closes at sunset. The rendezvous will feature historical re-enactors demonstrating black powder shooting, trap setting, tomahawk throwing, fur identification, firearm display and education, wood utensil making, fire starting, recurve bow shooting and a variety of other pre-1840 mountain man/rendezvous activities. There will also be local food vendors like Smokin' Hills, Ma and Pa's Frozen Treats and the Tiger Den.
As part of the celebration, Ash Hollow will feature a historical exhibit trailer created especially for the centennial year, featuring 100 years of park history starting in 1921 to current parks and history. There will also be many items from the newly acquired Loren Bunney collection, which is housed at Ash Hollow. Donated by Larry Nye of Ogallala, many of the items have been making their way around the state for all Nebraskans to see. Bunney is remembered as one of Nebraska's first conservation officers serving Nebraska for over 29 years, mostly in Keith and Garden counties.
In addition to experiencing a typical rendezvous atmosphere, there are several other events to take in. John Horton from Rapid City, South Dakota, will be entertaining mountain men and guests alike with his original cowboy poetry and singing over the weekend at his living history campsite.
Gib Larson, North Platte historian, will be at the pageant stage at 3 p.m. MT Friday and Saturday to give a public talk about women on the Oregon Trail. The 45-minute presentation will also allow time for guests to ask questions.
On Saturday, there will be a public dedication to the late Sen. Jack Mills at 2 p.m. MT at the Visitors Center at Ash Hollow. Mills was instrumental in getting appropriation funding for the construction of the visitor's center and permanent interpretive exhibits at Ash Hollow.
Live entertainment by the Most Unlikely Place is at the public dedication ceremony at 2 p.m. MT and again at 4 p.m. MT on the old pageant stage on Saturday.
A Mountain Man Run will wrap up Saturday's events, consisting of a traditional fur trapper competition that determines who can correctly execute the skills of fire starting, trap setting, tomahawk throwing, black powder shooting and archery not only the fastest, but with the most accuracy. This competition is open to the public and they are encouraged to participate but must have their own equipment. For more information, contact 801-719-9330 or email jrfan38@gmail.com.
This event is free, but a valid vehicle permit is required to enter the park. Permits will be available at the park or online at outdoornebraska.gov. General questions can be directed to the park office at 308-778-5651.
A free community fishing night is from 4 to 7 p.m. Saturday in Gothenburg at Lake Helen near the memorial turn-around. The public is invited to attend.
Everyone is invited regardless of age or skill. If you don't know where to start as an angler, come join us — or maybe you haven't fished for a while and would like to get started again.
There will also be a fly-fishing clinic for anyone wishing to learn the art of fly fishing. Staff from Nebraska Game and Parks along with volunteers from area fishing clubs will be on hand to assist anglers with fishing and fly fishing. Loaner equipment and bait will be available for anyone in attendance. Fishing permits are required for those 16 and older that wish to fish.
Scout's Rest Ranch landmark celebration
Join Nebraska Game and Parks for a day of family-friendly events at Buffalo Bill Ranch State Historical Park on from 9 a.m. to 5 p.m. Sept. 18.
Many different events will be going on throughout the day. Below is the schedule:
» 9 a.m. to 2 p.m., historical scavenger hunt.
» 10 a.m. to 4 p.m., hourly guided tours of the mansion (except at 2 p.m.). Guided tours last 30 minutes, and limited to 15 participants, may require pre-registration the day of the event.
» 10 a.m., free lemonade and iced tea (while supplies last).
» 10:30 a.m., vintage baseball game.
» 11:30 a.m. to 1:30 p.m., old fashioned games including wooden ring toss, jumping rope, marbles, bowl toss, hoop and stick, "Graces" potato sack races, three-legged races and stilts.
» Noon to 4 p.m., hayrack rides and buffalo chip throwing contest.
» 2 p.m., plaque unveiling.
» 3 p.m., vintage baseball game.
The day is free to the public but a park entry permit is required. For more information, call the Buffalo Bill Ranch office at 308-535-8035.
Take 'Em Hunting challenge
The Nebraska Game and Parks Commission challenges you to go hunting and share your passion with someone you care about with the Take 'Em Hunting challenge. It doesn't matter if they're brand new to hunting or if they just haven't gone in a few years.
Those who take someone new can upload a photo of their hunting trip to the commission's website and will be registered to win great prizes including a John Deere crossover utility vehicle from Plains Equipment Group.
The popular Upland Slam challenge is back again. To complete the slam, hunters must harvest a sharp-tailed grouse, greater prairie-chicken, pheasant and northern bobwhite quail in Nebraska.
After you harvest your first bird, create an account on the official entry page at outdoornebraska.gov/uplandslam and submit a photo and details about your first bird. As you continue harvesting other species, log back in and document your success.
All hunters who submit at least one harvest to the Nebraska Upland Slam will be automatically entered into monthly drawings sponsored by Pheasants Forever and Quail Forever for Scheels gift cards, hunting vests and more. Hunters completing the slam will be registered to win several great prizes including a Dickinson Arms Hunter Light 28-gauge over/under shotgun.