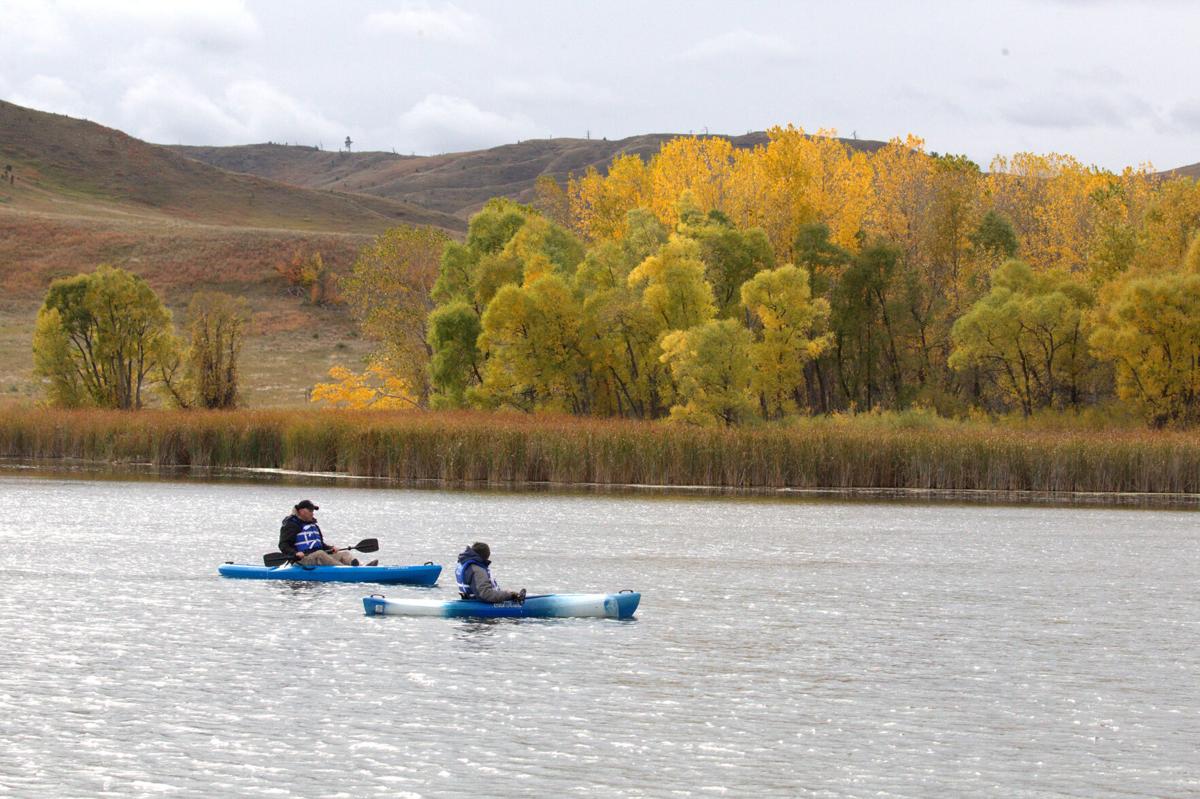 As we progress into fall, Nebraska Game and Parks is hosting competitions and drawings along with things to do outside as the weather turns from summer to cool and beautiful fall colors.
This year, Nebraska is celebrating National Reptile Awareness Day and students across Nebraska are invited to celebrate National Reptile Awareness Day 2020 through an art competition hosted by the Nebraska Game and Parks Commission.
Any student in grades K-12 may participate by entering their original artwork featuring a Nebraska native reptile by Oct. 14 at outdoornebraska.org/reptileart. Each student that submits a digital piece of artwork will receive a Reptile-ology magazine.
Winners from each grade level will be selected by Game and Parks staff and announced on National Reptile Awareness Day on Oct. 21. Through proclamation, Nebraska will recognize the national day designed to grow awareness and appreciation for Nebraska's nearly 30 snake, nine turtle and 10 lizard species.
To learn more about Nebraska's native reptile species, their unique characteristics, habitats, food sources or for inspiration for artwork, visit outdoornebraska.org/reptiles.
Kayak Kid Essay Competition
Enter now for the Nebraska Game and Park Commission and Southwest Reservoirs Kayak Kid Essay Contest for the chance to win an outdoors prize package.
The purpose of the contest is to reward two youth who best express why growing up in the outdoors is important.
Youth ages 10 to 18 are invited to participate in the contest that requires a hand-written 250-word essay, explaining why they value growing up in the outdoors. Entries must include a photo of the essay writer at one of the southwest region reservoirs or parks including: Johnson Lake, Elwood Reservoir, Gallagher Canyon Reservoir, Lake Maloney, Sutherland Reservoir, Buffalo Bill State Historical Park and State Recreation Area, Enders, Medicine Creek, Rock Creek Lake, Red Willow or Swanson Reservoir.
Spending time outside teaches unique life lessons that young men and women should treasure and value. This competition is divided in two age divisions: 10 to 14 years and 15 to 18 years. Winners of each age division will receive a kayak prize package that includes a brand new kayak, paddle and life jacket.
The entry deadline is Oct. 15. Mail essays to Red Willow State Recreation Area, 72718 Trail 2, McCook, NE 69001. Include the essay writer's name, address and phone number with the essay and photo.
Parks Portraits of the Past
Nebraskaland Magazine is seeking pictures for Parks Portraits from the Past, a spin on the magazine's Portraits of the Past series, to be featured in 2021 during the Nebraska State Parks 100-year anniversary.
We want your vintage photos (before 2000) and your memories enjoying outdoor Nebraska activities, such as boating, camping, hunting or fishing at our state parks and recreation areas. We will give priority to unique photos or activities.
Photos may appear in the magazine or on the Nebraskaland or Nebraska Game and Parks Commission social channels.
Send original photos or good reproductions and they will be returned. To submit your memories and photos by mail, send originals to Portraits from the Past, Nebraskaland Magazine, P.O. Box 30370, Lincoln, NE 68503-0370. Submit photos online at magazine.outdoornebraska.gov/parksportraits or email JPEGs scanned at 100% and at high-resolution to tim.reigert@nebraska.gov. Call 402-471-4595 with questions. Be sure to include a story about the photograph and identify the people, places and approximate date it was taken.
Youth lifetime permit drawing
In an effort to encourage young Nebraskans to participate in hunting and fishing, the Nebraska Game and Parks Foundation established its Youth Lifetime Half Price Permit Program. This program gives Nebraska youth age 15 and younger the opportunity to purchase a lifetime hunt, fish and other permits for half price. Typically, drawings for the opportunity to purchase half-price youth lifetime permits are held at special events across the state throughout the year.
This year, the Foundation is extending a special online Youth Lifetime Half Price Permit drawing. By filling out the online form below, any Nebraska youth age 15 or younger can register to win the chance to purchase one of up to 250 Youth Lifetime Half Price Permits.
There is still time to enter a Nebraska youth that would appreciate a lifetime hunt or fish permit into a drawing to purchase one for half the cost.
Nebraska youth ages 15 and younger are eligible, and parents, grandparents and any adult who wants to give the gift of the outdoors can also register on their behalf. Make sure to get your application in before the deadline of Sept. 25. Register online at outdoornebraska.gov/specialpermitdrawing. When registering, please provide a valid email address, as winners will be contacted by email. Please read the rules prior to entering.
The Nebraska Youth Half-Price Lifetime Permit Program is made possible by The Nebraska Game and Parks Foundation, Dorothy B. Davis Foundation, the Hawkins family and many other generous donors.
Fall is here, and Nebraska's outdoor resources offer a variety of ways to have fun, relax and enjoy nature.
Here are a few activities the Nebraska Game and Parks Commission recommends exploring in the coming months.
» State parks — Less crowded and decorated with autumn color, Nebraska's state park areas are a great place to be in the fall. Take advantage of the cool weather and enjoy your favorite outdoor recreation activity, whether that be fishing, boating, camping, hiking or biking.
» Camping — With nice days and cool nights, fall is an ideal time to spend an evening by a campfire. Nebraska's state park system offers a range of camping opportunities and amenities, from primitive to full hookup and more modern lodging and cabins with all the conveniences of home. Water services at some parks are winterized beginning in mid-October, so RV users should contact parks to confirm service.
» Fishing — The fall months offer the best open-water fishing all year, according to Game and Parks fisheries program manager Daryl Bauer. Not only are conditions more pleasant, with cool weather, less crowded lakes and fewer bugs, but fish are active and easier to catch as they fatten up for winter. With about 450 lakes and streams open to public fishing, anglers enjoy great access. The 2020 Fishing Forecast can help you choose the best spot in Nebraska to fish for the species you're after.
» Wildlife viewing — Get out the binoculars, as a diversity of bird species migrate through in incredible numbers. Go to birds.outdoornebraska.gov, the Birds of Nebraska Online page, to learn more about what viewers can expect to see. Many other animals are active as they mate or prepare for winter. Nebraska's state park areas remain a good spot for viewing throughout the year.
» Trails — Nebraska's state parks have a variety of trails, including rustic dirt paths, challenging mountain biking courses and wide, paved trails. Gently flowing water trails also offer the chance for a relaxing kayaking, canoeing or tanking adventure. Horseback riders also can find extensive equestrian trails at Nebraska's state parks, many with equestrian campgrounds.
» Hunting — Fall is prime hunting season in Nebraska, with many opportunities, great public access, and $8 permits for youth. Big game hunters keep busy chasing deer, antelope, elk and turkey, and Nebraska's unique upland opportunities, which include pheasant, quail and grouse, have earned it the nickname "the mixed bag capital." Nebraska also offers programs for hunters who want a challenge and a shot at prizes. Prove your mettle as a hunter by completing the Upland Slam or Duck Slam, and take someone new hunting to enter the Take 'em Hunting prize giveaway.
To find more information about these outdoor opportunities, visit and search outdoornebraska.org.