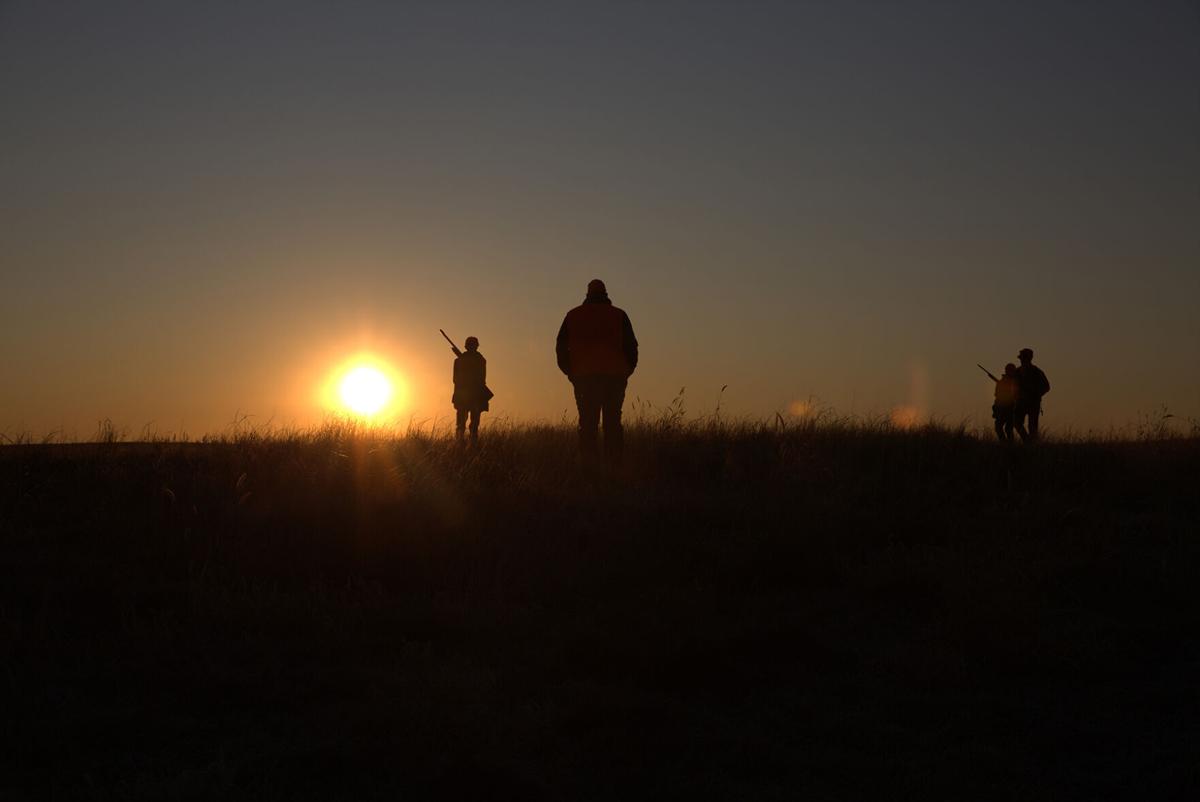 The hunting season is kicking off for 2020-21 as many seasons open Sept. 1, including squirrel, cottontail rabbit, jackrabbit, dove, snipe, Virginia and sora rail, grouse, prairie chicken, raccoon, Virginia opossum and the archery deer season.
Information about any of the hunting seasons can be found in the "Small Game and Waterfowl and Big Game" hunting guides available at the North Platte Game and Parks office, online at outdoornebraska.org or at local sporting goods stores.
Hunters should look over the guides and know the rules and regulations before hunting. Copies of the 2020 "Public Access Atlas" are also available and hunters should utilize these books or go online to see all the public areas available for across the state for walk-in hunting access.
The dove season includes the taking of mourning, white-winged and Eurasian collared-doves during the dove season, which starts next Tuesday and runs through Oct 30. The Eurasian collared dove season is an extended season running year around.
The dove season includes the taking of mourning, white-winged and Eurasian collared doves during the dove season. The Eurasian collared dove season is year–round, but must be counted with the mourning dove and white-winged dove bag and possession limits during the regular dove season. The daily combined bag limit for doves is 15 with a combined possession limit of 45 birds.
Hunters may use shotguns 10 gauge or smaller. Shotguns must be plugged to limit shell capacity to no more than three shells in the magazine and chamber combined. Bow and arrow may also be used, crossbows are not allowed on migratory birds. Doves must be shot in flight and may be taken 30 minutes before sunrise to sunset. Statewide areas are open to hunting except Federal or state refuges, unless otherwise specified.
Nebraska residents 16 years and older and all nonresidents are required to have a valid Nebraska small game hunting permit, habitat stamp and Harvest Information Program number. HIP numbers are free and can be obtained by calling toll-free 1-877-634-8687, by registering at outdoornebraska.gov/hip or in person at any Game and Parks office. A federal migratory bird hunting stamp (duck stamp) is not required to hunt doves. Shotgun plugs are also required, restricting it to no more than three shells.
Dove hunters who find a leg band on a dove should contact the U.S. Fish and Wildlife Service at 1-800-327-BAND or report it at reportband.gov.
The early teal seasons begin Sept. 5; the low plains unit ends Sept. 20 and the high plains unit ends Sept. 13. The daily bag limit of six birds is a combination of blue and green-winged and cinnamon teal. The possession limit it 18 teal. Be sure to correctly identify teal from other duck species during the early teal season and check the waterfowl guide for each of the two units. Shooting hours are 30 minutes before sunrise to sunset.
Take 'Em Hunting Challenge
There are many reasons to love hunting. It's a way to connect with nature. It's a way to spend time in the blind. It's a way to enjoy a beautiful morning, test your patience and hone your skill. It's about passing on a tradition that someone passed down to you.
For a second year, the Nebraska Game and Parks Commission challenges you to go hunting and share your passion with someone you care about. It doesn't matter if they're brand new to hunting, or if they just haven't gone in a few years.
The Take 'Em Hunting Challenge encourages hunters to take a pledge to introduce someone new to hunting during the 2020-21 hunting seasons. Those who take someone new can upload a photo of their hunting trip to the Commission's website and will be registered to win great prizes including gift cards, a stay at a Nebraska state park, hunting gear and our grand prize: A camo John Deere XUV59OM crossover utility vehicle from AKRS Equipment valued at $15,300.
Hunting is a great way to spend time outdoors, experience nature, and make memories with friends and family. Special youth seasons are an especially great time to take young hunters out. The challenge allows participation in upland, waterfowl, deer, turkey hunting and more. For more information visit outdoornebraska.org/takeemhunting.
The popular Upland Slam challenge is back again. To complete the slam, hunters must harvest a sharp-tailed grouse, greater prairie-chicken, pheasant and northern bobwhite quail in Nebraska.
First, buy your Nebraska hunt permit, after you harvest your first bird, create an account on our official entry page at outdoornebraska.gov/uplandslam and submit a photo and details about your first bird. As you continue with other species, you can log in and document your success. Once you complete your slam, you will receive an official pin and certificate.
All hunters who submit at least one harvest to the Nebraska Upland Slam will be automatically entered into monthly drawings sponsored by Pheasants Forever and Quail Forever for tumblers, gun cleaning kits, metal artwork, PF/QF memberships, and other unique prizes. Each hunter who completes the slam will be entered into our grand prize drawing for a Browning Maxus 12-gauge semiautomatic shotgun. The grand prize drawing will take place at the Pheasants Forever State Habitat Meeting in Kearney Feb. 13, 2021.
Season dates for sharp-tailed grouse and prairie chicken is Sept. 1 through Jan. 31, 2021, and the ring-necked pheasant and bobwhite quail season starts Oct. 31 and ends Jan. 31.
More information on Nebraska Upland Slam, including species information, range maps, trip planners, as well as links to guides, the "Public Access Atlas" and more, may be found on the Upland Slam species page listed above.
Be the first to know
Get local news delivered to your inbox!