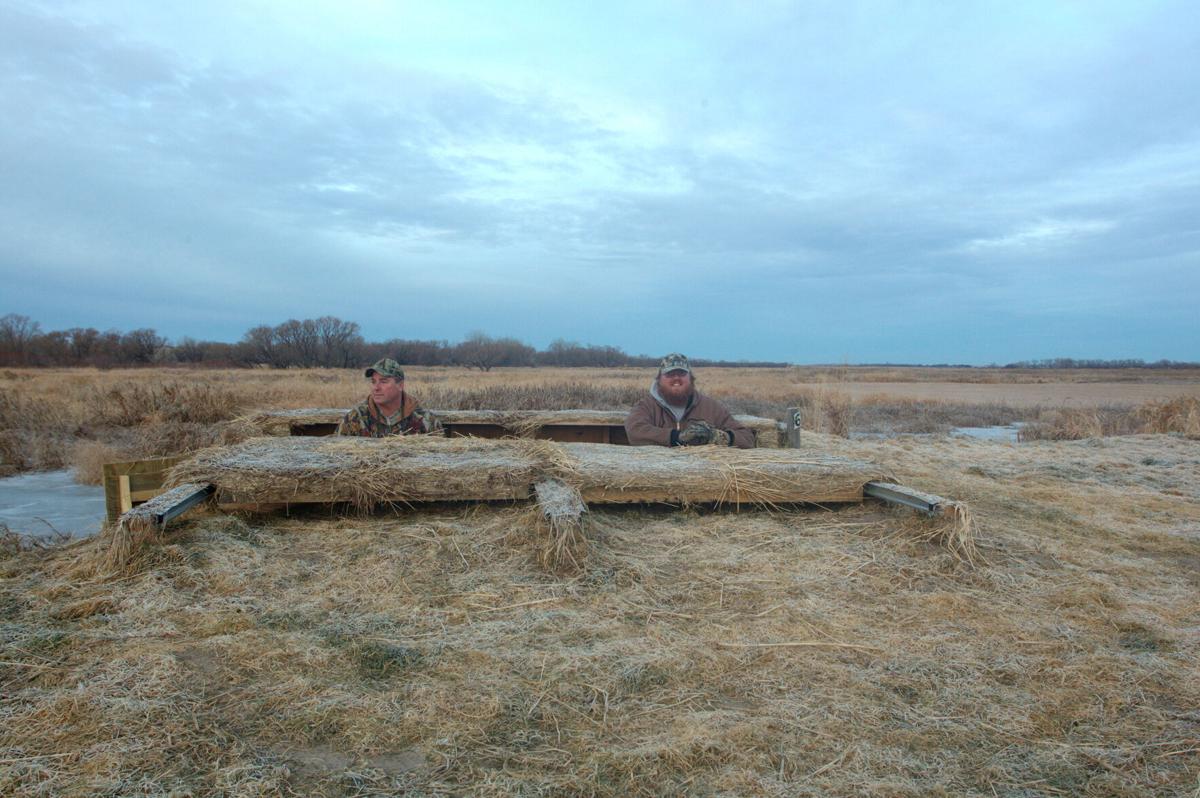 Clear Creek Wildlife Management Area offers a great public access area to hunt. Located near Lewellen the area is a short travel distance for those in central and southwest Nebraska.
The Clear Creek special hunting area consists of about 300 acres and 10 pit blinds for waterfowl hunting. The area is open to hunting waterfowl and other game species until the check station opens on the Monday before Thanksgiving to Feb. 1 or as otherwise posted. During the time the check station is open hunters must check in at the check station office and can only hunt within the provided blinds.
Accessing a blind is done each morning through a drawing; the drawing determines the order of blind selection for each hunting party. Up to five blinds are available by reservation. Hunters may apply for reservation dates during August and September. Reservation applications are available at the Clear Creek field office or at the district office in North Platte. If any advance reservation dates remain open after the drawing, hunters may call Clear Creek at 308-778-5486 to reserve one. No more than two advance reservations are allowed per individual. Many weekdays, there are not five blinds held by reservations, leaving plenty of room for hunters wishing to hunt waterfowl.
All remaining blinds are allocated by a drawing. All drawings are conducted 45 minutes before legal shooting hours for that day. Blinds not filled in the drawing and those vacated during the day will be assigned on a first-come, first-served basis. Hunters must check in at the check station 45 minutes before legal shooting hours to be eligible to draw for a blind. Hunter should be aware that Clear Creek is in the Mountain Time Zone.
Some of the blinds are walk-in making it easy for hunters and dogs to get in and out, with one blind that is handicapped accessible. Each blind has two-dozen goose decoys available for use. Seasoned hunters pack in additional decoys, heaters, waders and food for the day. Waders or hip boots should be taken in to blinds six through 10, as there are wetland areas around them. Hunters are also encouraged to use hunting dogs to retrieve downed birds from wetland areas and the river.
Downed birds may be retrieved from the Clear Creek Seasonal Refuge, which sits just east of the special hunting area, which house the blinds. Hunters may walk onto the refuge or send a dog to retrieve downed birds from the refuge, but no firearms are allowed on the refuge, which is designated by boundary signs.
Hunters may hunt only with the group they registered with for the drawing. Resident hunters age 16 and older and all nonresidents must have a valid Nebraska Hunting Permit, Habitat Stamp, Nebraska Waterfowl Stamp, Federal Migratory Waterfowl Stamp and HIP registration. Permits and stamps are not sold on the area, so purchase these required permits and stamps in advance. Migratory Bird Harvest Information Program number is required by the U.S. Fish and Wildlife Service and Nebraska Game and Parks Commission regulations. HIP registration is free and is available 24 hours a day by calling toll-free 1-888-403-2473 or online at outdoornebraska.org.
The Nebraska Game and Parks Commission will release rooster pheasants on 16 wildlife management areas prior to the Thanksgiving holiday weekend. The pheasants will be released to enhance hunting opportunities over the Thanksgiving (Nov. 26) holiday weekend and encourage families to spend time together in the field.
The 16 areas are: Powder Creek, (Dixon County), Oak Valley (Madison County), Wilkinson (Platte County), George Syas (Nance County), Sherman Reservoir (Sherman County), Pressey (Custer County), Cornhusker (Hall County), Kirkpatrick Basin North (York County), Peru Bottoms (Nemaha County), Randall W. Schilling (Cass), Branched Oak (Lancaster County), Yankee Hill (Lancaster County), Arrowhead (Gage County), Hickory Ridge (Johnson County), Twin Oaks (Johnson County) and Rakes Creek (Cass County).
Non-toxic shot is required at Kirkpatrick Basin North, Peru Bottoms, Randall W. Schilling and Wilkinson, but otherwise all usual regulations apply.
Nebraska's pheasant, quail and prairie grouse seasons run through Jan. 31, 2021. Permits and applicable stamps may be purchased at outdoornebraska.org. To find a place to upland hunt pick up a copy of the 2020-21 "Public Access Atlas" at local vendors or online at outdoornebraska.org/publicaccessatlas.
Hunters are reminded that all deer harvested, including during the November firearm season, must be checked via Telecheck this year. Physical check stations are not operating in 2020 because of COVID-19 concerns. Deer harvested must be checked via Telecheck within 48 hours of kill, but no later than 1 p.m. on the day after the close of the season for which the permit was valid.
Hunters must print a paper copy of their permit and each permit holder is responsible for registering his or her own deer. The permit holder must record the seal number on the permit of any deer checked via Telecheck. That number and permit must be retained while transporting the deer to a point of permanent storage or processing. Deer may be checked online at outdoornebraska.gov/telecheck or by phone at 844-279-4564 and talking with a Telecheck attendant 24 hours a day, seven days a week. Deer harvested must be checked in before leaving the state
There are plenty of permits remaining in several hunting units but some units have sold out. To view a list of available permits, go to outdoornebraska.org, click on "Buy a Permit", and then "Remaining Permits". Permits may be purchased on the website or at Game and Parks permitting offices.
When in the field, if you see something that looks suspicious or know of someone that has not obeyed the law, please call the Nebraska Wildlife Crimestoppers toll-free at 800-742-7627 to report game law violations.
The Nebraska Game and Parks Commission is seeking information of the theft of an archery target from the new public archery range at Buffalo Bill Ranch State Recreation Area. On Nov. 12 the target was reported missing from its frame at the range.
Anyone with information about the theft can contact The Nebraska Wildlife Crimestoppers at 1-800-742-7627 or Conservation Officer Alex Hasenauer at 308-660-4671.
Be the first to know
Get local news delivered to your inbox!