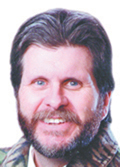 I have noticed a lot of anglers on the water the past few days. Warmer weather can sure make a difference in how you feel about getting outside.
While watching all the people out fishing, I thought about how we (the anglers) might look from the perspective of the fish. How do fish see us?
You know fish can see in some fashion. I think every angler has walked along a shoreline at some point in time and had a fish spook and zoom off into the depths. It probably saw you, or at least saw movement.
Science tells us that fish have eyes similar to humans, but they also have protective film over their eyes so that they can see more clearly underwater. Their eyes have rod and cone cells on their retinas, so we know that they can see color as well as in shades of grey, light and dark. All fish have some level of night vision, although some species like walleyes are much better than others at seeing in the dark.
There are certain chemicals in our eyes that allow us to see colors and in different spectrums. Fish have these same chemicals and other chemicals in their eyes that allow them to see some ultra-violet frequencies as well.
Most species of fish have eyes set on the sides of their heads. That means they do not have "binocular vision" as we do. Biologists believe that their depth perception is poor and most fish have a semi-blind spot straight ahead of them. To compensate for this, the retina of their eyes is slightly extended. This is where the term "fish eye" lens comes from.
Fish generally have excellent close up vision, but poor distance vision. I think this is why fish tend to stay near their feeding areas. They don't move too far away from a steady food source because they simply have trouble seeing their next meal at any distance.
There is the phenomenon of reflectivity at the surface of the water. It looks like a mirror from underneath when looking at an angle. This effect is caused by sunlight and how much light is reflected back from the bottom in shallower bodies of water.
Biologists have a term known as the fish's "window of vision" to the world above the surface. This is almost directly above them. It is a cone-shaped area of vision where the fish can see through the surface film. The closer the fish is to the surface, the smaller the diameter of the "window." Anything outside the "window" tends to be hidden by the mirror effect.
So, what might we look like from an underwater vantage point? I decided to see for myself and use an underwater camera. I wrote about this SeaLife Mini II camera back in December of 2011.
If you read fishing magazines, you may have seen articles about wearing camouflage when you are fishing. If fish can see you, or at least your shape or movement, then it makes sense to blend into your background. Testing this for myself, I think the use of "camouflage," or at least colors that blend with your surroundings, can help the angler avoid detection and have a better chance at catching the fish.
As a general rule, bright colors on bright days might not be the best things to wear when fishing. If you are fishing in turbid/muddy water, it is not that much of an issue. The fish have the same trouble seeing out of the water as you do seeing in. Think about what you might look like or how the world may appear from the fish's perspective and I bet you catch more fish.
It is the "off season" for many hunters, but it is the time that many shooters add new accessories to their rifles. If you are adding or upgrading your scope, here is an item that may be of interest to you. Wheeler Engineering's Anti-Cant Indicator improves accuracy by insuring the proper rifle/scope alignment.
Keeping your scope perfectly aligned is critical to long-range accuracy. Canting your scope left or right only a couple of degrees may cause error in judging your point of impact. With modern "Bullet Drop-Compensating" scopes, an Anti-Cant Indicator is almost a necessity. If your gun isn't aligned correctly, dialing up the turrets or using hold-over marks will just throw off your shot, causing you to miss your target.
The Wheeler Engineering Anti-Cant Indicator is available in both 1 inch and 30mm models. This is a precision piece of equipment machined from aircraft grade aluminum with an anodized finish. It attaches to a scope tube in the same fashion as a ring. The Anti-Cant Indicator is easy to view from all shooting positions, and when not in use it folds in for protection. Cost - about $40. Check it out at www.BattenfeldTechnologies.com or call 573- 445-9200.
Mark your calendar for next Saturday night (March 24). This is the night the Lincoln County Chapter of Ducks Unlimited will be hosting its annual banquet at the Lincoln County Fairgrounds in the Ag Activity Building.
If you like banquets that have a lot of auction and raffle items, this is the banquet for you. There are at least seven guns up for grabs during the evening, 44 silent auction items and 36 individual raffle prizes. There will also be a couple of special youth only (16 and under) events. One will be for a shotgun and the other will be for a lifetime hunting permit for some lucky youngster.
Last year's event sold out before the banquet date and tickets for this event are going fast. Only 200 meals will be prepared. A dinner and DU membership will cost $35, dinner only is $25. A youth ticket, Greenwing, is $15 for a meal and $25 for meal and membership. Call 308-539-5900 or 308-530-2834 for more information.