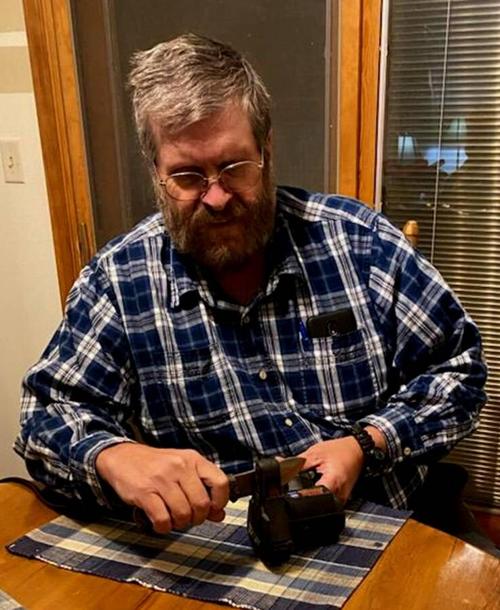 Nebraska's firearms deer hunting season opened at dawn yesterday morning. I've talked to many bow hunters ahead of the season to get an idea of the deer are doing. The general consensus is that the peak of the rut is yet to come. A couple of the resources I use say that the rut will peak around Nov. 17. That means bucks are chasing does and get careless. Good luck!
Knife sharpening
Getting ready for the firearm deer season means getting your knives ready. I was talking with a couple of local hunters and was asked, "How do you put a good edge on a knife?"
A question like that can seriously bring your "Man Card" into question. Sharpening knives, axes, anything is one of those things you should have learned in "The Art of Manliness 101" class!
Truth be known, there is no automatic "Man School" you can attend in order to learn these kinds of things. There are a multitude of other outdoor techniques that need to be known as well, in order to not only enjoy your time afield more, but to simply be safe in the outdoors.
Like most things, there are lots of opinions on how to sharpen a knife or axe, but I like to keep it simple and look for easier ways to do things. I have learned how to put an edge on a knife with sharpening stones, but the easiest way I have found to sharpen a knife is with a tool I found a while back called the Work Sharp knife and tool sharpener.
It is the first knife sharpener I have found that is designed to sharpen every knife you own. Rather than using stones to put an edge on your knife, it uses flexible abrasive belts. This sharpener is able to sharpen not just straight bladed knives, but also curved knives, tanto blades, filet knives, serrated-edged knives, gut hooks and virtually any other shape of knife blade.
Did you know that there are different bevels/angles you need to try and make to get various tools to work their best? The Work Sharp rig uses an angle sharpening guides to help you get the proper angle every time. The sharpener comes with two of these guides: one for a 25-degree edge that works well for hunting and pocket knives and a 20-degree angle for kitchen and fillet knives.
Professional knife makers use flexible belts to put a razor sharp edge on their finished blades. Why shouldn't you? I'm sure you have a method for sharpening your knife and edged tools, but this rig will impress you!
Not only will the Work Sharp sharpener do knife blades, but it also sharpens scissors, axes, hatchets, mower blades, garden shears and shovels.
The cost for the basic sharpening kit is around $100. If you know the value of a sharp knife or cutting tool, you also know this is not an outrageous price to pay. Take your mower blades to be sharpened "professionally" a few times and you'll have that much spent and still have no way to do it on your own.
Locally, I have seen the Work Sharp tool at Ace Hardware and Menards. You can also order it online. Check out the company's website at worksharptools.com.
Good question
I had another good question come in from a young hunter (17 years old) this week. He wanted to know if it was better to hunt deer in the morning or in the afternoon. As part of his explanation he divulged that he wasn't the best early riser, so I think I know which answer he is hoping for.
It is true that dawn and dusk are high movement and activity periods for many species, deer certainly being one of the animals that tend to move at these times of the day. However, bucks can move at any time of the day or night, so being out there and being observant is what can make a successful hunt, or just wishing you had gotten a shot.
Bucks, particularly bucks vying for dominance in a particular area will generally spar and fight at night, or during the early part of the morning. After this extreme physical exertion, they rest. As soon as they are rested, they are up again and on the move looking for more does. This scenario can literally play out at any time of the day.
Bucks can be moved by other hunters or by normal farming or ranching operations. There is no set schedule for when a field adjacent to where you are hunting is harvested. The activity in that field can disturb a buck and it moves to find a new place to bed down for a while.
When I set up my stand or blind I do so with the intention of staying there all day .. sun up to sun down. I have even been know to bivouac for a couple days in a blind and never come out of the field. This determination has allowed me to take some very nice bucks in what would be considered the middle of the day by many hunters.
One of the biggest deer I have taken emerged from a tall grass and timbered area I was watching at 2 o'clock in the afternoon ... not a peak activity time in anybody's book. He was following a doe and hard on her trail. They literally ran out of the cover and on to the alfalfa field that I was set up on. All I needed to do was wait for him to get closer. Ultimately I made my shot at 60 yards.
I enjoy sitting out in "the wilds" for the entire day. Nature has always captivated me and I watch everything else while I'm looking for deer. I bring my food for the day, a few snacks and drinks. Don't forget your camera. I've taken some very interesting photos from my blinds. There is always something to see and study.
Plan your hunt and try staying in your blind for an entire day. You may find out that there is a whole new dimension to hunting. I call it the mid-day zone.