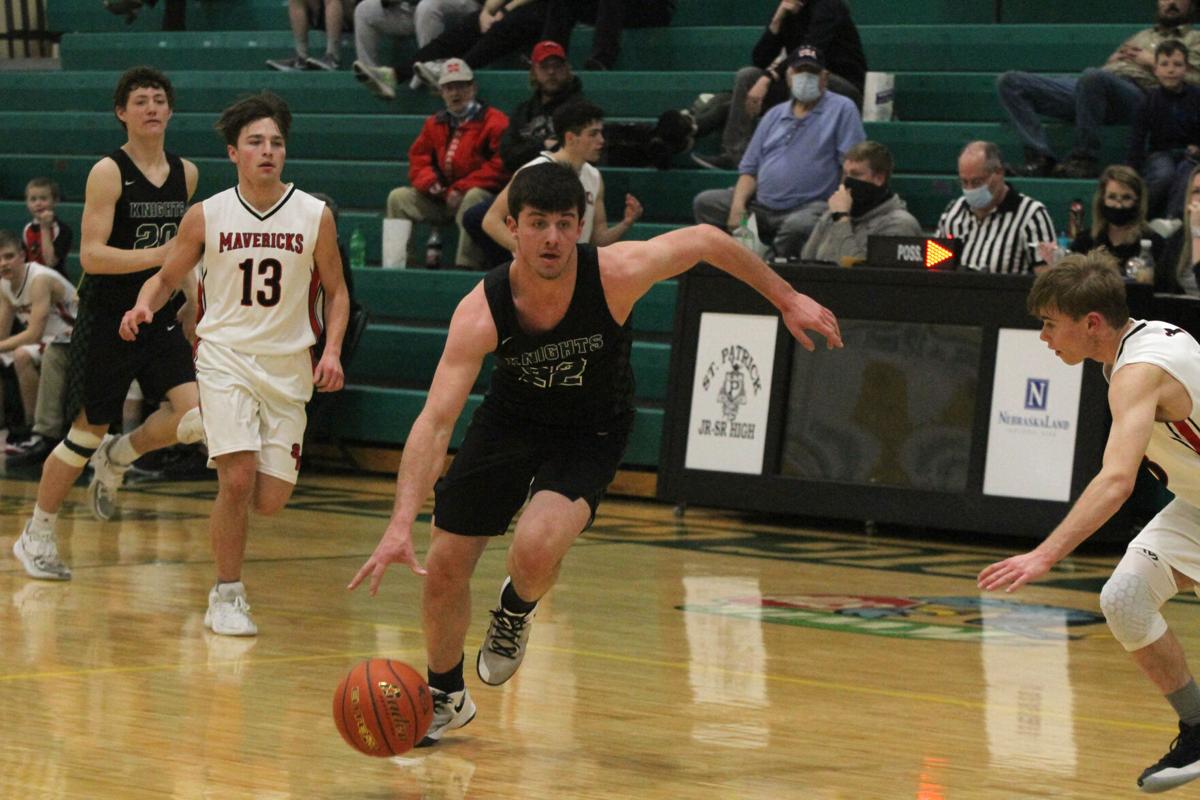 Dane Pokorny scored 25 points as the Sandhills/Thedford Knights defeated the Sandhills Valley Mavericks 52-38 in the first round of the D1-11 subdistrict Monday in North Platte.
Sandhills/Thedford's season stays alive as they face St. Pat's on Tuesday.
"I was really proud with how our boys came out and played with intensity and focus," Sandhills/Thedford coach Andrew Christen said. "Played really good defense. I thought they were dialed in, ready to go."
Pokorny was a main contributor to Sandhills/Thedford's decent-sized lead in the first quarter. The junior started his team's scoring with an inside jumper and later extended the lead to 8-2 with a layup.
When Sandhills Valley's Cole Kramer made a layup and converted the and-1 to pull his team to within three, Pokorny scored four straight and pushed the Knights to a 16-9 advantage at the end of the first.
"We're not used to really having a lead like that, especially that early in the game," Christen said. "So I was really proud with how our boys held it and bounced back ... they gave us a couple runs, got it within nine. So I was proud with how they bounced back after that."
The Knights used two runs in the second quarter to further extend their lead, all while holding the Mavericks to six points.
The first was a 6-0 run in which three different players scored. The second came after Sandhills Valley's Caleb Burnside hit a 3 to make it a 22-15 game.
Pokorny scored six points in a Sandhills/Thedford 9-0 run that saw the Knights take a 31-15 lead at halftime.
"Get it inside, same as every night," Christen said. "We have good inside guys, so if we get it inside, and have them stay patient, look at what we're given, we can do good things."
Sandhills Valley used a strong third quarter to set up a potential comeback, boosted by seven points from Rylin Johns and six from Ethan Nicholson.
Sandhills/Thedford, though, did just enough to keep the Mavericks from cutting the game close. Drew McIntosh made a 3 early in the third to stop an early Sandhills Valley run. At the end of the quarter, the Knight's Kaden Haake scored to end a 5-0 run.
The same early game struggles for Sandhills Valley reemerged in the fourth. The Mavericks went on cold spells throughout the quarter, and when they desperately needed a basket down 46-33, they couldn't make one.
Sandhills/Thedford closed out the game with a 12-point fourth quarter, holding Sandhills Valley to nine.
The Knights have a tough game ahead of them, going against a Class D1 ranked opponent in St. Pat's on Tuesday.
"We got to play really good defense, and we got to play solid offense and take care of the ball," Christen said. "We can't have a lot of turnovers. St. Pat's is very disciplined, so they'll make us pay for that."
Dane Pokorny 25, Andrew Furrow 8, Drew McIntosh 7, Kaden Haake 4, Tyson Stengel 4, Grant Ahlstrom 3, Connor Cooksley 1.
Ethan Nicholson 11, Cole Kramer 9, Rylin Johns 8, Alex Martinez 4, Caleb Burnside 3, Jaxton Starr 2, Tad Dimmitt 1.