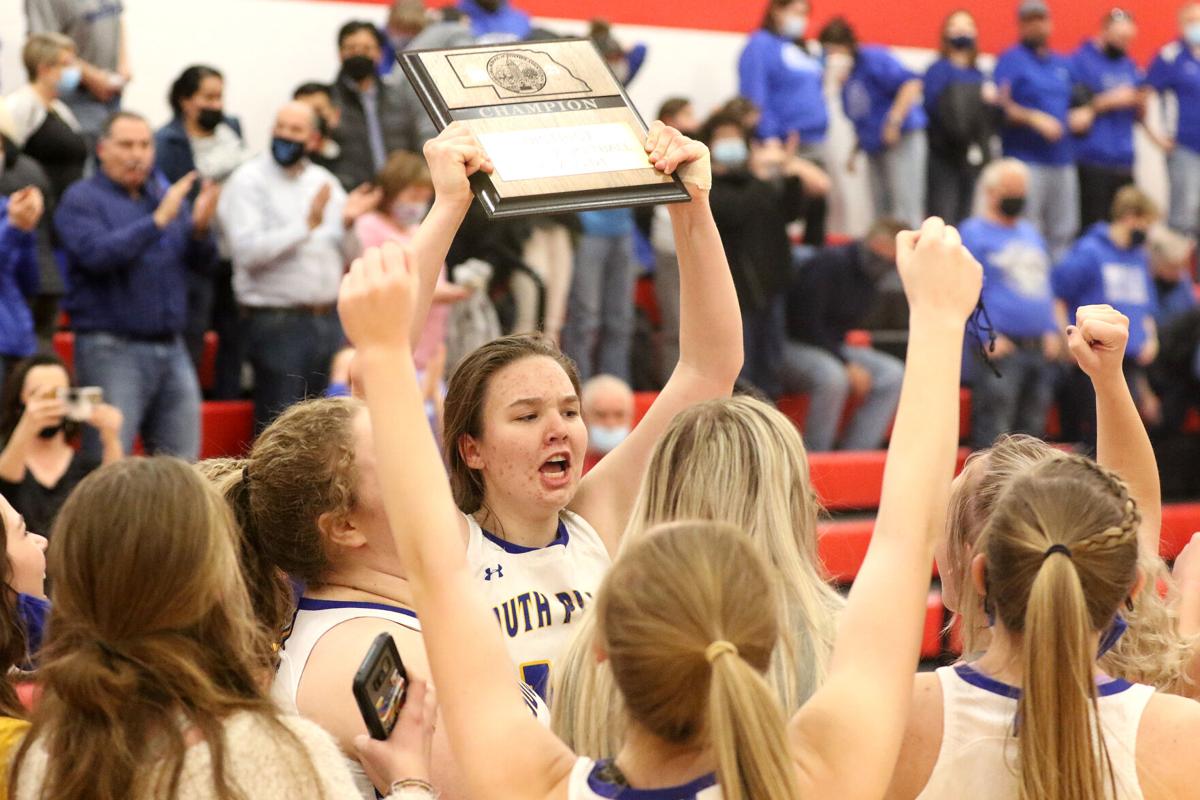 BRADY — The longest playoff run for the South Platte girls basketball program will stretch into the final week of the season.
Autumn Dickmander and Kerstin Brown scored 13 and 10 points, respectively, as South Platte downed Shelton 39-31 on Friday in a D1-7 District final at Brady High School.
The win earned South Platte (20-2) its first state appearance in either boys or girls basketball. It also comes months after the Blue Knights volleyball squad earned the school's first state trip in any team sport.
"It's crazy," Dickmander said. "I'm just so proud of this team. It's unbelievable."
Dickmander and a number of her teammates were also part of volleyball squad, and South Platte's roster is filled with three-sport athletes.
"Since we all are on the same team for a lot of these sports, we definitely have good teammwork happening," said South Platte senior Mariah Koenen, who finished with six points. "It means a lot to have the same girls with me and we all are building memories together."
The Blue Knights fell in the district final in each of the previous two seasons, and the team found motivation from the memories of those near misses.
"It left a real sour taste in their mouths," South Platte coach Andie Cheleen said. 
Halie Clark had 14 points to lead Shelton (20-6) a program that fell one step short of a first state trip. The Blue Knights held Shelton to 19 points through three quarters.
"We've relied on our defense all year," Cheleen said. "That's what we've preached since I took over eight years ago. We've preached, 'Let your defense create offense for you.' We live on transition."
The Blue Knights trailed just once on Friday — a one-point deficit in the opening quarter — and held a 13-12 lead at the break. Shelton's Alia Gomez hit a 3-pointer from the right wing to close out a half in which both teams struggled from the field and with turnovers.
Cheleen said the message to her players at half was, "defense was going to pull them through. The defense was going to create opportunities for them."
She also told the group to show patience offensively, something she added that the team was not known for through the season.
The words got through, however.
The Blue Knights scored the first five points of the second half and built a double-digit lead — at 29-17 — on a 3-pointer by Kerstin Brown from the left wing with 1 minute, 35 seconds left in the third quarter.
The Bulldogs got as close as five points with 50 seconds left in regulation but the Blue Knights hit free throws down the stretch to hold on. 
"We don't have a lot of tough games (during the regular season)," Cheleen said. "We've blown a lot of people out, so that experience of being able to hold on at the end of a (tight) game we've struggled with. Tonight we finally got it done."
Autumn Dickmander 13, Kerstin Brown 10, Mariah Koenen 6, Lauryn Stanley 4, Taylyn Bauer 2, Maddie Cheleen 2, Avery Hayward 2.
Halie Clark 14, Mayte Meza Martinez 5, Alia Gomez 3, Dru Niemack 2.