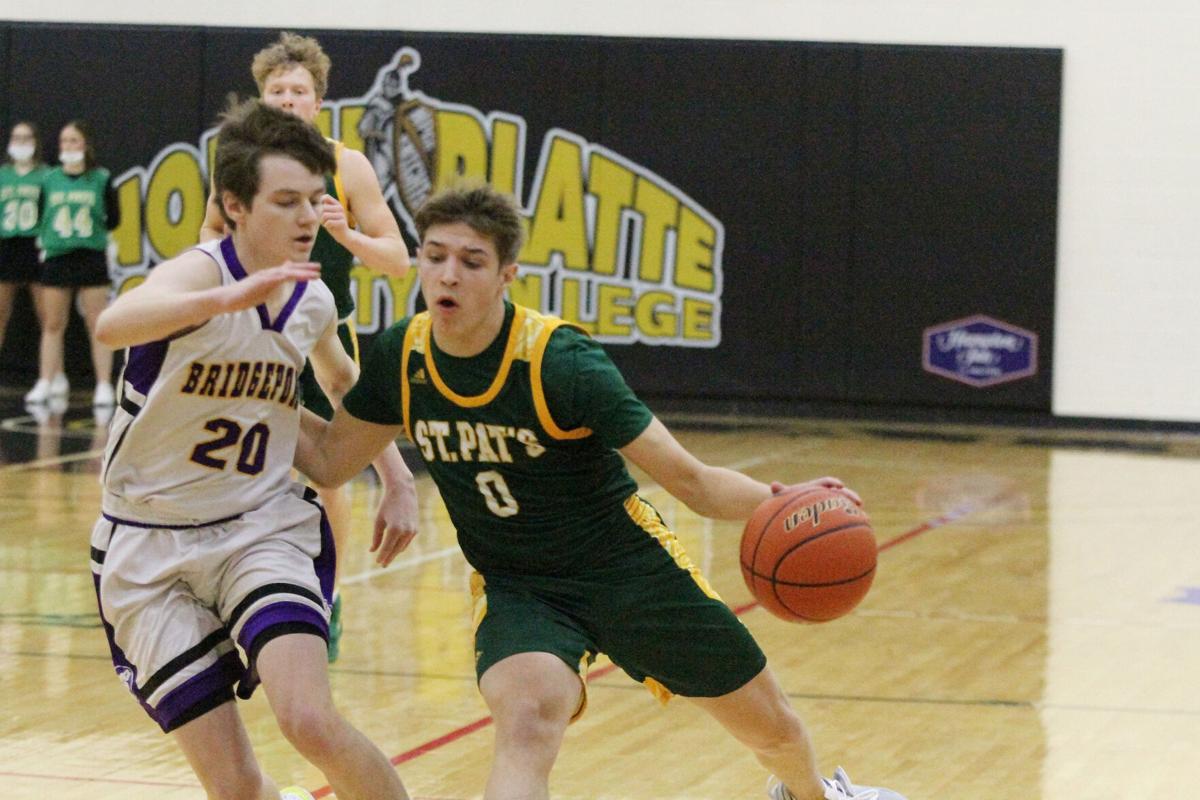 Corby Condon led with 19 points, and four other St. Pat's players scored in double digits as the Irish defeated top-seed Bridgeport 62-43 in the semifinals of the SPVA Tournament on Thursday at North Platte Community College.
No. 2-seed Hershey dominated No. 3-seed Chase County in the other semifinal matchup. The Irish and the Panthers will face off on Saturday also at North Platte Community College.
"I thought the guys came out with really a great deal of confidence, and really did a good job defending and giving our guys an opportunity," St. Pat's coach Bill O'Malley said. "I just felt like maybe we were the aggressor out of the gate, and we were able to get a little bit of the upper hand."
St. Pat's did come out with a lot of energy, but Bridgeport didn't make it easy. Both teams used strong defense to limit the score in the first quarter, but St. Pat's gained control offensively when Condon hit a 3, then got a steal, made a layup and converted on the and-1 to put the Irish ahead 13-8.
Bridgeport's Brady Newkirk scored a buzzer-beating 3 to put the Bulldogs within two points. He led Bridgeport with 15.
Neither team had the edge for most of the second quarter, as only up to three points separated the two. That all changed toward the end of the quarter, when Jack Heiss and Logan O'Malley hit back-to-back 3s to push St. Pat's to a 28-23 lead at halftime. Heiss and O'Malley finished with 14 each.
"We've gone through times where we only had one or two scorers this year," O'Malley said. "And a couple of those were in close losses and we weren't able to give our primary scorers enough help. That's what you have to be able to do if you're going to be a complete team."
Condon opened the quarter with a layup and a 3 to put the Irish up by 10. The Bulldogs responded with two shots on the inside to pull within six points, but Heiss ended the run with a 3, and St. Pat's Joseph Heirigs, who finished with 10, scored an open layup.
The Irish remained in control the rest of the game thanks to some late scoring in the third quarter from O'Malley and Heirigs. St. Pat's scored 18 in the fourth quarter, with Heiss leading with eight, and Bridgeport only put up 12.
"This is just a really great group of kids, but they've had some real heartbreaking losses this year," O'Malley said. "I think it was really important for them to fight through and beat a really quality team like they did. It's really gratifying."
Cayden Spearman and Sage Young scored 13 each as Hershey defeated Chase County 55-35 in the semifinals of the SPVA Tournament on Thursday at North Platte Community College.
"I thought we came out with a lot of energy, and I thought we did a nice job on the defensive end," Hershey coach Dustin Jorgenson said. "I thought our kids did a nice job of passing the ball, finding the open guy and then we knocked down some shots. When the shots go in, it makes everything better."
Both that energy and defense were on full display in the first quarter as the Panthers jumped out to a 12-2 lead to start the game fueled by Spearman and Young hitting 3s.
Chase County's Mason Nordhausen scored a 3 right after, and Hershey responded with a 9-0 run capped by Spearman's buzzer-beating 3 to go up 21-5.
The Longhorns found some offense in the second quarter, but Hershey continued pushing out its lead. Both teams traded baskets at the start before Young made a 3 to push Hershey's lead to 20.
Nordhausen made a 3 of his own midway through the second, but Hershey responded with back-to-back 3s from Spearman and Bryce Butterfield to go up 33-10, and the Panthers would take a 37-16 lead to the break.
"When we play defense at that high a level, it makes it tough," Jorgenson said. "Then it makes the offense easier as well, because you can get stops, and you rebound and you get up and down the floor."
Hershey came out just as strong in the second half, going on a nine-point run to open the third quarter. At that point, the Panthers switched to some of their bench players, and the starters only returned to the game for the first four minutes of the fourth quarter.
Hershey moves on to play St. Pat's in the SPVA Tournament championship. The last time these two faced off, Hershey came out on top 39-37 after Spearman made the go-ahead 3 with five seconds left in the game.