In the first summer after the Great War, aviation's pioneers discovered North Platte.
Orville and Wilbur Wright had invented the first airplane 16 years earlier. One of North Platte's own had taken up aviation to serve his country — and gave his life doing so less than a month after World War I ended.
During that summer of 1919, North Platte proved itself a vital stopping point for transcontinental fliers.
City leaders chose a spot near the forks of the Platte for them to take off and land. That airfield, later named for the local flyboy who barely outlived the "war to end all wars," is still in use today.
The flying pioneers
Six decades earlier, the Pony Express had exploited the Oregon-California Trail to speed transcontinental mail service.
Now aviators were keen to fly over the still-primitive Lincoln Highway in testing another approach to rushing letters and packages across the continent: airmail.
"That North Platte will be a terminal on the air line ... from coast to coast which is talked of seems quite likely," the Evening Telegraph reported on June 14, 1915.
It noted a planned $50,000 New York-to-San Francisco flying contest by the Aero Club of America. It aimed to draw "the most prominent aviators of the country" and show the federal government "that aeroplanes are practical means of carrying the mails to isolated points."
But it didn't happen before America entered World War I, though the Semi-Weekly Tribune reported in May 1916 that the Aero Club had doubled its purse to $100,000.
Before the race finally took place, North Platte mourned a favorite son's aviation-related death.
Lee Bird, a 23-year-old North Platte High School graduate and Colorado School of Mines student, was one of Lincoln County's first draftees.
He shipped out in September 1917 to Camp Funston at Fort Riley, Kansas, but was transferred to the U.S. Army's aviation corps and commissioned a lieutenant.
As Christmas 1918 neared, Bird had been a cross-country flying instructor for eight or nine months at Brooks Field in San Antonio, Texas, North Platte newspapers reported.
"I am flying every day and like it better every time I go up," Bird wrote home in August. "I was doing spiral this morning. I would go up about 4,000 feet and spin about 3,000 feet, then glide the rest of the way and land to mark.
"When I got through with this, I took a joy ride for about 20 miles and it took me only 19 minutes. These airships travel pretty fast."
But things went wrong the afternoon of Dec. 6, when Bird and a Lt. Howes took off.
"Their plane had only reached a height of about one hundred feet," the Tribune wrote Dec. 13, "when it was caught in a swift current of air which threw it into a tail spin, and the machine fell to the ground."
Howes survived for at least a while, but "Lieut. Bird was instantly killed, his neck being broken in the fall."
His death, The Telegraph wrote Dec. 7, "was a shock to his many friends and the community in general, as Lieutenant Lee Bird was well known and liked."
He was coming home for Christmas to his parents, Mr. and Mrs. Hugh W. Bird. Instead, he received full military honors at his Dec. 11 funeral at the Episcopal Church of Our Savior.
Lee Bird, who rests in the North Platte Cemetery, would await a more prominent memorial.
A pioneer airfield
When spring 1919 came, so did the fliers.
First was Lt. Roscoe G. Conklin of the U.S. Air Service, seeking a landing site for a Handley-Page bomber planning a coast-to-coast flight with only four stops.
His flight was scrubbed in August. But North Platte leaders did locate a site "one and one-half miles east of North Platte just across the (North Platte) river bridge on the right side of the (Lincoln Highway) road on part of the old Pawnee (Springs) ranch," The Telegraph reported on June 4, 1919.
It was a hay meadow, with buffalo wallows here and there. But the above account is the first known reference to the airfield that in time would bear Lee Bird's name.
The second was in the Oct. 8 Telegraph:
"The trans-continental airplane race is on. The first plane (was) taking the air this morning from Mineola Field, New York. ... (It) is expected to arrive at the aviation field, east of the Lincoln Highway bridge, Thursday afternoon."
Competitors, racing the clock, landed at and took off from North Platte's airfield over the next two weeks.
The trail for airmail had been blazed.
Airmail's debut
Second Assistant Postmaster General Otto Praeger picked up the baton in a July 30, 1920, letter to H.J. Moran, secretary of the North Platte Chamber of Commerce.
It said an Omaha division superintendent of the budding U.S. Air Mail Service would arrive before Aug. 15 "to arrange with the citizens of North Platte for a field and service station for the Air Mail, as it is probable that North Platte may be selected for a landing and gassing station."
That official, Andrew Dunphy, told chamber leaders Aug. 7 the government wanted North Platte as an airmail stop but "could not go to the expense of buying and equipping a landing field."
The chamber pledged "to furnish the field, erect a hangar and tank and cooperate with the Air Service in every way possible to make the field satisfactory," the Tribune reported Aug. 10.
Dunphy promptly wired Washington to include North Platte. Business leaders incorporated the North Platte Air Terminal Co. in October, with a capital stock of $45,000 to build and equip the airfield.
But that was a month after North Platte welcomed the first westbound airmail plane from Omaha at 3:50 p.m. on Sept. 9, 1920.
It bore "several thousand letters for Pacific coast points," the Tribune wrote Sept. 14. After a 30-minute servicing stopover, the pilot, named Murray, "made a very successful and graceful getaway and started out at a terrific speed."
On Nov. 19, 1920, the Tribune printed this telegram from Dunphy to Chamber President Harry Dixon:
"Mail service for North Platte starts Monday (Nov. 22). North Platte will also be Air Mail Terminal from that date. Congratulations."
Knight's lighted flight
The airmail route also brought North Platte its first permanent radio station, part of a 15-station Air Mail Radio Service to ensure pilots had up-to-date weather information.
KDHM-AM, on the air by 1921, was located in the 1913 post office building now home to the Prairie Arts Center.
Still, airmail arriving late in the day had to be transferred to Union Pacific trains.
For airmail to be truly feasible, it had to be possible to fly safely at all hours.
Jack "Sky" Knight, a pilot on the Salt Lake City-to-Omaha eastbound airmail route, helped prove it could be done.
"Leaving New York and San Francisco at about the same time, two airplanes will attempt to cross the country carrying mail with no layover for darkness," the Tribune wrote on Feb. 22, 1921.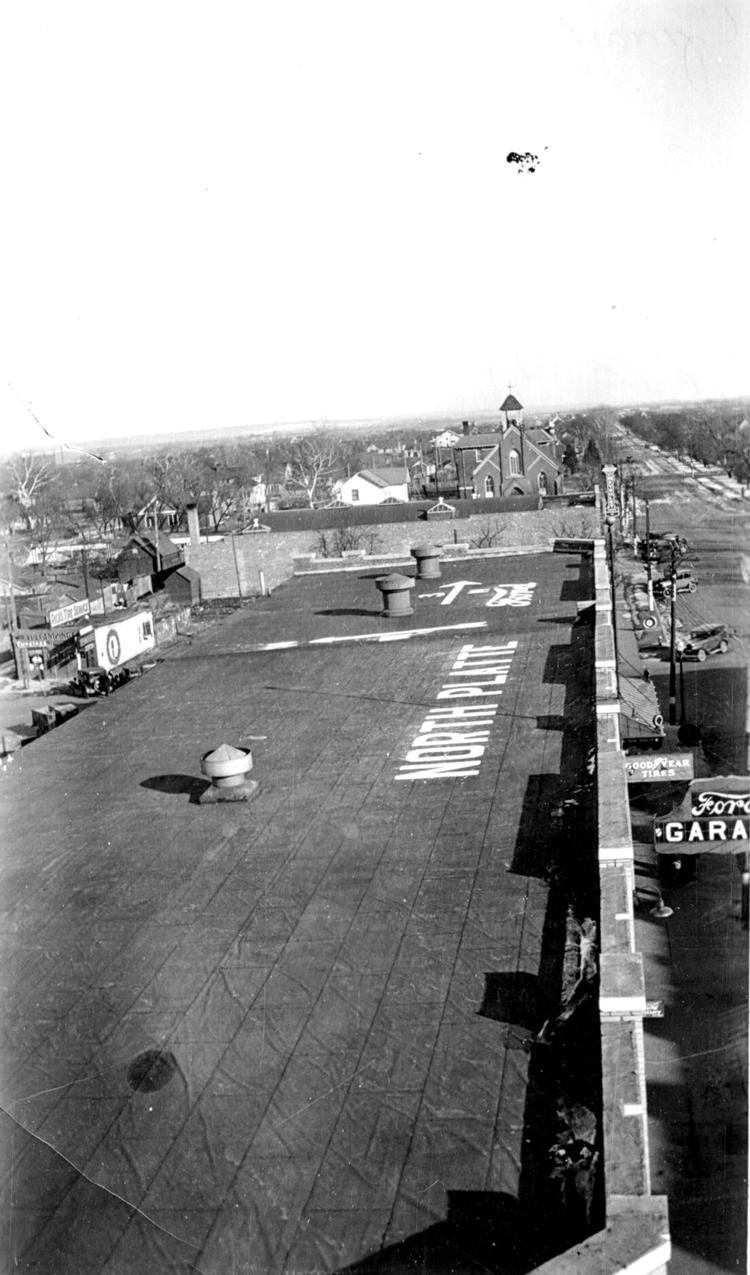 "Large bonfires are to be built at the field to show its location and aid at the landing. A searchlight will play on the plane when it comes in sight and show up the field to the pilot."
In fact, two planes started out in each direction on Feb. 22, Nancy A. Pope, historian and curator of the Smithsonian National Postal Museum, wrote in 2016.
Only one mail pouch went the distance.
Pilot William E. Lewis crashed and died after takeoff from Elko, Nevada. His mail was put into the second eastbound plane, which Frank Yager landed at North Platte.
After repairs, Knight took off at 10:44 p.m., following bonfires set by farmers.
"In the open cockpit DH-4, the winter blast froze his feet and legs," according to a September 1980 Lee Bird Field souvenir edition of The Telegraph.
Reaching Omaha at about 1:10 a.m. Feb. 23, Knight learned the next pilot hadn't shown up — and a blizzard between there and Chicago had made bonfires impossible.
"Knight looked at a road map and took off in the storm, determined to make night flying cross-country with the Air Mail a success," the paper's 1980 story said.
He made it at 8:40 a.m. A fresh eastbound plane, flown by Earnest Allison from Chicago, reached New York at 4:50 p.m.
The westbound flights got no farther than Pennsylvania and Chicago, with the latter foiled by the same snowstorm that bedeviled Knight, Pope said.
Knight's flight gave North Platte the nation's first lighted airfield. Though round-the-clock airmail wouldn't become permanent until 1924, he became known as "The Hero Who Saved Airmail."
Lee Bird's field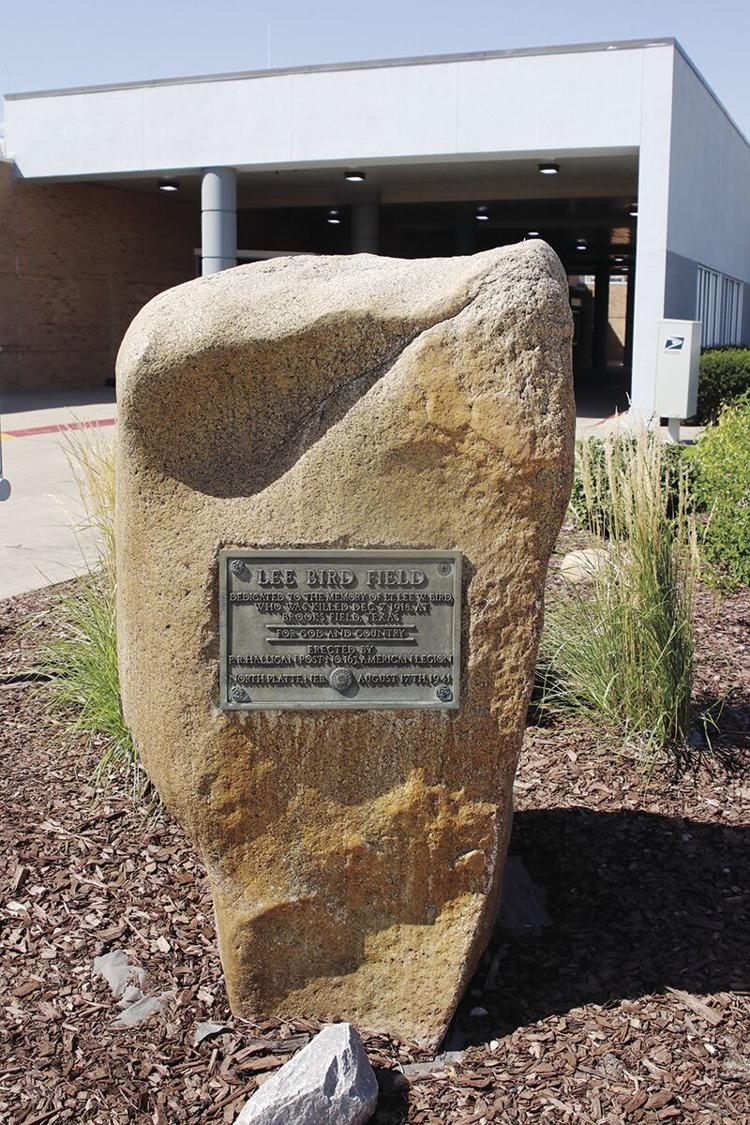 The Post Office Department handled airmail directly until July 1, 1927, when it handed it over to commercial air transports.
North Platte voters approved a $19,000 bond issue in 1929 to buy the airfield, which still was mainly a hay meadow.
On Aug. 17, 1941, after the U.S. Civil Aeronautics Authority and Works Progress Administration built three concrete runways anticipating World War II needs, the city dedicated its airfield to Lee Bird.
Some 15,000 visitors jammed U.S. Highway 30 for miles, The Telegraph reported. Red, white and blue bouquets were placed before an American Legion stone monument to Bird at the entrance.
Sisters Helen Bird and Mrs. Charles Gassoway came back from their California homes. Helen "told of her brother's intense interest in aviation, saying he was a flier by nature as well as instruction."
Lee Bird Field, 1,492 miles from both the Pacific and the Atlantic, remains an honored name in U.S. and Nebraska aviation.
---
More on North Platte's history