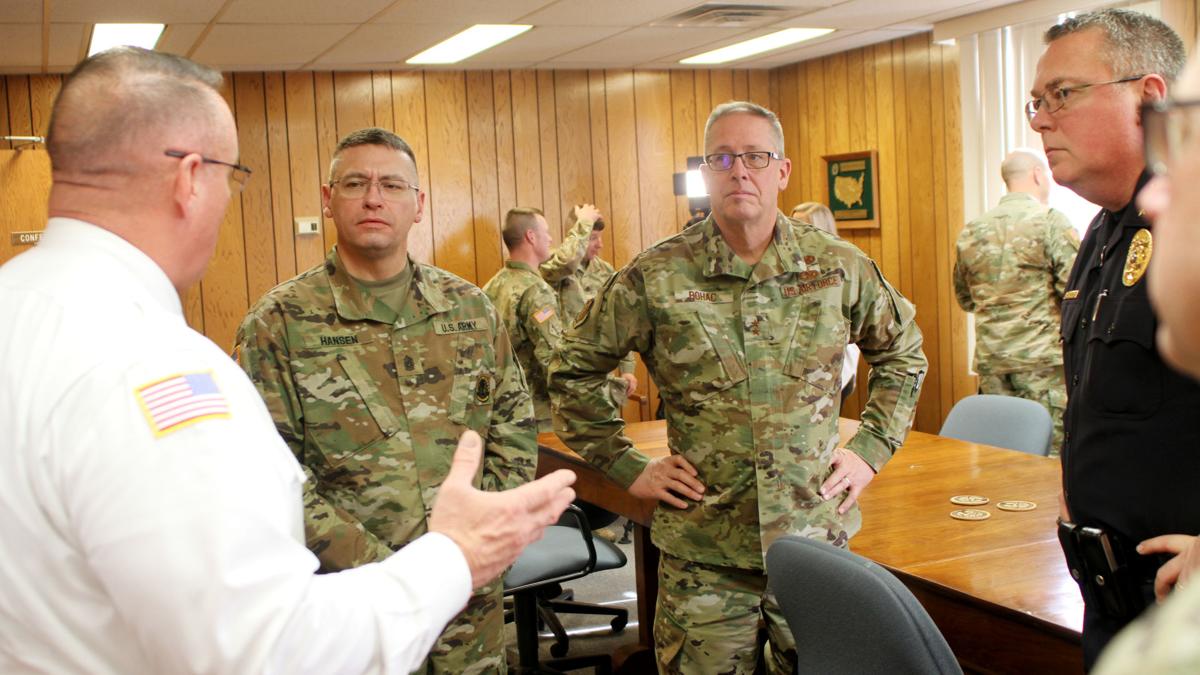 A new truck maintenance shop scheduled to be built in two years will spearhead a gradual relocation of North Platte's Nebraska National Guard facilities to Lee Bird Field, the state's adjutant general said Wednesday.
Maj. Gen. Daryl Bohac, who commands Nebraska's 4,400 Army and Air National Guard members, discussed the Guard's North Platte plans during a City Hall visit.
He said Guard leaders expect during the 2021-22 federal fiscal year to start construction at the North Platte Regional Airport on a replacement for the 1075th Transportation Company's garage behind the current North Platte armory.
A new Guard "readiness center" would follow in the mid- to late-2020s, replacing the two-story brick armory in service since 1956 at West 18th and Jeffers streets.
Though the armory and garage have served the Guard well, "they're not as well organized as they could be in terms of training," Bohac said.
Moving North Platte's Guard complex to the airport, he added, also will meet post-9/11 standards calling for a minimum 40-acre campus with greater distance between the front gate and the facilities.
About 46 Army Guard members, most of them part-time, assemble for training and service at 1075th headquarters at the North Platte armory. The company also has Guard detachments based at McCook, Sidney and Broken Bow.
Bohac, who advanced through Nebraska's Air Guard ranks before becoming adjutant general in 2006, said the Guard hasn't considered stepping up Air Guard activity in North Platte when it moves to the airport.
"The potential in growth in the Nebraska Air National Guard is at Offutt," he said, referring to Bellevue's Air Force base and U.S. Strategic Command headquarters.
North Platte was the fourth of five stops on a western Nebraska swing for Bohac and three commissioned and noncommissioned aides from the Guard's Lincoln headquarters.
They visited Chadron, Scottsbluff and Sidney earlier this week and will visit McCook Thursday, said Bohac, adding that he seeks to visit each of Nebraska's 23 Guard communities at least once a year.
He said his visits are "about sustaining the relationships" with city officials and first responders, with whom they work closely in cases of natural disasters like last spring's statewide floods.
Bohac headed west after returning Sunday from Rwanda in southwest Africa, where he led a 13-member Nebraska Guard contingent in announcing a new partnership with Rwanda's armed forces.
Formed under the U.S. National Guard State Partnership Program, the accord will feature joint training and professional and cultural exchanges between Rwandan and Nebraska Guard members.
"One of the things they do very well is peacekeeping programs," said Bohac, noting that Rwanda rewrote its constitution to mandate peacekeeping missions after a fratricidal genocide in 1994 that killed 800,000.
While the Nebraska Guard has "a lot more experience in combat operations," it could benefit from Rwanda's peacekeeping experience with United Nations missions, Bohac said.
The Nebraska Guard has had a similar partnership since 1993 with the armed forces of the Czech Republic, reflecting more than a century of close ties dating to 19th-century Czech emigrations to Nebraska.