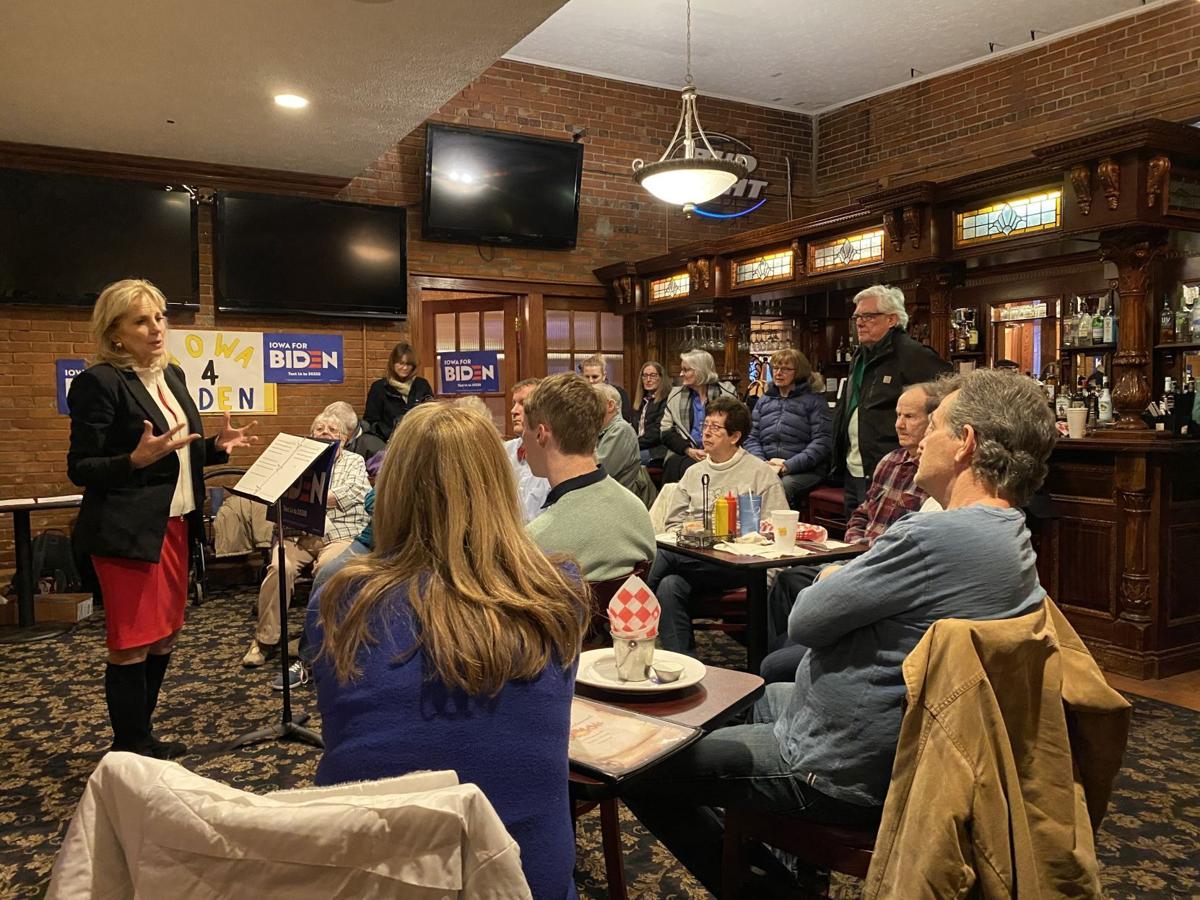 Settle into the spotlight, Omaha. This presidential election, you matter.
More high-profile visitors are coming, and a new poll shows a race that could be close to the end.
Democrat Joe Biden's campaign is organizing a Sept. 26 visit by the spouses of Biden and vice presidential pick Sen. Kamala Harris of California — Jill Biden and Doug Emhoff.
Why is Omaha such a hot spot?
A growing number of national political observers say the single electoral vote in Nebraska's 2nd Congressional District is up for grabs. Some discuss scenarios under which Omaha's vote could decide the race.
Biden told The World-Herald in January that he planned to compete for the same Omaha "blue dot" that he and President Barack Obama won in 2008. Republicans Mitt Romney and Trump won here in 2012 and 2016. Trump defeated Hillary Clinton in the district by 2 percentage points.
New polling, conducted Monday through Wednesday on behalf of House Majority PAC, shows Biden leading Trump 51% to 45% in the 2nd District, which covers Douglas County and western Sarpy County.  In July, it showed Biden leading 51% to 44%.
The poll, conducted by Global Strategy Group for the PAC trying to keep Democrats in control of the House, shows a race for Congress essentially tied, with Republican Rep. Don Bacon and Democrat Kara Eastman each getting 45% of the support of those surveyed. Bacon led Eastman 47% to 42% in the July poll.
Abby Curran Horrell, executive director of House Majority PAC, said Bacon "cast his lot" by consistently voting for Trump's agenda, including votes to repeal the Affordable Care Act and defund Planned Parenthood.
"Kara Eastman's strength is a sign that voters in Nebraska's 2nd District are tired of Donald Trump and Don Bacon, and they're looking for a change in Congress," she said.
National Republican Congressional Committee spokesman Bob Salera said "it's no secret" that the Omaha area is a swing district.
"But in the end, voters will reject Comrade Kara Eastman and her socialist agenda just as they did in 2018, because Eastman's policies are too risky for Nebraska," he said, referencing her 2 percentage point loss to Bacon in 2018.
Local and national Democratic and Republican sources did not dispute the poll's findings, saying it echoes much of what they've seen.
The Biden campaign said details of the Sept. 26 visit are still being finalized.
Jill Biden and Emhoff traveled around much of Iowa before February's caucuses. But this will be the Biden campaign's first in-person campaign event in Omaha since March.
Because of the coronavirus pandemic, Biden's campaign has hosted its political gatherings primarily online, typically events where local campaign leaders host discussions with national campaign surrogates.
The Biden campaign's Nebraska branch has held video calls this week with civil rights leader Dolores Huerta and Sen. Amy Klobuchar of Minnesota. They have another one planned Saturday with Emhoff.
Nebraska, unique nationally except for Maine, awards a single electoral vote to the winner of the popular vote in each of its three congressional districts. It awards an additional two electoral votes to the statewide winner, which is expected to be Trump.
Be the first to know
Get local news delivered to your inbox!