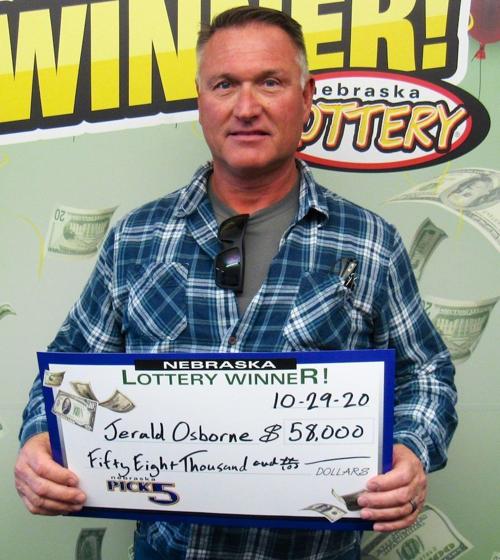 If Tom Osborne told you to play the Nebraska Lottery, would you do it?
That's what happened to Jerald Osborne of Atkinson last week. And he won $58,000.
The advice, though, came from his late father, Tom, who was a truck driver — not from the famed coach who led the Nebraska Cornhuskers to three NCAA football national championships.
Jerald told lottery officials he used to play the interstate Powerball lottery game, without a lot of success. Awhile back, at his dad's suggestion, he started playing the daily Nebraska Pick 5 game. The odds of winning the top Pick 5 prize, though daunting at 1 in 501,942, aren't nearly as long as the Powerball, at 1 in 292 million.
Typically, Osborne buys tickets in his hometown. But he was driving through Fullerton, Nebraska, a week ago when he stopped at a Casey's convenience store, where he picked up a ticket for the Oct. 24 Pick 5 drawing with five sets of quick play numbers on it.
That night he checked his numbers on the Nebraska Lottery website. One of them matched the winning combination: 3, 4, 18, 19, 38.
"The next sound I heard was my jaw hitting the floor," Osborne said. "I couldn't go to sleep."
He told lottery officials he plans to use his winnings to pay some bills. The rest, he'll save.
Osborne wasn't the only Pick 5 winner to stop by lottery headquarters in Lincoln this week.
Krista Henderson of Red Cloud claimed a $106,000 jackpot from the Oct. 21 drawing Friday afternoon. She bought her ticket at a Casey's General Store in her hometown. The winning numbers were 18, 20, 24, 30, 37.
Three Nebraskans have recently claimed $50,000 prizes from scratch-off tickets, according to the Nebraska Lottery website: Douglas Armbruster of Gurley, Shanessa Voorhees of Glenvil, and Humberto Rivera Carralero of Omaha.
Lottery officials say someone who bought a winning Mega Millions ticket in Omaha last spring but hasn't claimed it yet is about to lose out on a $10,000 prize. The ticket for the May 29 matched four of the five winning white ball numbers (10, 13, 32, 41, 51) and the Mega Ball number (3).
The ticket was purchased at the Hy-Vee gas station at the corner of 180th and Q Streets. The ticket expires Nov. 25.