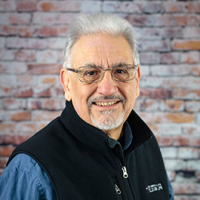 Job Vigil
Reporter
Bio

I am a Colorado native and have been at the Telegraph for 18-plus years, including a 10-year stint as managing editor; my interests are in feature writing that focuses on people.
On Thursday the campaign goes fully public with its "buy one, give one" drive-through feed from 4:30-7 p.m. at the Platte River Mall.
The cost estimate for time and material from Brown's is $13,466.23, Rossell said. TreanorHL's structural engineering fee and field work for the column enhancement is $4,935, which was not anticipated in the original bid.
The time it takes for one painting is extensive — 25-30 hours, said Brent Hoover. He displays the paintings in a shadow box that adds 10-15 hours to the process.
The shelter is a place where grandfather Frank Carland said family and friends can share memories of his grandson, Franklin Carland, who died May 5 in an accidental drowning
"It's just hard and we decided, let's not be a part of the problem," said Stuart Shepherd, board president of the North Platte Community Playhouse. "We'd rather be a part of the solution."
"The board voted (Monday) night for movies on Saturdays, to a limited capacity with 6-foot distancing," said Rajean Shepherd, administrative assistant. "We are marking off every other row, with three seats between each family group."
The bond issue would be for $2.9 million, but school board member Marcia Hora and Superintendent Howard Gaffney said no new taxes will be needed to service the proposed bond.
Angela Blaesi and Brooke Luenenborg advanced to the general election after garnering the most votes in the Ward 2 primary. Pat Cullen of North Platte was the third candidate in May.
The in-person Purrfect Pasta Dinner and silent auction have been canceled due to the pandemic, but there is still an opportunity to help fund the Love My Cat program.
A friendly competition during homecoming week at North Platte Catholic Schools resulted in a more than $3,000 donation that will go to the Mak…
View all